Reading books and using a no-busywork study guide as you read leads to rich learning. A High School Literature curriculum offering that rich learning will earn a powerful credit on the transcript and be enjoyable for your teen.
Teens often need help learning inferential reading skills, understanding how to dig below the surface of the plot, identifying themes, analyzing characters, appreciating motif, evaluating reliability and more when they read.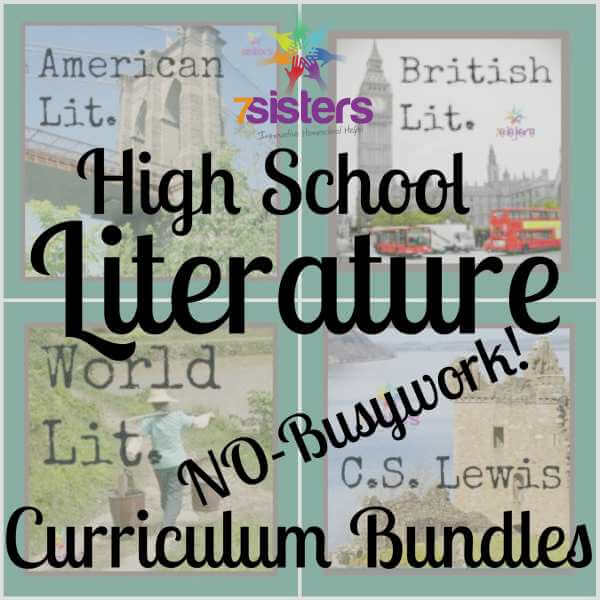 High School Literature Curriculum: 4 Bundles of No-Busywork Learning
Literature study guides from 7Sistershomeschool.com take a no-busywork approach to understanding literature, present it in a friendly, conversational tone of instruction, and make the guides affordable and easy to purchase by publishing in ebook format (.pdf) that downloads immediately to your device.
Guides can easily be adapted (using included instructions) to use at Average High School, College Prep, or Honors Level. They work well for students in all grades of high school and are particularly popular with students who feel insulted by long lists of busy-work-style basic comprehension questions (the kind they knew how to answer in 4th grade…the "Then what happened?" and "Who came in next?" type of questions).
Currently available with 4 different areas of focus, each bundled set of study guides brings fun with the challenge of reading great books to your high school student.
American Literature High School titles covered by these study guides include:
British Literature High School titles covered by these study guides include: 
World Literature High School titles covered by these study guides include:
Great Christian Writers High School titles covered by these study guides include:
In addition to these 4 full-year curriculum bundles, the 7Sisters ebookstore also has smaller bundles of guides to accompany popular titles by C.S. Lewis!
C.S. Lewis – Narnia and The Space Trilogy (2 separate sets of bundled curriculum)
The Narnia High School Curriculum (7 study guides)
provides a study guide collection that equips your teen to dig deeply into C.S. Lewis' beloved chronicles. Homeschooling high schoolers should revisit these great books in order to study the theological and philosophical concepts he imbedded in the stories. The 7-book series The Chronicles of Narnia is not just for kids!
WHO should read C. S. Lewis' Space Trilogy (3 study guides)?
-Homeschool high school students who are learning to be thinkers, creators and do-ers.
-Teens who are not afraid of big ideas and deep thinking.
-Young people who want to learn to be more imaginative and creative.
-AND anyone who enjoys the writings of C. S. Lewis!
Why not choose a no-busywork approach for your high school literature curriculum choice for the year? Teens think deeper thoughts about the books they read when they are not frustrated with an overkill curriculum that feels like it's wasting their time. We want to encourage young people to move below the surface of what they read and THINK about the ideas behind the story. Critical thinking skills that will serve them the rest of their lives can be built and strengthened with a high school literature curriculum like one of the bundles above.
Wondering why reading good literature is so important? Click here to see what the Department of English and Philosophy at the University of Wisconsin has to say.
7Sisters email subscribers receive periodic practical encouragement, special offers and NO SPAM EVER.

Click the image above to periodically receive real homeschool value in your inbox.
High School Literature Curriculum: 4 Bundles of No-Busywork Learning