Another in our Authoritative Guide series: High School Poetry: An Authoritative Guide.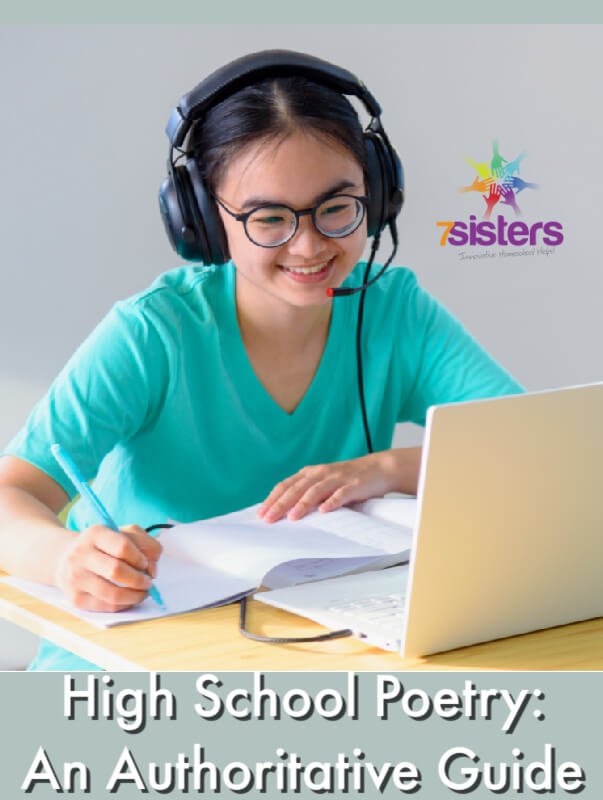 High School Poetry: An Authoritative Guide
Thanks to our wonderful Stacey Clendaniel, who pulled this latest authoritative guide together as well as being the mastermind of 7Sisters Facebook group, Instagram and Pinterest AND a favorite Cousin. (Have you checked out our wonderful Cousins? SO much wisdom, so many resources.)
We love POETRY! We want to share the passion with you and your teens. When we ask teens if they enjoy poetry, most respond with a "No." When we ask how many have studied any poetry most respond with "Not Much."
With a gentle, fun start, teens can learn that they do NOT need to be Shakespeare! They can relax and enjoy having fun with words.
We understand that sometimes homeschooling families feel tempted to drop the creative writing components of the ELA credit. With so many pressures on teens' time why spend it on creative writing.
Teens who write poetry can use words more effectively in college writing.
Those who write poetry expand their imaginations.
Teens who write poetry learn to think creatively.
Others who write poetry learn to lighten up.
Teens who write poetry can have fun.
When we begin introducing poetry to teens we like to start with the most famous poet, God. 
That's right. God himself is a poet. Read the Psalms. All the Psalms are poetry. You can also read the book of Nahum. It is written in poetic form.
Poetry is a beautiful and creative kind of expression….just like God is beautiful and creative. He creates our teens to be beautiful and creative. When we help our homeschool high schoolers to discover that poetry resides in them, they will feel empowered to explore making their own beauty with words.
Are you still unsure how to get started with poetry?
First, check to see if poetry scares you. (It's okay; we won't tell!) If you find that it does, this short vlog will encourage you with a light-hearted approach to exploring verse.
One of our favorite things is to offer encouragement to our 7th Sisters! Listen to this podcast, Writing Poetry-Can Do! Join Sabrina, Vicki and Marilyn for tips on how to get started.
If you are on Facebook you can catch Sabrina in this recorded live on Here's why, and how you can get some poetry into your Homeschool painlessly.
We have several tips to help you balance the learning of poetry while not destroying any hopes of reading or writing it again.
Ok now you should be encouraged to include poetry in your homeschool, lets focus on equipping you to share this passion with your teens.
One of the first steps of inspiring teens is have them memorize and recite poems. This begins to expose teens to vocabulary, word usage and general communication skills.
Why is poetry such a useful communication tool?
Poetry uses words powerfully. Each word is chosen to convey the most emotion and biggest thoughts possible. We want teens to learn ordinary and extraordinary words being used in powerful ways.
YouTube contains videos of many inspiring poems to help expose teens to poetry recitations.
These are just a few of our favorites.
We have an amazing freebie to get you started on memorizing poetry. We have over a dozen inspirational videos that are illustrated classic poems put to song. Maybe you even remember memorizing poems when you were in school?
Poetry memorization helps:
Teens strengthen their mental stamina
Build vocabulary and word usage skills
Pass on cultural values and ideas
Build knowledge and understanding of literature
We even have created a PDF with links embedded to make it easier to keep track of the poetry videos.
After watching some videos, you can pull a quote from a poem each week and discuss with your teen over lunch. Bonus if you read a poems together during your meal for a week or two.
You can build a word wall together and use the words to write your own poems.
If you are looking for a little more instruction or if you or your teen are still unsure if studying poetry is realistic in your homeschool you can start with Old Possum's Book of Practical Cats Study Guide.
Instead of attempting to examine every element of every poem on the first reading, our study guide uses one or two poetic elements in each as a focal point.
We wrote High School Poetry: An Authoritative Guide to help teens love poetry!
If you want a sampling of poets to get you started we have a British Poetry Study Guide.
This guide covers a sampling of British poets. Students can study one poet per day or week. Each lesson gives a brief look at a sample or two from each poet's work.
The guide introduces poetic vocabulary and guides students with questions that will help them experience and appreciate each poem without feeling overwhelmed or confused.
We start our teens with a very simple, light-hearted poetry exercises, broken down into short daly chunks. Studying poetry is powerful when it is presented in a lighthearted fashion. Poetry done with good attitude inspires laughter and learning.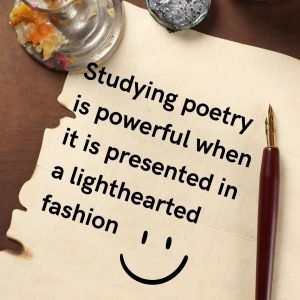 We understand that poetry can be intimidating for many students and to some homeschooling parents! This guide can help your teens explore poetry and give your teens an opportunity for fun and growth in word power.
In this blog post on Poetry Writing in Homeschool- Here's How includes the whole first lesson from our Introductory Guide to High School Poetry Writing.
Now if your student has had some exposure to poetry or has completed the introductory guide and is ready for MORE poetry fun, we have the Intermediate Guide to High School Poetry Writing.
With the Intermediate Guide to High School Poetry Writing teens will cover:
Idioms and Tom Swifts
Shape poems
Haiku
Stanzas
Basic ryhme patterns
Basic meters
Free verse
This guide will help build some useful poetic and language skills. We want to help teens build concise and creative use of words and thoughts. This skill then carries over into their technical writing assignments!
Now that we have gained some exposure and hopefully positive experiences with poetry the choices to continue the journey are numerous.
With the Advanced Guide to High School Poetry teens will learn to capture the poetic ides of:
Theme
Tone
Symbolism
Sound
Rhythm
Each of the 3 poetry guides, Introductory, Intermediate and Advanced are designed to take 5 weeks to complete. You can do one a year with your other ELA assignments or create a whole ELA credit with Poetry.
Before we start with the scope and sequence, please remember that there's not ONE right way to homeschool high school. This is simply a suggested sequence of study for a full poetry credit for the homeschool transcript.
If your homeschool high schooler is particularly interested in poetry or is planning on choosing a college major in English or Humanities, a specialized course in poetry adds *SPARKLE to the homeschool transcript by showing development of a skill or interest beyond the bare-bones requirement for graduation. If you choose this credit, log hours to earn the credit using your state's requirements for earning a Carnegie-hour credit.
This takes a little creativity since a full Language Arts credit requires some books and papers. The number of books to read and papers to write will vary by teen's age and goals.
Traditionally, an English/Language Arts credit includes: Poetry, Short Story, Essays and Research Paper.
In this course, students write volumes of poetry, thus the workbooks will count for the Poetry, Short Story and Essays. The final unit of the year is Poetry Analysis. The assignments in this book will be gathered as a Research Paper.
We have found that sometimes homeschool moms feel intimidated by grading poetry produced by their high schoolers. It is such a different writing genre than essays or research papers! So, here are 3 ways to handle it!
Grading Poetry Version 1:
When teens are just starting out OR are writing poetry for the love of poetry, grade generously. If a student has create a poem and presented it neatly, give an *A* because:
For beginners you should aim more for encouragement than *being amazing*.
For more experienced poetry writers who are writing for the sheer love of poetry, most of their work is extra credit and you want to reward initiative.
Grading Poetry Version 2: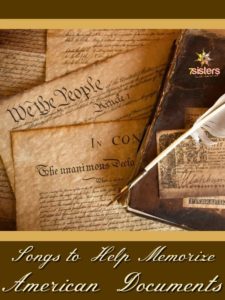 Have your homeschool high schoolers grade their own poetry. Have them assign a grade and explain how they earned the grade. This is a good way for you and your teens to understand their thinking about their poetry writing. As they examine their own poetry, they will improve their own skills!
Grading Poetry Version 3:
Create a rubric! An example of a poetry rubric can be found at the link, How to Grade Poetry.
Maybe you would like to approach poetry more from a theme perspective. Let's talk about how World and American poetry can achieve that goal.
We can help teens understand some of the cultures in the news (while enhancing a powerful Language Arts credit) by teaching our teens about cultures in the WORDS of that culture.
Homeschoolers will read famous examples of each type of poetry, then write their own poems in each style.
Poetry of Korea: Sijo
Next: Poetry of Japan: Haiku, Senryu, and Tanka
Then: Poetry of Persia, Middle East, and Northern Africa: Ghazal
Next: Fun Poetry of Europe: Limericks
Lastly: Poetry of Israel: Psalms
Share a quote about poetry at the beginning of class each week.
Read a poem in person each week. Choose a favorite poem to read as a group, you read or a student reads.
Group writing each week. Introduce each topic and then write a poem of that style as a group (you lead the activity). Allow this to be fun, silly and no-fail.
Team writing each week. Break into teams. Have them write a quick, fun version of the topic then share with the group.
Sharing poems. Each week have students share their homework poem with the group. This can be done by passing around.
Remember to keep the atmosphere relaxed. Your teens will be deeper, more understanding people when they've interacted with some world poetry.
American Poetry, is a teen-friendly guide to poetry that eases teens into the poetry experience. Also, because of the rich *melting pot* heritage of the United States, students who are learning a little about American poetry are tasting a bit of various cultures and experiences of the many kinds of Americans.
During this five-week tour of American poetry, homeschool high schoolers will get a taste of:
Fun poetry
Serious poetry
Poetry from Americans of various ethnic backgrounds
Teens will read short selections of poetry and try their hands at writing some fun and some inspirational poetry.
This guide becomes a great way to capture the essence of American culture through our history BUT not in a stuffy, boring format.
Now let's take a look at a deeper level of poetry.
Poetry Analysis is a special topic for just the right homeschool teen. Not every teen needs to study it, in fact, if your teens do not really like poetry, this topic would not be interesting to them.
However, there are several kinds of homeschooling high schoolers who will benefit from and enjoy a light-hearted introduction to this interesting topic.
Who are the teens who will benefit from studying Poetry Analysis?
Teens who are college bound
Others who are love to read poetry
Teens who love to write poetry
When high schoolers learn the basics of analysis, they can climb into the mind of the poet and gain more appreciation of the meaning and artistry of their work. Poets do not simply sit down and crank out poems. They write and rewrite and rewrite their poems until each word and each line has meaning, power and beauty.
Teens who have learned some basic analysis skills can start to notice and understand WHY each word, line and format was chosen by a poet.
Thus high schoolers who learn the "rules" of poetry can improvise with more beauty and skill. Learning poetry analysis is a way that students gain expertise in those rules.
There's more to poetry than you might think.Teaching poetry for health and healing can be an angle you take outside of academics.
Poetry reading, recitation and writing can be therapeutic for teens and adults.
This is particularly true when:
A teen has a learning difficulty or special need
Or, a teen is anxious or depressed
Even, any teen who has experienced adversity
Because poetry is not expected to look or sound like prose, people do not expect to write or read a coherent set of ideas presented in a logical, systemic order.
Instead, teens are free to simply pour their feelings and thoughts into a set of words that:
Describe their experience
Vent and share their feelings
Describe their fears and hurts
Define their hopes
Describe what brings comfort
In pouring out their words in a non-prose form, teens tend to feel better (or at least more self-aware) because they have heard themselves. Writing their own healing poetry allows them to respect their pains and look for their own hope.
One practical idea is starting a poetry journal.
Ask them to dedicate 15 minutes per day for an agreed upon time period.
Give them a prompt that they can use for inspiration.
Here are some ideas:
What are you sad/angry/afraid about?
How has someone disappointed or hurt you?
What do you say to yourself about you?
How would you describe what you like about your friends/family?
What are you proud of/ashamed of?
Can you define what you want for your life?
What gives you joy/fun/hope/peace?
Poetry cannot solve all of a teens problems but it can be a tool for healing. If a teen is truly struggling, talk to the family doctor or begin working with a counselor- it is worth it.
A Homeschool Acrostic gives us a chance to share our love of poetry with our 7th sisters and our homeschool students. Role modeling can often help encourage others to try writing their own poetry.
Why not use your student's name and send them an encouraging note. We know we need the reminder to tell our kids that there are things they are doing correct.
Dear Derek,
Dealing with figuring out what you want to become in adulthood
Experiencing all the emotions of being a teen, yet still seeking what your calling is
Reaching for knowledge as you complete your tasks
Excited and nervous to graduate high school
Keeping your mind open on the path you should take
Still got questions on poetry? JOIN our 7Sisters Facebook group to connect with us and other homeschool parents.
7Sisters email subscribers receive periodic practical encouragement, special offers and NO SPAM EVER.

Click the image above to periodically receive real homeschool value in your inbox.
High School Poetry: An Authoritative Guide