Another post in the suite of Authoritative Guides for homeschooling high school: High School Writing Requirements: An Authoritative Guide.
High School Writing Requirements: An Authoritative Guide
When my youngest son headed off to college (he started out at our local community college), one of his first courses he had to take was Freshman Composition. After the first writing assignment was graded, his instructor asked him to stay after class for a second. This, of course, was a bit anxiety inducing…was he in trouble for something?
But no, he was not in trouble. Instead, his instructor asked him, "What high school did you go to? This is one of the best papers I've ever seen from a freshman."
My son was able to proudly share that he was homeschooled and learned to write by lots of practice. (He did not mention that the curriculum that he used was 7Sisters! In fact, over the high school years, He completed every single writing guide that we had constructed!
Anyway, the point of the story is that writing matters.
For college-bound teens, it is vital that homeschool high schoolers head to college well prepared to do lots of quality writing. For non-college bound teens, writing is a life skill that will be needed for lots of practical needs.
Because writing matters, it is an important part of every English/Language Arts credit (as you know, homeschooling high schoolers need four ELA credits for graduation). The components of an English/Language Arts credit include: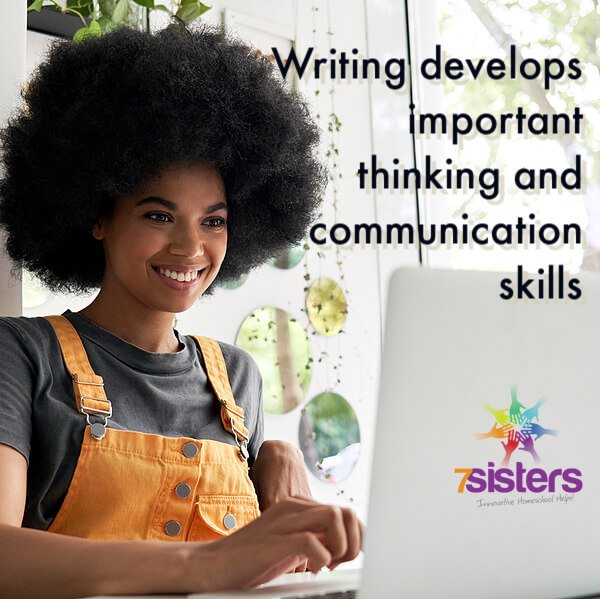 In this Authoritative Guide we will discuss the writing component of homeschool ELA credits
We will cover the following topics:
What kinds of writing should be covered for homeschool ELA credits?
Where is the best curriculum for my teen?
How:

many papers should my teen write each year?
do I grade papers?
can I motivate my teen for writing projects?
do I find resources to help my struggling writer?
can I teach the writing requirements in homeschool co-op classes?
High school writing requirements: What kinds of writing should be covered for homeschool ELA credits?
To be clear, there's not ONE right way to look at writing requirements, so you do what is best for your homeschool high schoolers and your family. However, in our years of advising homeschool teens and working with colleges and employers, we have found that there are some writing components that are:
Yearly writing requirements include:
Occasional requirements (those that should be covered at least once before graduation) include:
Professional writing

These are writing styles that teens will run into in their adult life. Some practice on the basics will prepare them and give them confidence.

7Sisters included common professional writing components in our Professional Writing curriculum, covering writing of:

Complaint Letters

Organizational Newsletters

Taking and Formatting Meeting Minutes

Advertising Copy and Press Releases

Product Reviews

Book Reviews

Sets of How-To Instructions

Professional Bios

Expository Speeches

Project Proposals and Abstracts

Out of the box creative writing, for instance:
For more specific details, check out these posts about the kinds of writing that should be done by:
Where is the best curriculum for my teen?
That's a trick question!
No, really. There's not ONE right way to homeschool high school and there's not ONE right curriculum that is best. However, there are writing curricula and courses out there for just about any need. For instance:
7Sisters Writing Curriculum: Essays, Research Papers, Short Stories, Poetry, Professional Writing, Creative Writing…all with the classic 7Sisters NO busywork, adjustable to different levels of rigor, don't overdo it, style.
Online courses. There are SO many to choose from but here are a several of our friends' schools with online courses:
Heavy duty, college prep programs like Institute for Excellence in Writing.
More traditional courses (lots of grammar) like Time4Writing, Abeka, Bob Jones.
You do what is best for you and your teen!
High school writing requirements: How many papers should my teen write each year?
As you know there's not ONE right way to homeschool high school, so there's not ONE right number of papers to write each year. Every family and teen have different needs and goals, so paper writing will vary.
We have found that we can expect that each year:
More and longer papers from a tenth grader than a ninth grader
A bit more and longer papers from an eleventh grader than a tenth grader
And then more and longer papers from a twelfth grader than an eleventh grader
We also have found that writing needs differs by the level of rigor that a student needs:
Remedial students needs for support, types and lengths of papers will vary by student. (Check the section below on suggestions for special needs students.)
Average (non-college-bound students) do not need to waste their time on extremely long papers. They should definitely write to increase their critical thinking, communication and creative skills, but there is no need to overdo it.
College-bound teens need to do lots of writing and gradually longer writing projects.
If you want a in-depth, year-by-year, leveled breakdown of how many papers we have found work best for the homeschool families we have advised over the years, check out this post: How many papers should my teen write.
How do I grade papers?
We have found over the years, that we have grown to love rubrics. You can easily find one you can adapt on the internet or use our guidelines in this freebie: Tips for Grading Writing.
Also, many writing curriculums, including 7Sisters Writing Guides, include grading rubrics with each guide.
There are more guidelines for grading particular writing projects in these posts:
How can I motivate my teen for writing projects?
There are lots of things you can do to motivate your teen for their writing projects:
Start with a growth mindset, teens need to:

know that learning to write skillfully takes practice. The more they practice, the easier and more natural writing becomes.
talk resiliently. Instead of saying, "I'm bad at writing," try, "I'm learning to be a good writer."
think hopefully. Their brains need to know that they will keep working on their writing in order to improve. Talking hopefully makes a difference in the way the brain works. For more growth mindset ideas, check this post

Take a giant step back

Remember, you are homeschooling your teens in order to do what is best for them. You get to choose the educational goals. So if you are setting your teens' goals, then do not pressure yourself to have "grade appropriate" writing to start with. Take a step back:

Make assignments short

Keep them simple
Here's a post with more practical tips for helping reluctant writers with essays (sometimes this is the writing project that most intimidates young writers).
For teens with struggling with writing because of special needs:
Feel free to make the compensations they need:
Dictate writing assignments for first drafts to mom or using Dragon Dictation or other dictation app. (We are not affiliates, btw.)
Do journaling daily or weekly where students can free write with no need to be graded. This can be done by hand, dictation or dictation app.
Create a verbal progressive story (instructions in YouTube below)
Check out SPED Homeschool's website or Facebook group for lots of ideas and support
Adapt curriculum to your teens' needs. Do lessons together, dictated and then grow into eventually working independently
How can I teach the writing requirements in co-op classes?
If you are teaching writing high school homeschool co-op classes, you can have SO much fun! We have done some of the work for you, so read these posts then create some plans and a syllabus for your teens.
Don't forget we have co-op discounts on 7Sisters curriculum! (And feel free to contact us with questions at info@7SistersHomeschool.com or even more fun, throw questions out to the 7SistersHomeschool Facebook group and get lots of ideas from your many 7th Sisters!)
Do you have teens who are homeschooling high school or are planning to homeschool high school soon? Check out 7Sisters Authoritative Guide post on planning high school.
Your homeschool high schoolers can love their writing experiences. High school writing: You CAN teach this!
Follow our Pinterest board on High School Writing Requirements.
7Sisters email subscribers receive periodic practical encouragement, special offers and NO SPAM EVER.

Click the image above to periodically receive real homeschool value in your inbox.
High School Writing Requirements: An Authoritative Guide