Consumer Math used to be almost a throw-away course. It's what we decided to cover for a non-college-bound teen, a kid who needed one more Math credit on the homeschool transcript. It was supposed to be easy-peasy, mostly obvious stuff, with a few amortization tables thrown in and some practice keeping a checkbook. I am a bit red-faced to admit that this is pretty much all I provided for my four homeschooled kids in high school, and now that the youngest has graduated, I wish I had understood sooner that homeschool consumer math often misses the mark.
A simple definition of Consumer Math is this:  the set of practical arithmetic and other math skills used in commerce and daily life.
Financial Literacy is what our kids need.
(For more on the difference between the two, you can read The Difference Between Consumer Math and Financial Literacy here.)
As we have been finalizing Sara Hayes' new ebook text for High School Financial Literacy here at 7Sisters, I've been facing the hard truth that I left a big gap in my kids' learning in high school. I'm thankful that they are all still somewhat open to my guidance even now that they are young adults, and I hope to take some of the new things I'm learning about Financial Literacy and fill in some of that gap.
An international study by the OECD yielded this sobering observation:
"Developing financial literacy skills and knowledge is critical now that individuals are becoming increasingly responsible at an ever earlier age for financial risks affecting their future…" (OECD Secretary-General Angel Gurría)
I, for one, had not thought of it quite that way before, but the Secretary-General is right.
– The internet has changed the world forever.
– The advances in technology and gadgets have done away with the idea that a teen is saving up only to try to buy a car ('cause he also needs a smartphone, a tablet…).
– Money is physically handled differently than it was even 10 years ago (plastic doesn't mean what it did when I was a teen).
– The opportunities for debt are so readily available.
– The impact of social media on credit reports is not an urban legend.
– The constant bombardment of the media has led to an epidemic of "affluenza" in our young people,
– and on and on!
Instead of simply knowing how to track the flow of money in and out of her checking and savings accounts, how to plan for major purchases and budget for day-to-day expenses, our daughters now need to have a much broader base of literacy in regards to financial matters.
Instead of just practice accurately reading interest tables and amortization schedules, our sons now need a whole vocabulary to make sense of the financial world; they need a way to discern what is a reputable source of information and what is a scam instead.
I am sad that homeschool consumer math missed the mark with my own kids.
I spent an uncomfortable evening with one of my grown children a few months back revamping the budgeting strategy that wasn't quite cutting it, helping that child deal with a hefty piece of humble pie even as I choked it down myself. Since that night, our conversation has been much more often focused on looking into expanding our true financial literacy (yep, I'm learning a bunch of new stuff right alongside my kids!).
I'll be sharing about our adventure from time to time here on the blog. If sharing honestly about my mistakes can help someone else whose kids are a bit younger than mine, I will be so happy! God has a way of redeeming our messes. He's cool like that.
Want to see what Sara's Financial Literacy Curriculum is all about? Click to learn more!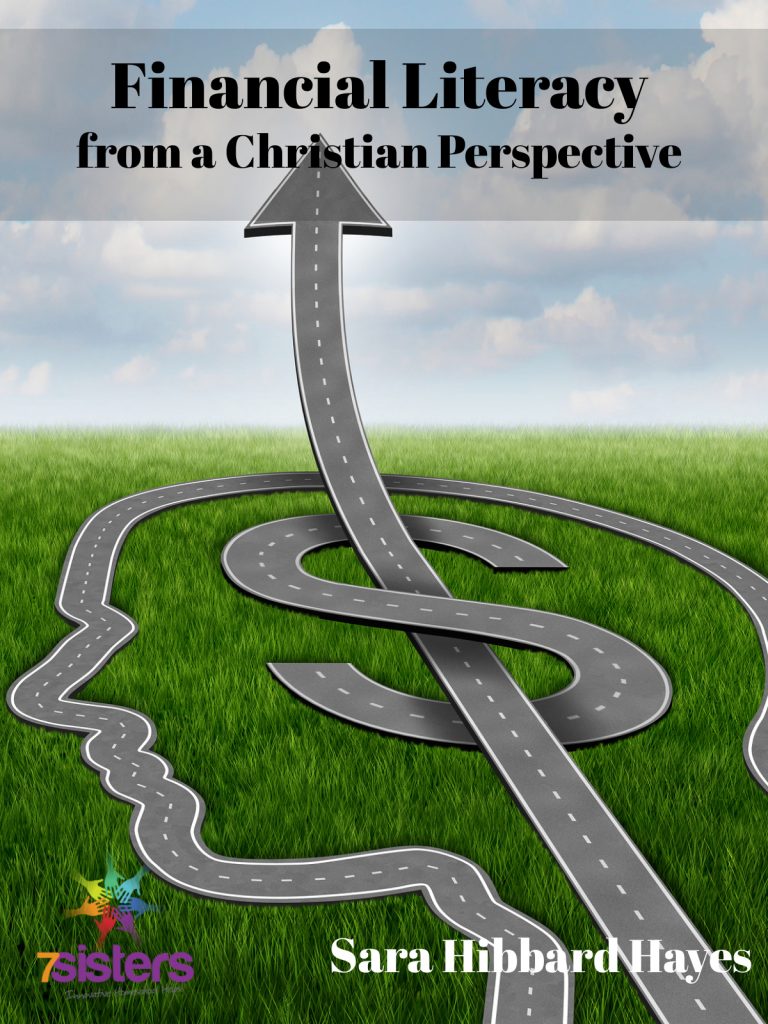 5 things from Financial Literacy/Consumer Math that aren't obvious to most kids.
7Sisters email subscribers receive periodic practical encouragement, special offers and NO SPAM EVER.

Click the image above to periodically receive real homeschool value in your inbox.