Homeschool Financial Literacy for Teens: An Authoritative Guide- help your teens prepare for a successful future.
Homeschool Financial Literacy for Teens: An Authoritative Guide
Many of us parents remember the financial crisis of 2008. That was a disastrous time in American history. Many people lost money and homes and did not have savings or financial plans to help them. It was in those days that 7Sister Sara decided she should share the course she had been teaching her teens and our local homeschool umbrella school.
That's how Financial Literacy from a Christian Perspective was born! The generation of homeschool high schoolers who had the opportunity to take this course have been blessed to enter adulthood equipped to be good stewards of the resources God has given them. (Sara's son, Luke, is now an entrepreneur. Here's his story about Financial Literacy.)
First off, what is the difference between Consumer Math and Financial Literacy?
This is a logical question! Since the disasters of the 2008 recession, many states are requiring a Consumer Math credit for high school graduation. They want teens to be prepared to handle money wisely, so states want teens to cover the practical mathematical techniques that are used in daily life (for instance, budgeting and banking).
Financial Literacy goes beyond the Consumer Math. While it cover those Consumer Math topics, Fin Lit also equips teens to be able to understand:
attitudes towards money
vocabulary and strategies of planning for their financial future
basics of using money: borrowing, investing, giving saving and spending
the basics of the monetary interactions between them and the government (taxes, for instance)
Consumer Math on the other hand is different: the study of practical mathematical techniques that are used in commerce and normal, daily life.
Next, is Financial Literacy a Math credit or Elective credit?
Well, as we always say, there's not ONE right way to homeschool high school. AND not one right way to delegate the kind of credit Fin Lit will earn. It could be a Math credit (especially for non-college bound teens) or Elective. Here's a post to help clarify whether your teen needs to count Financial Literacy as Math credit or Elective credit.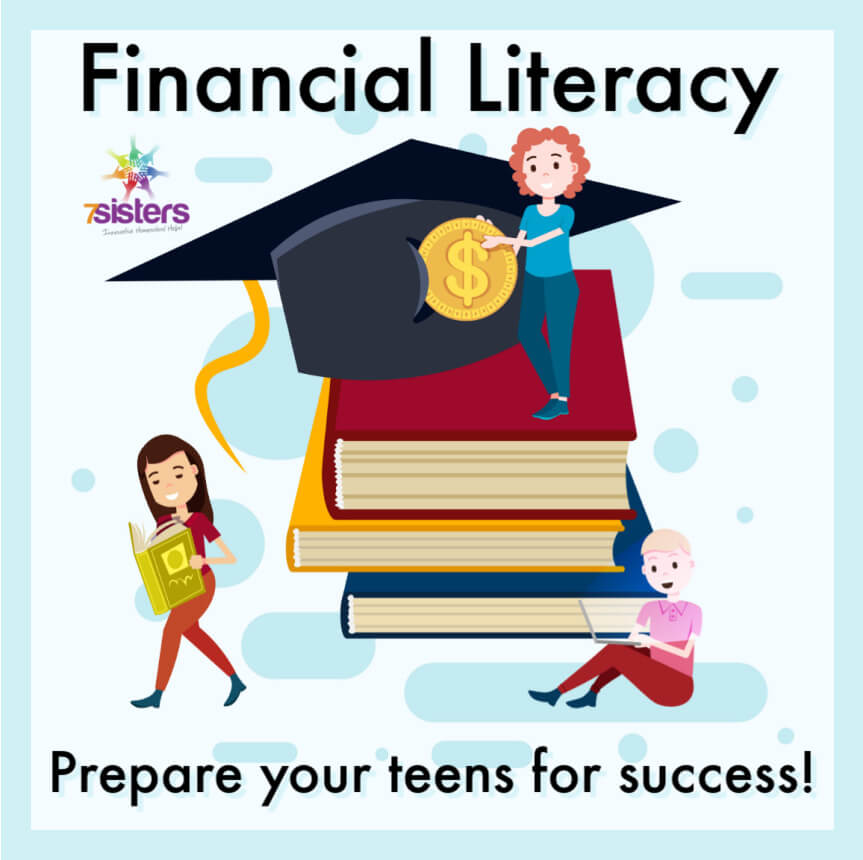 Financial Literacy for teens: How to get started
The first thing that teens need when learning about Financial Literacy is the "WHY". Financial Literacy can sound boring or intimidating, so getting your teens' buy-in will help a lot! (Let me tell you, though, 7Sisters Financial Literacy is not boring! That's because it is interactive and pertinent to their lives.)
So, start off with sharing few blog posts that explain the benefit of learning Financial Literacy.
Your teens will discover the hidden costs to some things they may want or need to purchase. It is a quick lesson that really gets them thinking!
Use an interactive, thought-provoking, no-busywork curriculum
Of course, we suggest Financial Literacy from a Christian Perspective! But we know there's not ONE right way to homeschool high school OR teach Financial Literacy. That's why Sara shares some of her favorite curriculums in this post.
When we say our course is interactive, we mean it. I remember my son going through the course and looking up things online, developing his own budget, interviewing me about taxes, creating plans for his financial future and more. He is an adult now and continues to practice the excellent skills he gained in high school.
Terminology and vocabulary for understanding finances
Biblical foundations for wise stewardship
A look at the time value of money
Learning at the impact of personal values on finances (along with tools for personal evaluation, goal-setting and review)
Strategies for record keeping
Instruction in the use of credit, credit scores and the pitfalls of the misuse of credit
Clear explanations of pay, benefits and deductions
Instruction on the use of debit cards
Explanations of the various types of financial institutions (along with some pros and cons of each)
Ways to recognize threat and fraud
Tools to safeguard personal accounts
Instruction on various types of insurance
Basic tools for career exploration with costs of training or education
Charts and videos for visual and auditory learners
Financial Literacy course (like any good Fin Lit course) is comprehensive, including:
Setting Financial Goals

How Values Affect Goals

S.M.A.R.T Goals

Financial Strategy for Achieving Goals

Budgeting

Limited Resources

The Budget – Freedom within Safe Bounds

Income and Expenses

Keeping Your Spending on Track with Your Budget

Saving and Investing

The Time Value of Money

Simple and Compound Interest

Investments: Risks and Rewards

Credit

Revolving and Installment Loans

Benefits and Risks of Credit

Amortizing Loans

Your Credit Report and Credit Score

Debt

Financial Institutions and the Services They Provide

Banks and Credit Unions

Checks

Debit Cards

Bank Statements & Balancing Your Checkbook

Identity Theft

Insurance

Automobile Insurance

Health Insurance

Life Insurance

Disability Insurance

Renter's/Homeowner's Insurance

Your Career

Help for Choosing Your Career

Education and Career Opportunities

Payroll Deductions and Employee Benefits

Christian Work Ethic

Taxes

Record Keeping

Basic Income Tax Vocabulary

Tax Preparation Exercises
7Sisters Financial Literacy has a unique interactive format that allows teens to truly get involved with developing the necessary life skills of managing money well. This is a downloadable course that comes in a unique format:
Four Student .pdf files:

Textbook (including Study Sheets at the end of the chapters & Appendix of suggested reading

Exercises

Worksheets

2018 1040 Instruction Booklet (for use with Chapter 9)

Four Parent .pdf files:

Exercises Answer Key

Worksheets Answer Key

Tests Answer Key

Tests
If you would like a glimpse on how to use our useful Financial Literacy curriculum, here's a mom's guide.
Financial Literacy for Teens: Give your teen a syllabus to help them stay on track
A syllabus for Financial Literacy can help your homeschool high schoolers to manage their time and energy while they learn to manage their money. Here's a suggested syllabus for Financial Literacy (FREEBIE that covers the full year) that you can adapt to your teens' needs.
Now plan for some fun with Financial Literacy
While learning Financial Literacy why not get together the family, friends and/or homeschool co-op and play some Financial Literacy games?! Teens can enrich what they are learning in their Fin Lit course with gameified learning. Check out this post with a list of Consumer Math games!
You can get co-op involved with these Financial Literacy activities (instructions in this link):
Bartering activity
Need versus Wants activity
Inflation activity
Debt activity
Insurance activity
Personal property activity
Employment forms activity
Hands-on, group learning is a great way to help Financial Literacy concepts stick!
Before the Holidays, have a Financial Literacy practical discussion
If teens learn early about the risks and woes of overspending during the Holiday Season, they will be better prepared for adulting. In December, read this post together about Holiday Financial Literacy. Then help your homeschool high schooler create a Holiday budget for themselves.
Don't forget: You are your teens' most powerful teacher
When you model good financial skills, teens will pick up some of these skills just by being around you. Discussions help, too! So plan to have regular financial discussions with your homeschool high schoolers.
You can equip your teens for the life skills of money management. What a blessing! So go ahead and download 7Sisters Financial Literacy from a Christian Perspective for a solid Fin Lit course! (BTW- We periodically update the links for the Financial Literacy curriculum. Download this freebie for updated links.)
Of course, 7Sisters Financial Literacy curriculum includes tests. Click here to view an excerpt of these tests.
Many homeschooling families do 7Sisters Financial Literacy, Career Exploration and Apologetics. Did you know you can save a lot of money when you purchase  together in the Curriculum Bundle to Prepare for Independence?
Read more about making financial literacy a fantastic course.
AND here are 7Sister Sara's top picks for financial literacy.
Follow our Pinterest board on Homeschool Financial Literacy for Teens.
7Sisters email subscribers receive periodic practical encouragement, special offers and NO SPAM EVER.

Click the image above to periodically receive real homeschool value in your inbox.
Homeschool Financial Literacy: An Authoritative Guide