Not all learning comes out of a textbook.  Some would argue that not much learning comes ONLY out of a textbook! Even the folks at CollegeBoard.org strongly encourage the wise pursuit of electives in high school. Think creatively when it's time to choose homeschool high school electives.
Plan Wisely for Homeschool High School Electives
Finding a good textbook with lots of engaging information but not a lot of busy-work is wonderful.  But what happens when you need to move beyond the textbook foundation for high school electives?  Creatively offering high school electives to our homeschoolers (here are ideas for electives to consider) is a wise part of planning for high school.
Try these ideas for developing homeschool high school electives beyond the traditional "find a textbook for it" approach:
Independent Research Project:
A great way to get started is to assign your student to find out more about the topic on his or her own.  The internet is tool for gathering basic information that will lead to all sorts of great ideas for further exploration.  Agree on a subject area (pastry baking, for example), and give your child a week in which to research the subject.  Log hours spent researching (they count towards that credit you'll be putting on your transcript).  Then meet to go over what your child discovered and decide what follow-up steps you may take.
Field Trips:
Observing elements of a subject area in action, and talking to the people who work in that field for a living (or as passionate volunteers) is some of the most valuable education out there.  Field trips are not just for elementary schoolers.  Plan some trips to dig into a subject you've chosen for elective study.  Visit a  bakery that makes specialty pastries.  Take a tour of a culinary arts program at a community college.  Arrange to chat with the pastry chef at a restaurant in your area.  And log those hours!
Video:
YouTube, Netflix, PBS, and on and on and on offer fantastic documentary and how-to videos to enhance the study of an elective subject.  Entire DVD curricula (lectures, lab demonstrations, etc.) are available on a wide variety of topics.
Service Projects:
Is there a way to offer hours invested in a project to bless the community?  Can you bake  and donate to Meals on Wheels?  Or offer a Christmas cookie decorating class to your church's daycare?  Giving as we learn about a subject area blesses others and blesses us spiritually as well as educationally.
Cooperative Learning:
Many electives are more fun to study in a group.  Students benefit from the interaction and discussion, and develop a more well-rounded understanding of the subject if they investigate it with others.
Mentoring/Apprenticeship:
Often someone with great expertise in a subject area is willing to take on a student for a few hours (or maybe a lot more) in mentoring and apprenticeship.  Praying for God to provide someone in a particular subject area has provided solutions in our homeschool many times over the years!
Psychology, Philosophy, Early Childhood Education, Career Exploration, and Human Development are great elective options with no-busywork textbook resources available here in our EBookstore.
7Sisters email subscribers receive periodic practical encouragement, special offers and NO SPAM EVER.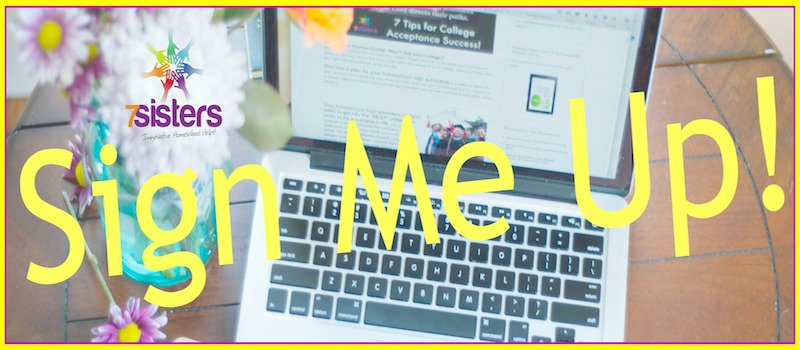 Click the image above to periodically receive real homeschool value in your inbox.
Plan Wisely for Homeschool High School Electives