We often hear questions about high school health (and everything else homeschooling).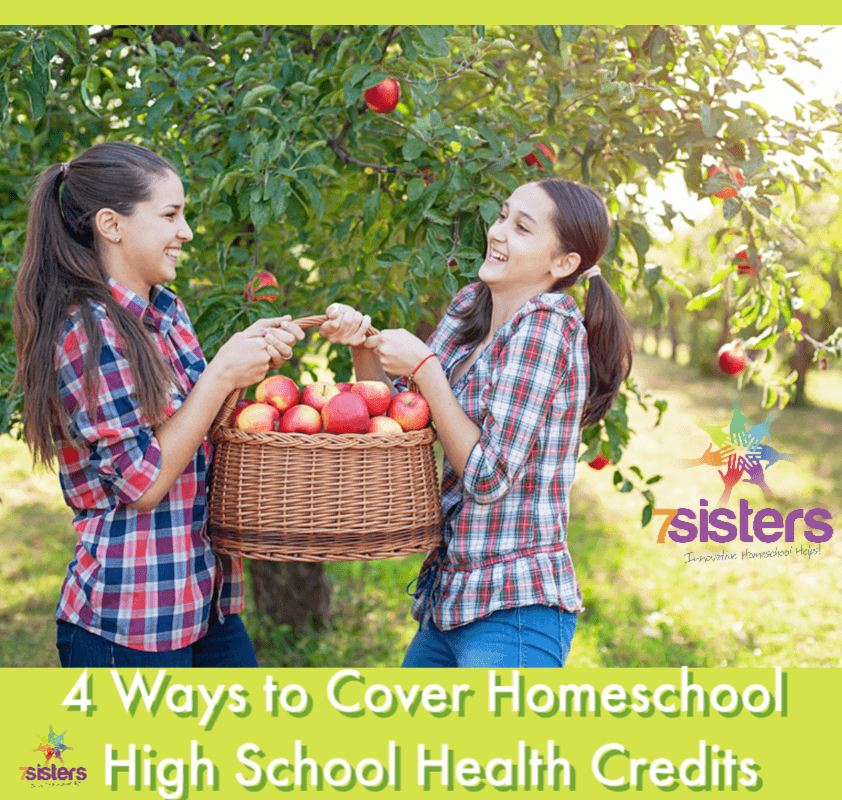 4 Ways to Cover Homeschool High School Health Credits
There's not ONE right way to homeschool high school and there's not ONE right way for your teens to earn their required Health credits! Here are 4 ways that you and your teens can choose. You can even mix and match for leveled-up credits. (Does your homeschool high schooler need an Honors Health credit for their homeschool? Not sure? Here's a post that explains levels for the homeschool transcript.)
Many homeschool moms like their high schoolers to use a textbook for required courses. That way they are certain that the necessary material has been covered. Often homeschool moms had requested that 7Sisters publish a Health curriculum, so we did!
Now you can cownload 7Sisters' NEW High School Health for the Whole Person, an interesting, no-busywork, adaptable text in the 7Sisters style that so many homeschoolers love!
Teens don't like to waste their time on anything that is not necessary to know. So we respect that by keeping lessons short and sweet.
They want to understand and remember what they learn, so the writing style is accessible to most homeschool high schoolers.
Homeschool high schoolers want assignments and tests that are fair, so we created tests that, if teens have digested the material, they will remember (no trick questions).
Many teens want to level-up, so we included meaningful enrichment activities that they can choose from to earn an Honors credit in an enjoyable way.
Here are tips for teaching Health in co-op class.
For teens who work best with a syllabus, here is one for Health that you can download and adapt to your needs,
Log 120-135 hours of individual instruction in health topics. First, choose health topics from a wholistic approach and work with your teen to develop a plan for healthy lifestyle. (Here is a post that explains Carnegie units.) Then, decide on activities that they can develop skills in:
3) Anatomy and Physiology
Anatomy and Physiology is a good choice for future nursing or pre-med students. This course looks intensely into the body's systems. It is much more rigorous and less wholistic than a traditional Health curriculum. Here's a post that explains the difference between the two courses. While they are not really the same thing, many supervisory organizations allow students to substitute Anatomy and Physiology for Health. A good curriculum for A&P is at Apologia.
4) For teens who have already covered nutrition, exercise, drug avoidance, and abstinence- why repeat the same stuff?
Some teens have covered Health several times during middle school, so balk at a high school level Health curriculum. For these teens, it is a good idea to give them some genuine life-lasting skills for their Health course. Allow them to gain understanding of themselves, their siblings, their parents, and grandparents. This is covered in the course: Human Development from a Christian Worldview. If you have a supervisory organization, check with them about whether they accept Human Development as a Health credit (otherwise, it is an elective or Social Science credit).
Long ago, when my oldest kids were in high school, we had not even started 7Sisters, much less have a no-busywork Health curriculum. My teens had covered health pretty well in middle school. What could I use for the required Health credit for their homeschool transcripts?
I didn't want my kids to graduate high school without a good understanding of the way people grow and change from womb to old age. That's when I decided that Human Development could be a great choice for Health. My umbrella school supervisors approved.
However, I couldn't find a Human Development curriculum from a Christian worldview.
So, out of my work and training as a counselor I created one. I've been using it for years with all my kids and the local homeschoolers.
I remember one day, my 15-year-old was telling me why the 2-year-old niece of his friend says, "NO" and "over-generalizes her grammar rules". He also understands why his grandparents tell the same stories over and over. He also is beginning to recognize the early stages of his own metacognition.  These are skills that will help him be a better babysitter and friend. Then someday, he'll be a better husband and father. These are Human Development skills. Those are pretty good Health skills, too. The things teens learn in Human Development are things that build life skills, character and a good transcript.
Our Human Development book is written as a light-hearted text at an average high school level. My son added activities suggested in the book to increase the level to college prep.
BTW- 7Sisters offers a suggested syllabus for teens to use, as well as Lesson Plans for Human Development (these are useful for co-op teachers or deep dives for individuals)
So, here are 4 different choices for Health credits for homeschool high schoolers. You can combine them, also, for Honors-level credits. That way, your teens will look back on their good Health experiences and be grateful you found a right-fit Health credit for them.
7Sisters email subscribers receive periodic practical encouragement, special offers and NO SPAM EVER.


Click the image above to periodically receive real homeschool value in your inbox.
Click here for some practical ways to use Human Development from a Christian Perspective in your homeschool.
4 Ways to Cover Homeschool High School Health Credits
SaveSaveSaveSave
SaveSaveSaveSave
SaveSaveSaveSave
SaveSaveSaveSaveSaveSave