Homeschool high school history and social studies credit explained.
Homeschool High School History
What counts as homeschool high school social studies? That's up to you and your teen (and state requirements)! Homeschool high school History is part of the subject: Social Studies, as are a few other typical areas of study.
For many college-bound homeschool high schoolers social studies will look like this:
1 credit in American History
1 credit World History
.5 credit each in Civics, Economics, Geography
.5 credit of Social Science: Psychology, Sociology or others (varies by state) OR .5 credit Elective History or State History
Remember: You didn't give up the right to teach what is best for your homeschooler just because he/she is in high school. Social studies is a great subject to gear towards your teen's gifts and interests.
Homeschool high school history does not need to be all about memorizing dates and names from a musty textbook. Focus on ideas that capture your student's attention. Use field trip experiences to guide learning. Discuss problems and solutions that have been attempted over time and around the world. Encourage your student to really THINK as you earn credits in high school social studies.
Homeschool high school history examples
If you have been doing survey courses (in other words, if you have been using traditional textbooks that highlight historical events at a surface level) of American History or World History, why not allow them to try an inspiring way to study History during high school?
Your teens can study History in many different ways during high school! Here are some ideas:
Remember, there's not ONE right way to homeschool high school…or to learn history and social studies!
We did this because our local state college has started teaching classes with this approach. It was a rigorous class but many of the homeschoolers reported that it was their favorite class for the year.

Instead of doing the same old thing, a number of our local students have made their World History more useful by studying History and Philosophy of the Western World.

The downloadable text (written by philosophy professor, Dr. Micah Tillman, and me) was designed to capitalize on the fact that teens are often developing metacognition and are wanting to think deep thoughts and wrestle with ideas.
This text surveys world history along with the philosophers that influenced each time period. The homeschoolers have completed the course with good background in philosophy and history (and some extra thinking skills).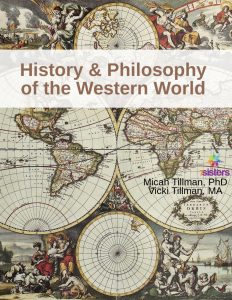 There are a number of good civics and economics texts.

Social Sciences are also Social Studies credits.

Social Sciences help homeschool high schoolers learn more about themselves in context of the culture. These are good life-preparation courses. 7Sisters offers a couple of Social Science courses for teens:
And check out Sabrina's post on creating a high school social studies elective credit; she and her son had a good time doing that last spring!
Try homeschool high school history options beyond the traditional timeline, and discover great ideas in the various high school social studies subjects you can explore.
Need more inspiration for helping teens understand how meaningful and important it is to study history? Check out this on why History is boring and how to make it better.
If you have a teen who has not yet figured out how to be interested in History, here are some tips.
7Sisters email subscribers receive periodic practical encouragement, special offers and NO SPAM EVER.

Click the image above to periodically receive real homeschool value in your inbox.
Homeschool High School History