Why should homeschool high school transcripts include recording of course levels?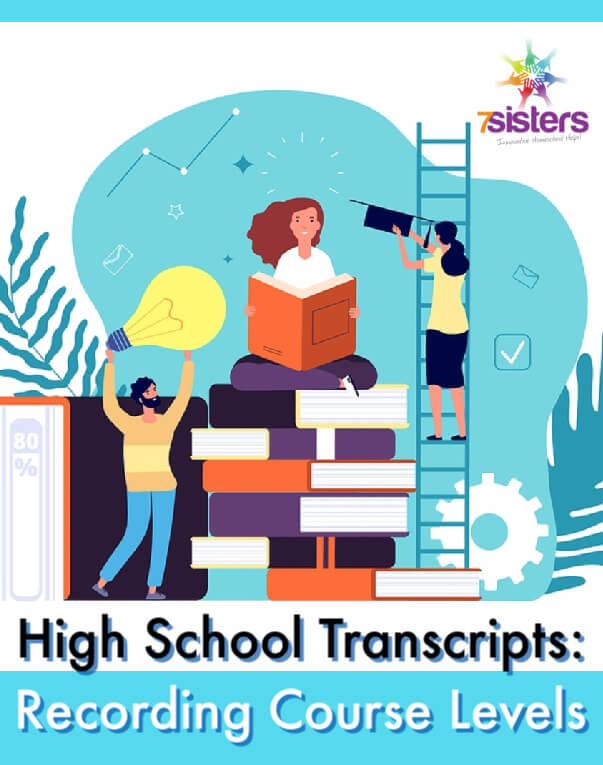 Homeschool High School Transcripts: Recording Course Levels
Do you have a college-bound teen? Here is a quick bit of advice: Many colleges want to see the level of rigor of high school core courses. (The level of rigor shows how challenging or in-depth a course was.)
I have homeschooled each of my five kids all the way through high school. Not only that, but they have all already attended and graduated from the colleges of their choice. The clarity of levels on their high school transcript has helped them find favor in the admissions process.
l learned through helping them prepare for college and in my role as an academic advisor to local homeschool high schoolers the importance of a college-attractive transcript that recorded the levels of rigor of their core courses.
Why do colleges care about the level of rigor for your homeschool high schooler's courses?
They care because college want to easily assess whether your teen has the ability to handle college-level academics. When they clearly see the level at which your teen is already succeeding, they can guess about their likelihood of academic success at that college.
In order to help colleges understand the level of rigor of high schoolers' courses, many homeschooling families are now recording the level on the transcript. With college admissions' need in mind, homeschool high schools are not the only educational institutions including levels on their transcripts. Many private and public schools will show the level of each core course right next to the name of that class.
If your teens need to "level up" for a more rigorous credit for their transcript, here's a post that explains how to create an honors credit for your teens.
For instance, here is a glimpse at an excerpt from a local homeschool alumni's transcript:
You can see that the high school levels of rigor is only recorded on core courses:
English/Language Arts
Math
Social Studies
Sciences (In this case, the homeschool high schooler counted a Social Science as a Science. You can also count Social Sciences as Social Studies credit.)
See the "L5″, L2", "L3" beside the names of the core courses? These denote the level or phase should be noted on the transcript  beside the course title. Also, the L5, or highly rigorous Honors courses, are bolded in order to stand out.
While you are at it, it is wise to include a legend on the transcript with a brief description of the way the levels are assigned. (A more detailed description can be included on the "school profile" that many online college applications require.)
Note: There is not much standardization of levels from school to school.
The homeschool umbrella school that our families belong to requires levels that are much more robust than many schools. This is good because the umbrella school's reputation for high standards has opened doors for our students to many colleges.
Here is how our umbrella school assigns high school levels
Remember, there's not ONE right way to homeschool high school. Adapt this in a way that fits your family.
Basic Level: Level 1- Remedial Courses
This level is for students who struggle in a subject. While it is acceptable for high school graduation, Remedial Courses are not acceptable for college applicants.
Average Level: Level 2- Average High School Courses
Level 3 is for average high school students. While Level 2 Courses are not as rigorous as Level 3- College Prep courses, taking a Level 2 course does not prevent a student from going to college. 7Sisters World Literature, like all our curriculum is adaptable to various levels. The texts include instructions on how to add or subtract learning activities and assignments to allow academic success for average to honors students.
College Preparatory Level: Level 3- College Preparatory Courses
If you have a college-bound high schooler, Level 3 courses should be used for all their non-major courses. These courses mimic the rigor of college classes.
Advanced Level: Level 4- Advanced Courses
This level is for students in College Prep courses who are able to do more rigorous work. These courses add power to the transcript and are attractive to colleges. Level 4 at our umbrella school requires Level 3 work plus 1/2 more credit to equal 1 advanced credit. Levels 4 and 5 should be used for a students courses that they are aiming for as college majors- or are areas of interest.
Honors Level Level 5- Highly Rigorous Honors Courses
Level 5 is for highly competitive students who want the most powerful transcripts. These courses look very attractive to colleges but are very rigorous. Homeschoolers earning a Level 5 credit at our umbrella school are required to complete fully double the work of a Level 3 course. They could also complete an AP course, instead.
I have homeschooled each of my 5 kids all the way through high school. They have all attended (or are attending) the colleges of their choice. The clarity of levels on their high school transcript has helped the admissions process.
All 7Sisters curriculum gives instructions on earning credits at various levels. That is one way our curriculum is so adaptable!
Click here to learn about figuring out GPA for the transcript.
Read here for more about the importance of rigor and extracurriculars on the transcript.
Click here for ways to make all this work in homeschool co-op.
7Sisters email subscribers receive periodic practical encouragement, special offers and NO SPAM EVER.


Click the image above to periodically receive real homeschool value in your inbox.
Homeschool High School Transcripts: Recording Course Levels
SaveSave
SaveSave
SaveSave