Have a homeschool highschool co-op? Here's activities for MLA research paper for your teens.
Homeschool Highschool Co-op: Activities for MLA Research Paper
Teens need to write a research paper each year for Language Arts. We've never had homeschool graduates complain about this (although they did complain when they were teens). College and career teens tell us that the skills they learned in high school writing those paper has been a BIG help after graduation.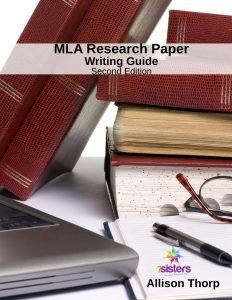 Our 7Sister Allison shares how she uses MLA Research Paper Writing Guide for activities with her homeschool highschool group classes:
Writing a research paper is most certainly an individual student project. Students must devote time to independent research of sources, organizing their thoughts on the subject, drafting their discussion, and revising to produce a quality paper of their own.
However, the co-op setting provides certain benefits to the process of writing MLA research papers:
First, and perhaps foremost, a homeschool co-op or group setting can be a platform for incentive and encouragement while students undertake this sometimes overwhelming writing assignment.
Procrastination undermines the research writing process, and deadlines shared by a group somehow appear more definite in the mind of the high schooler. Many students dislike writing a long paper, but "group suffering" in co-op sweetens the sour.
Here are some practical tools for use in your co-op MLA research paper class include:
• Thesis feedback: Let students read each other's theses and make suggestions. Use the "Evaluating a Thesis Worksheet" (page 17 in MLA Research Paper Writing Guide) to guide student responses.
• Introduction response: Have each student share his or her introduction and conclusion with another student. Does the introduction capture the reader's interest?
• Conclusion response: Pair students and let them play the "So what, why should anyone care?" game. Read the conclusion, then ask the writer, "So what, why should anyone care?" The writer's answer can then be incorporated into his conclusion or can spur another, "Why should anyone care?" question which can lead to more ideas for the conclusion, etc.
• Editing: Encourage students to share papers with each other and act as editor. Use the editing checklist (page 31). Editors can mark areas for correction, then return the paper to the writer for polishing. This strengthens both the writer's and the editor's skills.
• Practice Citations: Divide the co-op into two teams. Give each team several sources from which to create in-text citations and works cited entries. Have the teams trade sources and lists and see if they can locate the correct source and spot for each citation the other team created.
MLA Research Paper Writing Guide is a great choice for homeschool highschool co-ops. Take a look at it!
For more on how to teach homeschool co-op classes, check this post.
7Sisters email subscribers receive periodic practical encouragement, special offers and NO SPAM EVER.

Click the image above to periodically receive real homeschool value in your inbox.
Homeschool Highschool Co-op: Activities for MLA Research Paper