This week on the Homeschool Highschool Podcast: Science Credits for Non-Science Majors! This post is running concurrently on the Ultimate Homeschool Radio Network.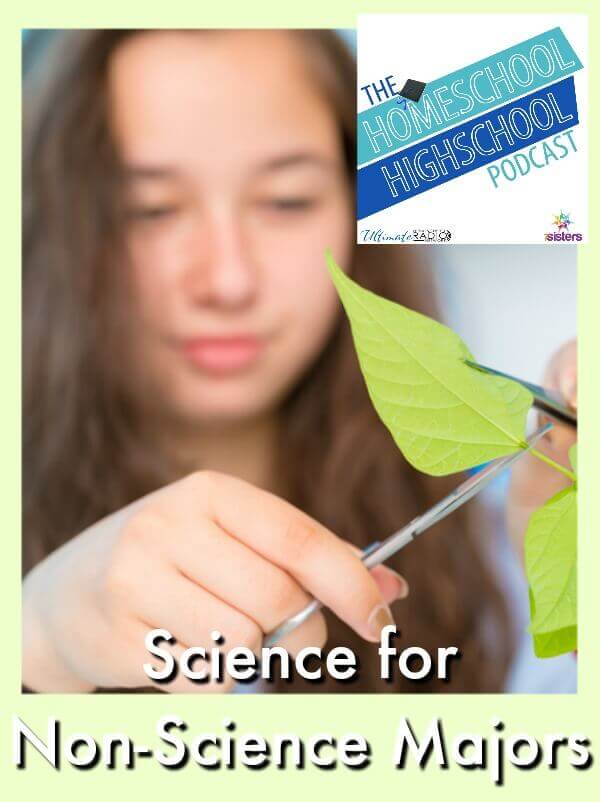 Note: We are not affiliates with any curriculum mentioned in this episode.
What if your homeschool high schooler is NOT going to be a science major in college, or might not even be going to college. Must they do a
Biology
Chemistry
2 Other Sciences:

General Science, Physical Science, Earth Science, Astronomy, Physics, Marine Science, Geology, etc.
Health (Some states list Health as a Science, some create a special category for Health)
Is your student interested in Astronomy? Check out this interview with Luke Gilkerson.
When creating a Science credit for your homeschool high schooler you will need:
Curriculum
30 hours lab for Biology, Chemistry and one other science (at least 3 courses should include lab)
If you have a homeschool high schoolers who are not headed for college OR will not be a Science major (and will start at a community college or less competitive college), Average-level Science courses are a great choice.
What are levels in homeschool high school?
Level 1: Remedial
Level 1 is a remedial level. This level is for students who have learning disabilities that prevent them from doing higher-level work. They need curriculum with short lessons, short assignments, simple vocabulary in the text for easy reading, modified tests experiences.
One popular curriculum for Level 1 Science is Pearson Education Pacemaker Series.
Level 2: Average
Average-level courses are for non-college-bound highschoolers or teens who will not be Science majors in college and will be attending a community college or less-competitive college. (College-bound teens should restrict their Average-level courses to around 2 credits.)
Westfield Studios 101. Make sure you follow their syllabus in order to earn a full Average-level credit.
Some online courses may be Average-level. Be sure to read course descriptions and/or talk to the teacher.
Many local homeschool hybrid schools or co-ops will give this option. Co-ops are awesome because the contagious enjoyment of a teacher who loves science can help teens get the most out of these core courses. (And someone else is teaching a subject you may not like!)
Try group labs.
BE sure to note on your transcript which level your student's core courses are taught.
Read this interview with Kristin Moon about engaging teens in science.
Introduce Apologetics and Dinosaurs with this freebie presentation.
Join Sabrina, Vicki and Kym for a discussion about their personal experiences with homeschool highschool science and some good resources. In the meantime, check out these posts.
Homeschool High School Transcripts: Recording Course Levels
Homeschool Highschool Podcast Ep 67: Science Labs for Non-STEM Teens
7Sisters email subscribers receive periodic practical encouragement, special offers and NO SPAM EVER.

Click the image above to periodically receive real homeschool value in your inbox.
Homeschool Highschool Podcast Ep 103: Science Credits for Non-Science Majors