Time for The Homeschool Highschool Podcast!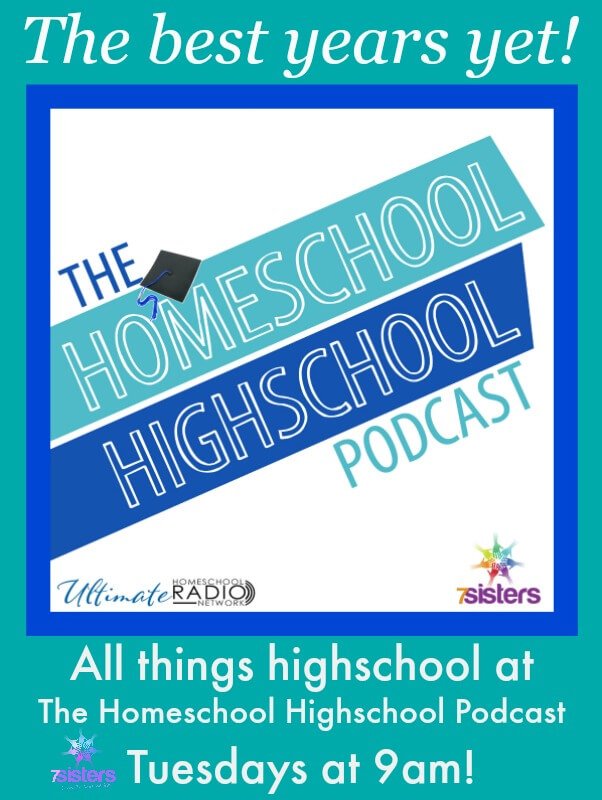 The Homeschool Highschool Podcast
Our Podcasts can be found at the Ultimate Homeschool Podcast Network!
Homeschooling your teens will be the best years yet! Come be the 7th Sister when you join your friends from 7Sisters Homeschool each week on The Homeschool Highschool Podcast on the Ultimate Homeschool Radio Network!
You can listen on Apple or Google Podcasts apps!
What do you get when you take SIX homeschool moms who have helped each other make it all the way to high school graduation, throw in relationships with a few hundred other local homeschoolers who have partnered with them in all sorts of community endeavors, and allow those ladies to share what they've learned with the rest of the homeschooling world via the internet?
We will be your big sisters and best friends as we share with you about all things "homeschool high school".
We have a favorite hashtag #JustLikeYouButOlder
So grab a cup of coffee, hide in your favorite spot and enjoy listening to the sisters share their favorite tips and experiences.
At The Homeschool Highschool Podcast we will give you:
How-to's to help you plan the high school years
Tried-and-true methods for developing a powerful transcript
Tips to build your confidence in educating your adolescents
Steps to help you guide your teen in life and college preparation
PLUS Insider Information:
Facts about homeschooling high school in the world today
Interviews with real homeschool graduates to discover what they liked and didn't like about homeschooling high school
Interviews with experienced homeschool parents to learn what worked and what didn't in their real homeschools
Join us for The Homeschool Highschool Podcast!
Click here for a link to the podcast and have fun homeschooling high school!
7Sisters email subscribers receive periodic practical encouragement, special offers and NO SPAM EVER.

Click the image above to periodically receive real homeschool value in your inbox.
The Homeschool Highschool Podcast