Homeschool Human Development Course: Good for Transcript and Life!
Homeschool Human Development Course: Good for Transcript and Life!
One of the most useful courses my homeschool high schoolers have taken is Human Development. It has prepared them for life as well as giving sparkle to their homeschool transcripts.
Just what is Human Development?
It is the study of the ways people grow and change from womb to old age. It covers changes in several different areas:
Physical changes
Emotional changes
Cognitive (mental/learning) changes
Social changes
7Sisters offers one of the few high school-level Human Development courses from a Christian worldview.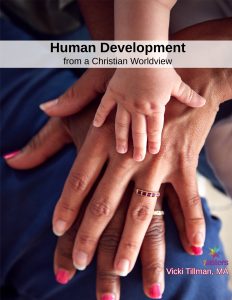 You can see how that can be helpful to teens. They need to understand so many things as they are preparing for life.
Teens need to understand themselves.

They learn about *metacognition*, an adolescent's newly-gained ability to think about thinking about things (themselves, their faith, their friends, their future). It is a deeper level of thinking that is caused by neural development that happens during the teen years, thus it is not possible for younger children.

Also, they need to understand their siblings and other family members.

When they understand why their younger siblings are hung up on everything being *fair*, they can feel compassion, knowing it is a developmental phase rather than being irritated.

They need to understand why the 2 year olds they babysit always say *no*.

Learning to say *no* is a way a toddler learns to distinguish between themselves and others, what they have control over, and what is expected of them.

They need to understand why their grandparents tell the same stories every time they visit.

Part of a senior's job is to know they have done some things well. As they tell the stories over and over, they are looking for positive encouragement that they did well. They might sometimes forget that they told that same story on the last visit.

They benefit from this information being presented from a Christian worldview.

(For instance, children in the womb are children, not things.)
College-bound or non-college-bound homeschool high schoolers need these skills!
For more life skills, combine Human Development and Early Childhood Education.
Check out the ways our friend, Susan from The Sparrow's Home, used Human Development with her preschoolers AND homeschool high schoolers together.
College-bound teens need a transcript with *sparkle*.
We are told by some college admissions officers that teens who are applying to competitive colleges, or colleges with competitive scholarship opportunities, have an edge if their transcripts show *sparkle*. These are transcripts that have out of the box courses or courses that shows they have explored an interest.
Homeschool Human Development course by 7Sisters will help build that sparkle for the transcript. One of the benefits of 7Sisters Human Development is that the text covers the scope and sequence needed for the credit in a quick, fun, teens-will-remember-what-they-learn fashion. PLUS, instructions are given for leveling-up the credit to a transcript-enhancing Honors level by choosing meaningful activities that teens will find interesting, engaging and applicable for life. Thus, they earn a competitive credit in a specialized manner.
Homeschool Human Development is a great course for co-op, too!
Lots of great discussion material (some discussion-starter questions are included in the text), plus when you download 7Sisters Human Development Lesson Plans, you have course description, goals for each week and links to lots of good videos and resources.
Download Human Development from a Christian Worldview and the Lesson Plans to build a good transcript and good life skills!
7Sisters email subscribers receive periodic practical encouragement, special offers and NO SPAM EVER.


Click the image above to periodically receive real homeschool value in your inbox.
Homeschool Human Development Course: Good for Transcript and Life!