One component of Homeschool Language Arts – Creative Writing.
Homeschool Language Arts – Creative Writing
Does the blank page (or blank screen) inspire your homeschool high schoolers? or TERRIFY them?
The easily inspired are easy to work with, of course, you just give them an assignment or idea and they run with it. The terrified teens are more difficult, of course. But here's hope.
Creative Writing for high school ELA/Language Arts should include:
Terrified teens who are afraid of that blank page or blank screen can benefit from easing into the writing process. It's okay to take baby steps and then build on the success. For instance, start with a lighthearted spoken assignment instead of a written assignment. We love "writing" progressive stories together during car rides or at homeschool co-op.
Writing a Tall Tale is a great way to help an under-experienced creative writer produce a terrific short story.
Tall tales are classic American stories. Back in the old days, folks would sit around in the evenings and spin yarns about the imaginary heroes of their day: awesome heroes like Pecos Bill, Paul Bunyan and his blue ox, Babe, John Henry, Calamity Jane. The tall tales are pretty wild and silly and lots of fun to tell.
Writing tall tales can be a such fun and true confidence boosters to write!
Our ebook curriculum helps your high schooler with character development, basic storyline, and basic story conversation using dialect. It's fun! Click here for more about Writing Tall Tales. Here's an excerpt to our 5-week, fun tall tale writing guide.
If your child isn't eager to write an imaginative tale, there are still ways to encourage creative writing in high school. Helping our kids use that right brain creativity is important even for those who are analytical by nature. Here are ideas for building creative writing into your Language Arts plan for high school.
The point is to try short, fun, success-oriented assignments. Confidence builds over time!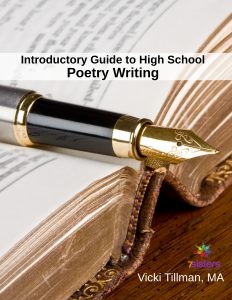 Poetry is really good for teens. Once they try poetry in a light-hearted way, most teens love it! (Here are 5 reasons why they should learn poetry in high school.)
Start them off with some inspiring videos of poetry, illustrated and set to music. This freebie download has links to poetry that help teens actually like poetry!
A book like T.S. Eliot's Old Possum's Book of Practical Cats is a gentle way to explore fanciful poetry. Writing poems in a similar style is easier for reluctant poets than just starting from scratch. (Here's an excerpt from the Literature Study Guide for Old Possum's Book of Practical Cats.)
Better yet, try one of 7Sisters' Poetry Writing Guides! Three levels offer a fun, manageable time with  meter, rhyme, imagery and ideas.
A nice, non-threatening, success-oriented way to start a terrified writer in poetry is with 7Sisters Introductory Guide to High School Poetry Writing. It takes homeschool high schoolers through the most basic, fun concepts and helps them write real poems that they will be proud of.
Short Stories don't have to be purely imaginary.
Writing a Family Narrative is a great alternative. A family narrative is simply a family story that your teen loves. We all have favorite stories about when we were kids. They make a great short story writing experience.
Got a history lover in your homeschool? Have him write an account of a famous event in the voice of a real person from history who was there.
Inspire high school writers with innovative approaches to creative writing; don't tire them with the same old expectation to "make up a story." You all just might be amazed at how much fun they can have!
Need some help figuring out what kind (or what publisher) of Language Arts curriculum will be best for your particular homeschool high schoolers? We can help!! Check out this post on how to choose curriculum.
Teens don't need to be terrified of writing. Help them ease into the process with some of these ideas. Your homeschool high schoolers will find out that writing is not only not that scary, but actually, writing is FUN!
7Sisters email subscribers receive periodic practical encouragement, special offers and NO SPAM EVER.

Click the image above to periodically receive real homeschool value in your inbox.
Homeschool Language Arts – Creative Writing