For Homeschool Seniors: 10 Tips for College Applications!
Homeschool Seniors: 10 Tips for College Applications
It's that time of year! Homeschool seniors are thinking about college applications. And well they should!
Having helped hundreds of homeschool highschoolers get those applications in (a couple of decades as upper classmen advisor in our local homeschool community), I thought I'd share for homeschool seniors: 10 tips for college applications.
1. Write your essay now!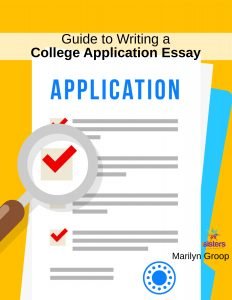 For students applying through Common Application, the essay prompts are available. If you write your essay in the summer, when you are not in the throws of the other application rigmarole, you'll have more time to:
 2. Contact your recommendation-letter writers early!
Give them at least 2 weeks (maybe more, if you can). PLEASE, PLEASE, PLEASE read this post on how to request a recommendation letter. I've written hundreds of these letters over the years and know many others who have written them. Believe me, students who request politely and properly get a better recommendation- that's just how it goes.
3. Find out what your colleges of choice are looking for an make sure you have included relevant information on the transcript.
College websites will tell you what they are looking for in their incoming freshmen. Make sure there is no exaggeration but make sure you don't forget to include the courses and activities that you have done that they are looking for.
4. Make sure your transcript is complete with grades through the point you apply!
You will send the school an updated transcript after the first semester and then again at graduation.
5. PDF your transcript for online applications. Have your transcript certifier use a seal to stamp your application for mailed application.
Certifier may be mom, an umbrella/supervising school, etc. Here is a transcript checklist.
6. Take your time filling out the application!
If the question is asked on the application, it is important to the school (even if it seems funny to you). Keep in mind your audience but answer authentically in your own voice.
7. Think carefully about which schools to apply to!
I always tell my students 3-5 is a good number (more than that may mean you haven't done enough homework yet). Here is a post and a Homeschool Highschool Podcast episode about college search
1 school should be a "reach school"
At least 1 school should be a "safety school"
At least 1 school should be a "school you really like"
At least 1 school should be an "affordable school"
8. Decide when you will apply.
Early applications get prime dorm choices and financial aid opportunities at some colleges
Regular admissions applications get more acceptances at some colleges
9. Remember: You must sell yourself.
Many times, I've had to convince conscientious homeschool highschoolers that it is not bragging to tell the awesome truth about themselves. Explain clearly the achievements your have made.
10. Pray.
Of course, pray first, pray all the time. A teen's mind may plan his way but the Lord directs his paths.
Blessings on your adventures in college applications! Don't forget to download College Application Essay Writing Guide.
7Sisters email subscribers receive periodic practical encouragement, special offers and NO SPAM EVER.


Click the image above to periodically receive real homeschool value in your inbox.
Homeschool Seniors: 10 Tips for College Applications