Want to know what homeschool teens say about Great Christian Writers Course?
Great Christian Writers Course
Homeschool high schoolers need to have literature for their Language Arts credits on their transcripts. However, there is not a rule for what kinds of literature to cover. It is a matter of preference: You and your teens get to decide!
Some teens study:
OR one of our local teens' favorites: Great Christian Writers
7Sisters Homeschool shares our teens' favorite literature study guides in Great Christian Writers. These no-busywork, adaptable study guides were collected to inspire your homeschool highschoolers to become deeper thinkers and developers of good character- AND to enjoy it!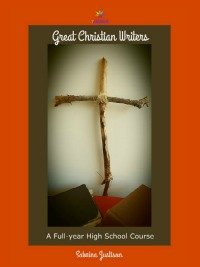 Here is what a few of our local homeschoolers say about their Great Christian Writers literature experience.
KB said: (Great Christian Writers) was "my favorite class at Mount Sophia!! Of all the books, I think my favorite was Practice of the Presence of God. I also loved memorizing The Apostles' Creed."
KS and JW agreed that their favorite book was The Hiding Place.
MO was influenced to be a thinking Christian by the life of Chuck Colson in Born Again.
ST, JM and several others put in a big vote for God's Smuggler as the book that inspired them the most. Here's a review of God's Smuggler by homeschooler Seth.
A number of other local homeschoolers noted that they were really inspired by books, such as C.S. Lewis' Mere Christianity and Frank Peretti's This Present Darkness, that are included in the honors-level reading list that is included in the Great Christian Writers text.
Great Christian Writers titles covered by these study guides include:
The Hiding Place by Corrie ten Boom
Pilgrim's Progress by John Bunyan
The Practice of the Presence of God by Brother Lawrence
God's Smuggler by Brother Andrew
Something Beautiful for God by Malcolm Muggeridge
Joni by Joni Eareckson Tada
Born Again by Charles Colson
The Screwtape Letters by C. S. Lewis
Hymns and Creeds
Each guide contains background information, vocabulary, questions that develop comprehension and inferential thinking in a NO-busywork, don't-kill-the-book format.
Want a Great Christian Writers course for your homeschool high schoolers?
7Sisters email subscribers receive periodic practical encouragement, special offers and NO SPAM EVER.

Click the image above to periodically receive real homeschool value in your inbox.
Great Christian Writers Course