By request here is a Homeschoolers' Guide to College Applications.
Homeschoolers' Guide to College Applications
College applications can be intimidating to homeschool seniors (and even their parents)! Whether it is Common Application or other application formats, the process can feel daunting.
We 7Sisters receive questions about the process each year, so we thought we would share a few confidence-building tips for handling college applications.
So, here's our homeschoolers' guide to college applications!
Here we go. There is a lot of information. Keep taking deep breaths. You can do this.
First off, many colleges require you to list your school's CEEB code
The CEEB code is a code that is give to each high school by the College Board. It stands for College Entrance Examination Board code. It helps colleges identify the applicant's high school. Not only that, but it is used for SAT exam information.
The homeschool CEEB code is: 970000
However, if your homeschooler is in an umbrella, charter or hybrid school, that school may have its own CEEB code you can use. Check with your advisor, administrator or guidance counselor at these schools.
Believe it or not, next step is to start working on the college application essay
Common Application and other application formats usually keep the same essay prompts for several years or have this years prompts published during the summer. SO, we recommend starting that essay EARLY.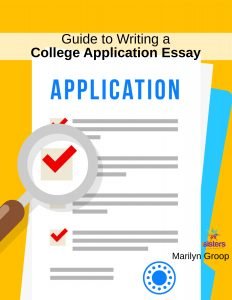 One of the best ways to do this, is to have a guide that takes your step by step through the process. Seniors have loved 7Sisters College Application Essay Writing Guide because it does just that- with lots of concrete support and no-busywork!
Next, check for application deadlines for colleges of interest
If your homeschool senior is not ready to narrow the search down to several colleges, it might be a good idea to spend some time on a good college search. (Every teen is different, with varying needs and goals. However, I have found in my homeschool high schoolers and those I have advised, that a good rule of thumb is choosing between three and five colleges of interest.)
Check each college of interest's website for application deadlines:
Early admissions
Regular admissions
The college websites will sometimes explain the benefit of early versus regular admissions. For instance, some colleges will give dorm preferences to early admissions students.
BTW- You can get help matching your student's interests with what colleges want in this post from our Cousin Natalie Mack.
Now, get the lay of the land. What application format is used by the colleges of interest?
Check college websites to see which type(s) of applications they require.
Might be online or paper. Simply check the community college website. Often they give clear step-by-step instructions. Usually pretty simple. You won't have to get too stressed about these. They might require or suggest a visit with an admissions team member. You might also need transcript and SAT/ACT scores (for course placement purposes).
BTW- If you are choosing community college for the first two years after graduation, check out this Homeschool Highschool Podcast episode for tips on making the most of the community college experience.

Paper applications

Most colleges have online applications these days, but if you prefer paper applications, you may have to download the application from their website. Simply follow instructions after downloading.

Some colleges have their own online application

Many private and Christian colleges have their own application form. Usually this is an online application with a choice of downloading a paper application. A few colleges allow you to choose between using their application form or the Common Application. Check the college's website to determine what kind of application they use.
Simply follow directions on these forms. If they ask for guidance counselor recommendations and/or school profile

There are some alternatives to the Common Application. Here are a few:

Some kinds of colleges have a special application that will work for a number of colleges of that type. For instance:
Some target certain kinds of students. For instance:

However, the most-common college application is Common Application.

It serves over 960 colleges. Students can choose up to twenty of those colleges to have their Common App sent to. Complete the application once, it will be sent to those colleges.
It is a bit complex. So we will walk you through some tips for handling Common Application in this guide. Many of these tips will also help you with other application formats.
Using the Common Application (many of these tips will help with other online applications)
The first thing your homeschool high schooler will do is set up an account.

Click image for full description of this product (which includes a transcript template).

Next, it is wise for your teen to gather important materials that will be needed.

PDF of current transcript. (Here's 7Sisters' guide to transcripts along with an editable transcript template.)
A list of all your extracurriculars/activities, jobs/work, special family responsibilities.
Test scores (SAT, ACT, etc)
Special academic honors
Parent or legal guardian information

Common App will ask about you (the student's parents or legal guardians) because many colleges will want to know:

occupations, employment status, education level (and in some cases, which colleges were attended)

Now, they will add the colleges of interest

Note, some colleges charge an application fee (but may also grant fee waivers- look for the Common App fee-waiver information, or college-specific fee waiver information)

This is where you as the homeschool parent come in!

Your homeschool senior will need to choose you as their Counselor.

They will send you a Counselor invite. (Common App is used to homeschooling parents being the Counselor, so just go with it.)

NOTE: If your teen is in an umbrella school, charter school or hybrid school, they may have a counselor on staff that will do this instead of you. Check with the school. If they have a counselor who does this for their students, your teen will send the Counselor Invite to them.

You will receive an email from Common App with your teen's invite.

You will fill in the counselor information.

This is information about your homeschooler's:

academic performance
achievements
extracurriculars
interests
goals
growth in academics and social/emotional development
interesting or important roles or activities in the family
IMPORTANT: Share anecdotes about your teen that:

shine a light on special qualities, interests or achievements;
or an example of a time they showed resilience in a challenging circumstance;
and times they have shown compassion or concern for others
or anything outstanding about your teen

NOTE: Make sure you take your time. Read it out loud to yourself. Check grammar.

There is a FERPA waive for you to fill out.

This is a form that protects privacy of those who write recommendations for your student. You will waive the right to read their recommendations.
If your teen is in an umbrella school, etc. the counselor there will handle this.

You will also fill out the school profile/school report.

If your teen is in an umbrella school, charter school or hybrid school, they may have a school profile pdf. If their counselor is handling your teen's counselor forms, they will take care of this. If you are acting as counselor, they may be able to share the pdf with you.
Or if you are creating your own school profile, you will need to describe:

Your homeschooler's high school history (the story of your family's homeschool high school).
The education philosophies of your homeschool.
NOW, your homeschool senior will invite a teacher and/or other recommender through the Common App, just like they did for you.

Filling out the student portions of the Common App takes time, have your senior get started now!
7Sisters email subscribers receive periodic practical encouragement, special offers and NO SPAM EVER.


Click the image above to periodically receive real homeschool value in your inbox.