Here is some help for homeschooling teens with mental illness.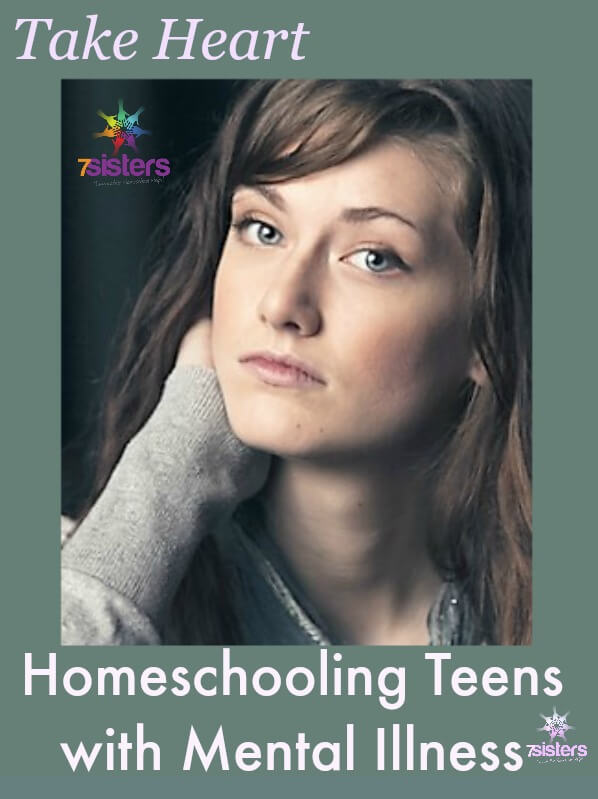 Homeschooling Teens with Mental Illness
Sometimes it happens. It may be caused by gene code or physiology or trauma but sometimes a family finds themselves homeschooling a teen with mental illness.
This is nothing to be ashamed of. Teens need to know that. Parents need to know that. Homeschooling can be the very best choice for a teen who is suffering. In my years as a counselor and as a homeschool academic advisor, I've seen homeschooling high school become part of the healing process.
What is mental illness?
Mental illness is a catch-all phrase to describe all kinds of emotional or cognitive issues (interestingly, the current trend in the insurance industry is to call all mental, cognitive or emotional issues: Behavioral Health Concerns).
Here are the most common examples that I've worked with in teens:
Anxiety (general, specific, social)
Depression
Bipolar Disorder
Autism Spectrum (including Aspergers)
Obsessive-Compulsive Disorder
Post-Traumatic Stress Disorder
Eating Disorders
Even more simple issues like discouragement can affect teens.
These issues can last a short time or be chronic, can be mild, moderate, or severe. This post is not about counseling teens, I want to share some tips that help the educational process of homeschooling teens with mental illness.
Get out of denial.

If your teen is suffering, pretending that they are simply rebellious or "it will pass" or that they aren't praying enough isn't going to help.

Develop a support system.

Find a counselor (and often a psychiatrist) that you trust. Keep the family doctor informed so that he/she can be a part of the team. A mentor at church or a life coach is helpful adjunct when available.

Understand the illness.

When a teen is experiencing mental illness, they feel isolated and have a difficult time understanding themselves. You will have to become a compassionate understand-er and advocate by educating yourself on the illness.

Don't enable.

Teens who are suffering often feel like isolating themselves, closeting themselves in their rooms and retreating into the world of social media or gaming. As gently and firmly as you can, get them outside (you'll probably need to accompany them). Do art together. Plant a garden or go to on a field trip together. You are part of the healing process.

Develop a healthy lifestyle and capture it on the transcript.

Take a daily walk together. There is good research that shows that walking (any movement) helps increase dopamine levels (a neurotransmitter that enhances mood). Also sunshine boosts Vitamin D which is a mood stabilizer. Log the hours for phys ed. Here's a post on how to do that.

Earn the required health credit by learning about the illness and best ways to treat it.

Most of teens who experience mental illness have some level of improvement with healthy diet, plenty of pure water, and 8-10 hours sleep daily (not less or more). Medication often helps. Anxiety de-escalating/mindfulness skills help. Log hours researching the illness and self-care, developing a self-care plan, and learning to implement it. Help empower your teen to manage their illness. Help them learn to think and talk well about themselves and not be ashamed. Log those hours for health credit.

Adjust academic expectations for the year (or longer if necessary).

Put aside that high-powered curriculum and earn the necessary credits in a more light-hearted manner. Listen to audiobooks for at least some of the required booklist, do literature and writing guides that aren't out to kill the book or stress your teen. Try 7Sisters no-busywork literature and writing guides using the instructions for "Average High School". Here's a freebie for reluctant writers that gently takes a teen through their research paper. Westfield Studio's 101 Series for Science and Pearson Education Pacemaker Math are do-able even in tough years (we are not affiliates, just like their stuff).

Choose social studies for one or two years that helps your teen understand himself/herself (without overwhelming them with a difficult course).

7Sisters Introduction to Psychology and also Human Development are great courses that cover a social science/social studies credit in a gentle, interesting, encouraging way. Both courses help a teen understand themselves (and God's love for them).

to record the richness of your teen's experiences along with your transcript.

Pray and teach your teen to pray.

(You'd be surprised how many Christian teens don't pray. Here's a link to 7Sisters light-hearted, interactive prayer journals.)
7Sisters email subscribers receive periodic practical encouragement, special offers and NO SPAM EVER.


Click the image above to periodically receive real homeschool value in your inbox.
Homeschooling Teens with Mental Illness