By request: How to have a homeschool graduation during covid. Ideas for fun, memorable, safe high school graduation celebration during Covid.
How to Have a Homeschool Graduation During Covid
Our homeschooling families are facing a second season of graduations during Covid. Many states still have restrictions on how many people can gather and where they can gather. So we asked our 7th Sisters share some of the ideas our 7th Sisters have found helpful for homeschool graduation ceremonies during Covid. (BTW- there are six of us 7Sisters. Who's the 7th Sister? YOU are!)
We will start with a few stories from our 7th Sisters, then give some step-by-step tips:
How our 7th Sisters handled our homeschool graduation during Covid
We did a socially distanced live stream and only a few live in attendance. We did in our front yard. All of our neighbors sat on their porches and watched. Her father and I each spoke about what the years had meant and what we hoped for her future. Then she spoke. It was a really nice time. One of her friends recorded it for us. It was perfect for her and what she wanted. We did have a small cake for her and drinks.
We also did a yard card and a drive by parade the day before. Later we did a party.
Covid changed our plans but it still turned out well.
Our oldest graduated last year. We did have an Open House for him that was socially distanced.
We used take out trays. Two people served the hot food. The servers wore masks and food service gloves. The cold food was individually portioned in 9 oz. plastic cups, nestled on ice. We had potato salad, coleslaw, and grapes all portioned in the cups on ice in two shallow blow-up trays (think about 4 inches high and something that resembles a kiddie pool). When our next one graduates, I plan to repeat the process minus the masks. By having things pre-portioned, it helped to eliminate a lot of waste. It was also easier to keep those cold food items cold. The extras were on trays stored in the fridge. When things needed replenishing, the servers could do so quickly.
The hot dishes were pulled pork sandwiches that a caterer prepared and baked beans my mom doctored. We kept the hot food hot with the sterno buffet set.
Desert was on a separate table and already portioned on dessert plates. We also have individual chips, pretzels, cookies, and other pre-portioned-and-packaged-by-the-manufacturer snack bags.
For beverages, we had canned pop, bottled water, and juice pouches available.
Each food area was spaced so people could stay distanced. The tables we had set up in the church basement were spread out. We also had a couple of tables set up outside under open-sided tents.
The people who chose to stay and eat sat with people they knew and interacted with before the Open House and during the pandemic. We had masks available and hand sanitizing stations.
We were able to abide by our state's restrictions on number of people allowed to gather. Everyone stayed safe and had a good time.
The event was drop in anytime over about a 4 hour timespan, which helped keep the attendance at any one time low. Some chose not to stay and eat, only stopping by to wish the grad well. Others chose to send a card. It was a good day.
Our 7Sister, Marilyn, is principal of our local homeschool umbrella school. They are still working on plans for this year's graduation but here is how they handled last year's Covid graduation:
Last year we postponed until early August. Graduates were restricted to about 7 guests. We had to limit other participants – no choir, special music, etc. Also, we had a speaker, AV person, necessary staff. We used recorded music (again, to limit the number of people). The parents gave the diploma. The students were masked as they entered and sat with their families, rather than as a group. Assigned seating helped with planning.
We did one group photo with masks and then created a collage of individual photos without a mask.
Then we had an outdoor reception with cake (pre-cut and wrapped) and bottled water.
Despite the restrictions, the parents and graduates were just grateful to have a real graduation.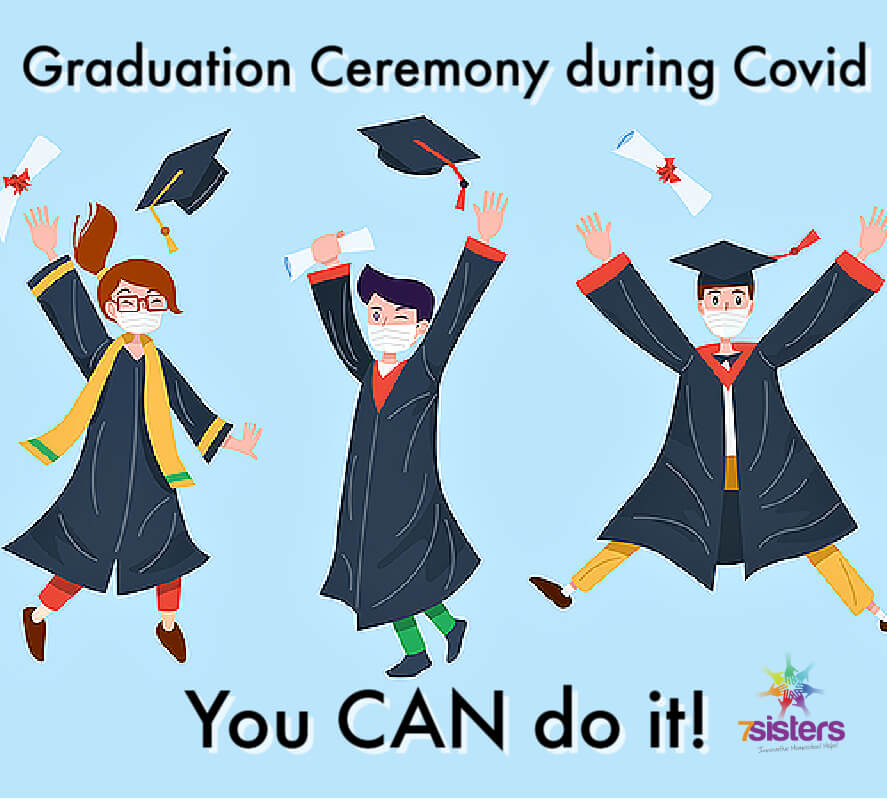 Step-by-step tips for homeschool graduation celebrations
Choose whether you will be having a graduation ceremony and/or a graduation party.

Ceremonies can be as simple as a diploma presentation.
Graduation parties can totally skip diplomas and only have a party.
You can combine both into one event.

Choose a date.

This can be influenced by when your area is loosening Covid restrictions- or not.

Choose on a format.

Will you have a ceremony in the yard?
A small, private ceremony in the backyard?
A small group gathering in the front yard?
A drive-by party and celebration with favors for the guests?
Do you have access to local park or building, if restrictions allow?
Will you have someone film it/livestream it for you?
What would your homeschool graduate prefer?

Create invitations and send them out. We have a post on How to Make Graduation Announcements. 
Create a diploma.

If your family is part of a certifying organization, they will give you a diploma. If not, you can create your own right on your computer. Simply print on parchment paper and buy a seal at your local office supply to make it official. Or you can order one online from several suppliers.

Decide if your teen will have cap and gown.

Some teens really do not care but many of us homeschool moms (and grandparents) want some photos with traditional cap and gowns (and I feel like we deserve to have them- we have put a LOT into those high school years with our teens!) However, there's not ONE right way to have a graduation ceremony or party!

Decide how to do the ceremony, if you have one:

Will you have opening prayer and who will do that?
Will there be speeches? If so, who will give them (parents, pastor, graduate)?

If this is an outdoor event, make sure speakers know to keep the speeches quite short. There are many distractions in the outside world, so audience attention is short.

Will there be a "march"?
Decide on the order of events:

If your teen will enter to the music, will it be before or after opening prayer?
Will the graduate immediately receive the diploma or will there be speeches first?

If diploma is being presented, choose when that will be done.
If cap and gown is worn, choose when and how to move the tassel on the cap.

There's not a standard for this procedure.

Many high schools move the tassel from left to right.

Decide how and when to present the graduate to the attendees.

Some simply have the student turn toward the audience and smile while everyone claps.
Some parents wait until after the ending prayer to announce, "Presenting our high school graduate!" Then everyone claps.

Choose whether or not to have an ending prayer and who will do that.
Decide if there will be more music at the end of the ceremony.

Now, decide if you will have a party for your homeschool graduate?

If so, when and where will it be?

Immediately after the ceremony?
Another day?

Will it be a party for a small group that fits Covid guidelines or will it be a drive by?

Our friend, Gena at I Choose Joy, has more tips, printable and a recipe for your homeschool graduation.
Here are some posts on how to throw a homeschool graduation? (Our Sister, Allison, is the queen of throwing any kind of party and these are her tips.)
Drinks, Delegating and Set-up

Remember, during Covid drinks should be in bottles or cans and food should be preportioned and wrapped or bagged.

For more ideas, check out this episode of Homeschool Highschool Podcast: Graduation How-to!
Need a cool gift idea for your homeschool graduates? Our creative friend, Ticia at Adventures in Mommydom, has a a post about a really inspirational graduation gift. She also shares ideas about writing a letter to your homeschool grad.
We may have limits on how we can pull off a homeschool graduation for our high schoolers during this Covid season, but with the right attitude, it will be meaningful and memorable.
7Sisters email subscribers receive periodic practical encouragement, special offers and NO SPAM EVER.


Click the image above to periodically receive real homeschool value in your inbox.
How to Have a Homeschool Graduation During Covid