By request: How to choose literature curriculum for homeschool high school.
How to Choose Literature Curriculum for Homeschool High School
As you know, there's not ONE right way to homeschool high school. This includes the fact that there's not ONE right way to choose literature curriculum for your teens. That's because there's not ONE kind of teen or homeschooling family.
First of all, I'm thankful we have choices. Some old-timers like me remember the days when we had to beg publishers to sell us curriculum!
We 7Sisters are partial to our Literature Study Guides and full-year curriculum because it works for our families. However, we have lots of friends in the homeschool publishing world who have a different approach to literature that works for their families. We love everyone so, in a mostly unbiased way, I'll share some tips on how to choose literature curriculum for homeschool high school.
Tip #1: Understand where literature fits in the English/Language Arts credits
In most cases, homeschool high schoolers need four ELA credits on their homeschool transcripts. These are huge credits that include:
Literature
Writing
Vocabulary
Grammar
Public Speaking
As you can see, literature is just one component of the ELA credit. You will find some curriculum will be built around the literature component and integrate many of the other components into it.
Tip #2: Get an overview of Literature for homeschool high school
There are so many types of Literature curricula and philosophies. You can get a basic overview by checking out our posts:
Tip #3: Get an overview on different "philosophies" of teaching literature for homeschool high school
There are a number of different philosophies or approaches to teaching literature with teens. Remember, there's not ONE right way. Choose what works for your teen and your family's lifestyle. You can always switch curriculum or styles if the needs change.
Un-curriculum philosophy:
One philosophy for literature in homeschooling high school is to simply read books. The idea is that everything read is enriching in its own way, so why add a schoolbook to it? This is a good fit for teens who love to read and absorb what they are reading.
This is also good for some teens who struggle with reading and will benefit from reading practical materials. Here is a post with ideas for reading material for reluctant readers and a discussion with video from our Sister Kym on how she handled her reluctant readers.
Themes with book excerpts philosophy:
Many traditional literature textbooks use this approach (for instance, Abeka). The basic purpose of each year's course is to teach literature themes, formats and ideas by first teaching the concept and illustrating it with book excerpts or reasonably length short stories, poetry and essays. This is a good fit for teens who dislike reading whole books but do not mind learning about the ideas of literature.
Real books with Study Guides philosophy: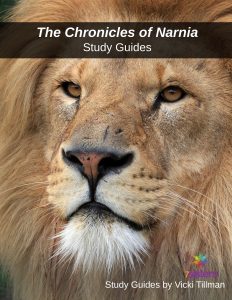 This is our philosophy, of course. We believe teens benefit from reading the whole book (or whole set of poems). We also believe that a good study guide can teach them concepts they could not garner on their own. For instance, in the Chronicles of Narnia, most teens would not catch the deep symbolism embedded throughout the stories such as Lucy's numinous experiences with Aslan in Prince Caspian or the allusion to Plato's Allegory of the Cave in The Silver Chair. Study guides provide this richness!
Take a deep dive into how to use literature study guides here.
As always, 7Sisters Literature Study Guides are affordable, no-busywork, don't-kill-the-book guides that are adaptable to different levels of rigor. We only look at one or two literature themes per study guide- definitely insurance against killing to the book with over teaching or boring a teen with too much teaching and not enough book. We have found this is a good format for many different teens, since the guides are adaptable to different levels. (Click here to see an excerpt from the Chronicles of Narnia Literature Study Guides.)
Here's a complete list of 7Sisters Literature Study Guides.
Other publishers use the real book with literature study guide but go into a much deeper dive with each book, examining multiple literature themes in a comprehensive guide. This is a good fit for a teen that wants to take their time and to intensively study the books they read. Progeny Press is a good example of this type of guide.
There are multiple literature study guide publishers. Our friend, Betsy at BJ's Homeschool has several suggestions. Check out the reviews from our friend, Cathy Duffy at Cathy Duffy Reviews.
Movies for learning literature themes philosophy: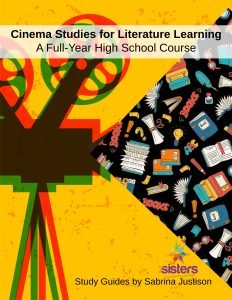 One of the most important points of studying literature is to learn different literature themes. Movies are visual storytelling, so a good movie has one or more literature themes that homeschool high schoolers can learn. Study guides are usually necessary for the full educational experience (and to count as a book). That's why 7Sisters' own teens have loved Cinema Studies for Literature Learning. This can be a good fit for many teens, as a change of pace for part of the year or an entire school year. (Check out this Homechool Highschool Episode for how-to's on using cinema studies guides.)
Tip #4: Decide how many and what kinds of books your homeschool high schooler will read this year
This will vary widely by teens' goals (What level of rigor are they aiming for on their homeschool transcript? What are they interested in? What can they fit in this year with their abilities and other demand?).
If you have college-bound teens, make sure there is a good mix of fun and more rigorous reading material. The rigorous reading will help with SAT prep for those homeschool high schoolers who need that test.
For a broader look at choosing curriculum, check out this chat with Sabrina, Vicki and Kym on the Homeschool Highschool Podcast.
Homeschooling high school and handling literature curriculum! You can do this!
7Sisters email subscribers receive periodic practical encouragement, special offers and NO SPAM EVER.

Click the image above to periodically receive real homeschool value in your inbox.
How to Choose Literature Curriculum for Homeschool High School