Here is how to create a simple homeschool graduation ceremony.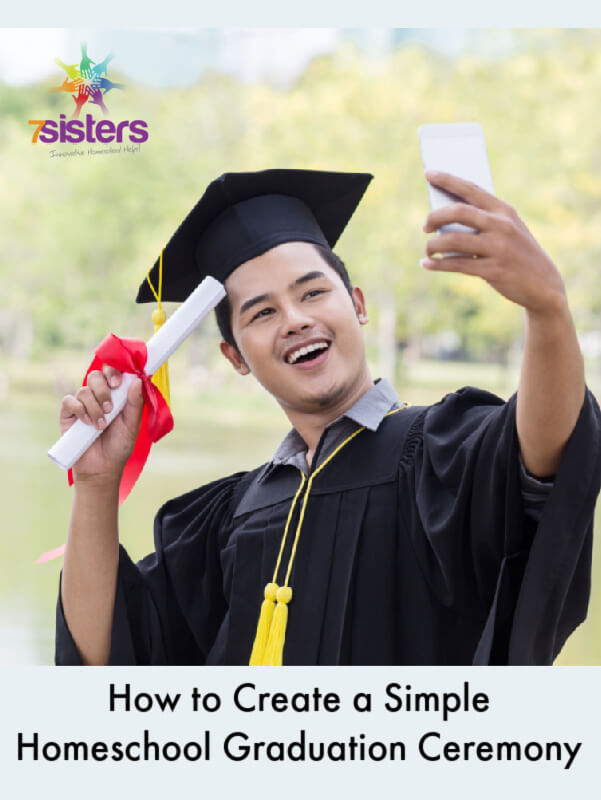 How to Create a Simple Homeschool Graduation Ceremony
One of my homeschool mom-friends asked me the other day how to create a homeschool graduation ceremony. She did not have access to a huge homeschool support group or umbrella school, so I told her I would share some of the things that we have done or I have watched other homeschool families do for graduation.
I thought I would share with our 7th Sisters the things I shared with her. (BTW: there are six of us 7Sisters- Marilyn, Vicki, Allison, Kym, Sabrina and Sara- so who is the 7th Sister? YOU are!)
Here are 7 basic steps for creating a simple homeschool graduation ceremony:
Decide on a date.

This might depend on the location, so…

Decide on a location.

Some of the single-family graduation ceremonies that I have attended have been in the family's home or yard.
Some have been in their church building (if you decide to use a building, reserve that asap).

Create invitations and send them out.

We have a post on How to Make Graduation Announcements. 

Create a diploma.

If your family is part of a certifying organization, they will give you a diploma.
If not, you can create your own right on your computer.

Simply print on parchment paper and buy a seal at your local office supply to make it official.
Or you can order one online from several suppliers. HSLDA has a good one (we are not affiliates, just like their work).

Decide if you will roll up the diploma and tie with ribbon or tuck into a frame.

Buy ribbon or order frames from your local office supply store.

BTW- In our umbrella school, we usually tuck a copy of the graduate's transcript behind the diploma in the frame.

Order cap and gown if you want to have that.

I have seen single family ceremonies with cap and gown and without. There's not one right way.
Here is one organization that sells graduation apparel to homeschoolers (we are not affiliates).

Organize the Homeschool Graduation Ceremony:

Decide if you will have opening prayer and who will do that.

Be sure and ask them ahead of time!

Find your music.

Pomp and Circumstance by Algar is the usual.

Figure out a sound system.

At the home ceremonies that I have attended, the families have simply used whatever they have on hand.
At churches, they have used the church's system (but often need to get one of the sound team to operate- check into that).

Decide when in the ceremony your teen will enter to the music.

Will it be before or after opening prayer?

Decide when and where graduate will sit down after entering.

Will he/she enter and immediately sit down, with the music ending there?
Will he/she enter and go to his/her seat and stand until the music ends?
I've seen both ways.

Decide if you want a speaker.

If so, contact that person asap and make sure you give them a time limit.
In a small ceremony, you probably do not want someone speaking more than ten or fifteen minutes.

Decide if your teen will speak.

Most of the time, in the ceremonies that I have attended, the teens do not want to speak.
However, sometimes they do, so give them what will make the day most meaningful.

Decide how to present the diploma.

If your teen is part of a certifying organization, sometimes their advisor will present the diploma.
Most of the time at small ceremonies, parents do that job.

Decide how to move the tassel on the cap.

There's not a standard for that. Many high schools move the tassel from left to right.
In most homeschool graduations that I've attended, the parents move the tassel right after handing their graduate the diploma.
I have been at graduation ceremonies where the students move their own tassels.

Decide how and when to present the graduate to the attendees.

Some simply have the student turn toward the audience and smile while everyone claps.
Some parents wait until after the ending prayer to announce, "Presenting our high school graduate!" Then everyone claps.

Decide if there will be ending prayer and who will do that.

Again, be sure to ask them ahead of time!

Decide if there will be exit music and what it will be.

Also decide if the graduate will be the first to leave the ceremony- let folks know that, if so.
Lastly, listen in on the Graduation How-to episode of The Homeschool Highschool Podcast!
Also, check out some things teens need to learn before graduation.
AND if you need some ideas for teens who do NOT want a graduation ceremony or party, here are some tips.
BTW- If you need to have a social-distance graduation ceremony, here are some additional tips.
Have a wonderful graduation ceremony…and CONGRATULATIONS!
Here's our updated podcast on Planning a Homeschool Graduation Ceremony. 
Hugs to your the homeschool parents! We know how much effort you have put forth in homeschooling your teens and just a remember that there is life after homeschooling. Some of us sisters have already retired from homeschooling.
7Sisters email subscribers receive periodic practical encouragement, special offers and NO SPAM EVER.

Click the image above to periodically receive real homeschool value in your inbox.
How to Create a Simple Homeschool Graduation Ceremony