By request: How to decide homeschool transcript levels. Levels indicate the rigor of the high school credit that was earned.
How to Decide Homeschool Transcript Levels
College-bound homeschoolers need a college-attractive transcript. How do you know if your teens' transcripts are going to catch an admissions officers' attention?
One thing that can help build a good transcript is understanding that colleges like to know whether a student was working at an average high school level or putting in the extra hours and effort to legitimately earn a rigorous honors credit.
While you are thinking about creating a college-attractive transcript for your homeschool high schooler, take a look at 7Sisters downloadable resource: How to Create High School Transcripts. It even includes an editable transcript template for you.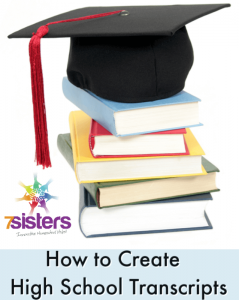 In this How-to guide, your 7Sisters have put together everything you need for homeschool high school transcript, including three files:
1: A transcript template in easy-to-use editable pdf format

2: A high school checklist, to help you and your teens keep the course requirements organized

3: A detailed, 75-page guide with details on how to create a meaningful high school transcript
But back to course levels. Your college-bound teens need to show the level of rigor at which they completed each of their core courses. They do not necessarily need to show the highest available levels for each core course. However, they will need Advanced or Honors levels for courses that will be part of their college major.
All 7Sisters' ebook curriculum resources include easy-to-use instructions for deciding the level at which your student will earn his or her credit. Suggested enrichment activities, supplemental reading, and optional writing assignments are included in our ebooks because we want to make the curriculum adaptable to the needs of students at various levels.
BTW- 7Sisters and SisterVicki has created Pinterest boards to accompany the ebook curriculum in the 7Sisters' store, so if you want even more ideas for "leveling up" you can visit the boards for inspiration.
Here's a basic explanation of how to adapt any curriculum you are using to the desired level:
Here is a brief overview of what each of the levels look like so that you can decide homeschool transcript levels.
The simplest approach is to use as your starting point a basic high school text (not remedial curriculum, but not brain-bending, either).

This is Level 2. The work for a Level 2 credit will typically require 2-3 hours per week total instruction and independent work time combined for a student with no learning challenges. (Level 1 would be remedial materials for a student with learning disabilities.)

To get to Level 3, College Prep, supplement that text with activities, enrichment assignments, additional reading related to the subject, field trip experiences and the like.

By the time a course is demanding 4-6 hours per week (up to 8 for a literature course if a student reads a bit slowly), it mimics the rigors of a college course and is considered Level 3.

Moving to Level 4, Advanced, means taking the College Prep class and adding learning activities equivalent to approximately 67.5 hours over an academic year, or assigning the reading of 8 high-school level books related to the subject.

A Level 4 credit should be in essence 1 1/2 times as much work as a Level 3 credit.

Homeschooling a gifted student, or building a powerful transcript in an area of particular talent and passion?

Doubling the amount of work expected for the Level 3 College Prep credit. This will turn it into an Honors credit at Level 5.

Log hours of activities, read supplemental books and articles, or use a combination of the two, but an extra 135 hours or 16 books on the subject matter should be added to the College Prep requirements before a credit should be listed as Honors on the transcript.
Here are more in-depth posts on levels for the homeschool transcript. Check them out here for more detail:
We are here to help you if you need it. Got a question? Fire it off to info@7SistersHomeschool.com. Not only that but even better get some advice from all of us and our 7th Sisters. (As you know, there are six of us 7Sisters, so who is the 7th Sister? YOU are!). Anyway, our supportive and wonderful 7SistersHomeschool Facebook group is an excellent place to ask for advice and support.
7Sisters email subscribers receive periodic practical encouragement, special offers and NO SPAM EVER.


Click the image above to periodically receive real homeschool value in your inbox.
How to Decide Homeschool Transcript Levels