Here's how to do high school Language Arts with a General-Interest Teen.
How to do High School Language Arts with a General-Interest Teen
Some teens love reading and love to delve deeply into a literature topic. Some teens don't give a flip. They have other interests and giftings that don't have anything to do with literature and writing. That's okay. God made ALL kinds of teens.
However, all teens need 4 legitimate Language Arts credits on their homeschool transcripts.  So, here are some ideas for handling the general-interest teens:
How-to #1: Don't go for Honors level in Language Arts.
If your teens are gifted and interested in Home Maintenance, put your efforts there. If they love Science, put your efforts there. Do the minimum requirement for graduation that your teen will need.
In many cases, college-bound teens will need a minimum of College Prep credits for Language Arts, even if they will have a Math or Science major.
In most cases, a career-bound teen only needs an Average level course for Language Arts. Why do more than that?
Not sure how what levels are? Don't worry! Here are a couple of posts that will help:
Also, check out this episode of Homeschool Highschool Podcast for an explanation of how levels work.
One of 7Sisters' curriculum is that we include instructions on how to simplify or enrich our texts so that teens can adapt the text to the level they want. Listen in on this Homeschool Highschool Podcast episode for ideas of leveling 7Sisters texts.
How-to #2: Use a *boxed* curriculum with a mix of topics
Keep your general-interest teens engaged with a curriculum that is:
Easy to use
Uncomplicated
Has a variety of literature and writing topics
Requests for parents of general-interest teens is exactly why 7Sisters developed (and vetted on homeschool high schoolers) our English/Language Arts series. The curriculum is with a mix of different literature topics and writing assignments that span the requirements for a Language Arts credit in an interesting way.
Here is a link to One Year of High School English/Language Arts.  Our teens who are general-interest types have really appreciated it. Here's a post on how to use our One Year ELA curriculum.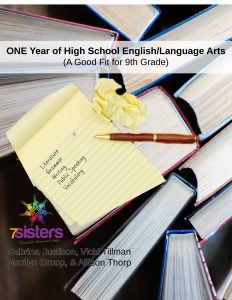 Also, check out our junior-year level English/Language Arts curriculum:
Your general-interest teens can earn a meaningful and interesting Language Arts credit when you gear their curriculum to their needs. Our ELA series is a great way to accomplish this! Download your first year.
For more on how to choose Language Arts curriculum for your homeschool high schoolers, check here.
Do something out of the box! Here are creative Language Arts ideas from our friend, Julie Polanco.
7Sisters email subscribers receive periodic practical encouragement, special offers and NO SPAM EVER.

Click the image above to periodically receive real homeschool value in your inbox.
How to do High School Language Arts with a General-Interest Teen