Here's how to earn a Social Studies credit in racial sensitivity. Help your teens become more aware.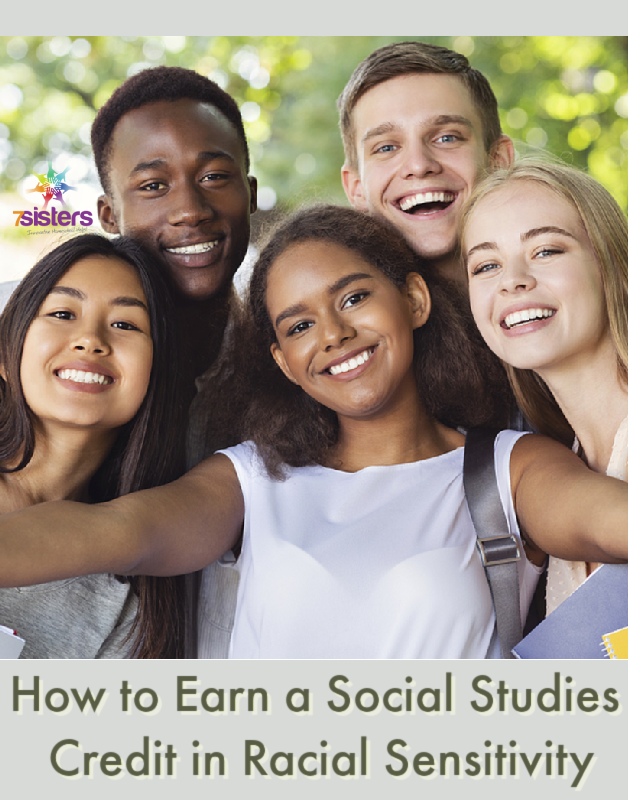 How to Earn a Social Studies Credit in Racial Sensitivity
7Sister Marilyn has six children: three adopted and three biological. She and her children (now all adults) have a unique perspective on racial awareness and sensitivity. Therefore, Vicki asked Marilyn to share a little about her family and they way her youngest earned Social Studies credit in racial sensitivity.
Marilyn's story
I am white. In fact, I am first-generation American. My parents were both from northern Europe.  When I was nine years old, we moved from Brooklyn (not as racially diverse in those days as it is now) to a suburb that was almost exclusively white. Most of the cultural differences back then had more to do with religion – Protestant, Catholic, and Jewish.
When I had my own children, we decided to homeschool. In our homeschooling community, the majority of families were white. The same with our church. Living in a rural, farming community we were practically outsiders because we were from out of state and not related to anyone else in the county. There was some diversity on sports teams, but not very much.
In my mix of children, I had one hispanic child (adopted from Guatemala) and two bi-racial children. Because their oldest brother was from Guatemala, but was adopted before any of them were born, my biological children did not seem to notice color very much.
In fact, when trying to describe another member of his baseball team, one of my sons told me the boy's number, what position he played, and other details that meant nothing to me. (I couldn't always recognize him in a field of similar uniforms, especially when he was wearing his cap!). The fact that this other boy was the only African American on that particular team apparently didn't seem pertinent to him. (Of course, he also didn't mention the boy's height – this boy and my son both stood about a head taller than most of their teammates!)
That said, I can't claim to really understand the tension felt by those of other races and cultures. My northern European heritage typically lets me blend in. I can't really relate when people look at some of my children differently because they are not white. (Unfortunately, this has happened!)
The need for racial sensitivity
In this time of racial tension, it behooves us all to foster racial sensitivity in ourselves and our families. We know that more attitudes are "caught" than "taught", so we need to intentionally give our children opportunities to learn about other cultures in order to help them relate to those around them.
In Matthew 22: 37-39, we are told "Jesus replied: "'Love the Lord your God with all your heart and with all your soul and with all your mind.' This is the first and greatest commandment. And the second is like it: 'Love your neighbor as yourself.'"
It is hard to "love our neighbor as ourselves" if we don't have any understanding of their lives.
When one of my sons entered his senior year of homeschool high school, he needed one more half-credit of Social Studies. We decided to make it a racial awareness Social Studies. 
How to Earn a Social Studies Credit in Racial Sensitivity
Here is how to earn 1/2 Social Studies credit in racial sensitivity and also how to earn one full credit in racial sensitivity.
For this course, you will be logging hours to earn a Carnegie Unit credit. Log time on all activities related to racial sensitivity.
If your homeschool high schooler wants to earn 1/2 credit, aim for 60-90 hours.
Or if your homeschool high schooler wants to earn a full credit, aim for 120-180 hours.
You and your teen can choose from the learning activities my son used. (I have added other suggestions from the other 7Sisters.) Choose from these as it fits your goals.
Write a Research paper on a Inspiring Person of Color (My son wrote his paper on
Langston Hughes)
As part of that research, we read a biography and a couple of books focused on his poems. (Why not combine a required Language Arts assignment with his history?)
This is a five-week, simple course on poetry that includes a week on Native American poetry and a week on African-American poetry (including Langston Hughes).
Log hours watching movies
Because my son does not enjoy reading, we watched numerous movies. Some of these are based on books or actual historical events. (7Sisters had study guides for some of these – either the book or the movie.)
Movies (various ethnicities included):
A Raisin in the Sun

Hidden Figures
Just Mercy

Men of Honor (alert: this contains a fair amount of profanity)

The Great Debaters (alert: this contains a lynching scene)

The Help

To Kill a Mockingbird
Read Books (High School)
Specifically we generally count eight books (with an interaction such as study guide or one-page reflection paper or essay) as one-half credit, or sixteen books (with interaction such as study guide or one-page reflection paper or essay as a full credit. (Or add four books as one-quarter credit to your logged hours of movies, papers and American Poetry Study Guide.)
Barely Missing Everything (Matt Mendez) 

Black Boy (Richard Wright)

Copper Sun (Sharon Draper)

I Know Why the Caged Bird Sings (Maya Angelou)

I'm Still Here (Channing Brown)

Invisible Man (Ralph Ellison)

Just Mercy (Bryan Stevenson) 

Loving vs. Virginia (Patricia Powell)

Out of Darkness (Ashley Perez) 

Passing (Nella Larsen)

Plantation Jesus (Skot Welch and Rick Wilson, this is a good place to start, written for by evangelicals for evangelicals, very accessible)
Rosa Parks, My Story (Rosa Parks autobiography)
The Long Shadow of Little Rock (Daisy Bates, autobiographical story of the Little Rock Nine)
The Warmth of Other Suns (Isabel Wilkerson)
(Read an excerpt from the study guide for To Kill a Mockingbird)
OR Middle School or Easier Reads for High School
Brown Girl Dreaming (Jaqueline Woodson) – poetry

Jazz Owls: A Novel of the Zoot Suit Riots (Margarita Engle)

Reaching for the Moon – (Katherine Johnson autobiography)

Roll of Thunder, Hear My Cry (Mildred Taylor)
Posts with Lists of Diverse Reading for Young People
However if you have a teen who has not yet figured out how to be interested in History, here are some tips.
7Sisters email subscribers receive periodic practical encouragement, special offers and NO SPAM EVER.

Click the image above to periodically receive real homeschool value in your inbox.