Each year during homeschool planning season, we receive questions on how to earn Phys Ed credit in homeschool high school.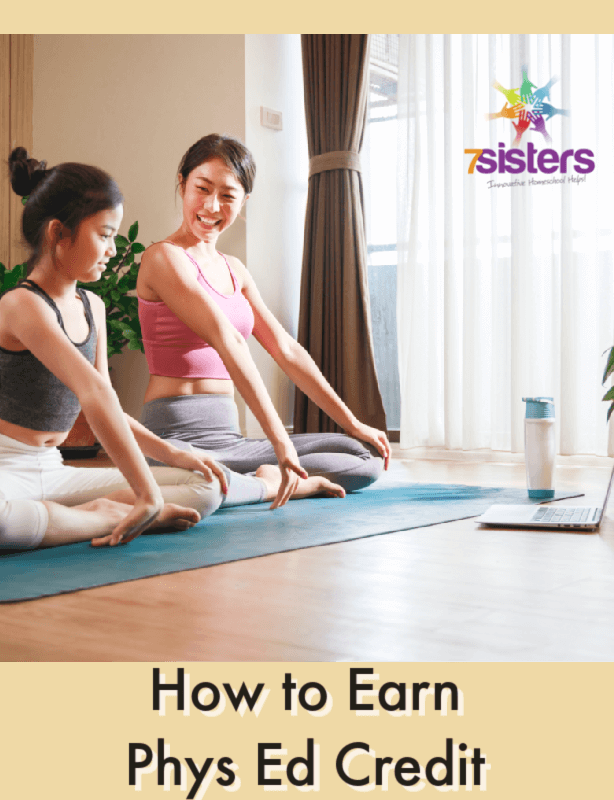 Here's how to earn Phys Ed credit in homeschool high school
Most homeschool high schoolers will need at least one (and often two) credits in physical education in homeschool high school. Hey, physical education is great…but what IS it and how can your teens learn their PE credits for their transcripts?
First off, whether your teens like the idea of Physical Education, it is such a useful course! It might be a good idea to talk about the benefits of Phys Ed with your teens as you plan the homeschool year together. Here's a post to help talk about how PE helps improve their homeschooling. Also, you can check out this episode on the Homeschool Highschool Podcast, where we discuss the benefits of Phys Ed.
The next thing you need to know is there is not a standard definition of Phys Ed that everyone must follow. That's good because it fits well with the rest of homeschooling: there's not ONE right way to homeschool high school! (Here is the CDC's definition of Physical Education: Physical education provides cognitive content and instruction designed to develop motor skills, knowledge, and behaviors for physical activity and physical fitness…and they have some resources, too.)
There are several ways to earn that Phys Ed credit:
If you want a comprehensive PE credit, there needs to be:
Cognitive content (thinking, learning, remembering)
Instruction designed to develop
Motor skills
Knowledge and behaviors for physical activity and physical fitness
If you have a textbook to cover cognitive content and the knowledge of why and how physical activity and fitness are important, you can know your teens are working on a comprehensive Phy Ed credit.
That is why we are SO excited to release our comprehensive Physical Education curriculum with training videos, tests, answer key and syllabus: Foundations of Physical Fitness by Joel Simeon Paul Hayes (videos by his brother Luke Josiah Samuel Hayes).
Joel and Luke are the homeschool-graduate sons of 7Sister Sara. They studied fitness in college and then went onto become certified in numerous areas of personal training. They have won multiple award in fitness-related sports and business. Thus, they are the perfect young people to develop a curriculum.
Foundations of Physical Fitness, is a readable, no-busywork, downloadable text that encompasses:
Introduction
Chapters:

1: Different Types of Fitness
2: Progressive Overload
3: Compound Exercises vs Isolation Exercises
4: Form Is King
5: Cardiovascular Exercise
6: Stretching and Mobility
7: Real Fitness vs Fake Fitness
8: Fit for Services

Glossary page
Muscles/Muscle Group Diagrams
Video how-to guide with lots of links and charts
Tests and answer key
Syllabus
Training videos with Luke showing teens how to manage their fitness
Charts for tracking progress
Syllabus for helping teens stay on track
This is such an exciting opportunity for teens to understand how and why fitness works! (Note: physical education credit is BOTH text and activity, so be sure to log both.)
Click here for an excerpt from Foundations of Physical Fitness.
We have also created an additional curriculum to help your teens achieve their fitness goals! 
Framework of Physical Fitness, by Joel Paul Simeon Hayes, builds on the knowledge that students gained from Foundations of Physical Fitness. While it is intended to be a follow-up to Foundations of Physical Fitness, Framework of Physical Fitness can be studied independently.
Log hours for a Carnegie credit
One way to earn a Physical Education credit is to log hours (we call this a "Carnegie credit" because back in 1906, the Carnegie Foundation helped establish a standardized high school credit by "hours of instruction/educational activity" . In many states, 120-180 hour of educational activity (in other words, moving their bodies) will earn teens this credit.
This is a good way for a teen who is totally uninterested in sport to earn a PE credit
This is also a good way for teens who are active in fitness, sports or other physically demanding activities to earn their PE credits
These teens can log hours on their sports leagues, dance classes and competitions, karate lessons, yoga classes, 5k events, equestrian lessons and competitions, and conditioning and general fitness buffs.

Tips: there are several ways to handle logging these credits on the homeschool transcript. Choose whatever is best for your teen.

Stop at one credit per year and title the course:
If more than one credit is earned:

Record the credits separately with the name of the sport or activity (Physical Fitness, Baseball, Ballet, etc)

This is good for teens who log lots of hours in several different sports of physical activiites.
BTW- Here's a video to give a glimpse of Joel and Luke Hayes (the author and videographer of 7Sisters Foundations of Physical Fitness), practicing their own fitness program.
7Sisters email subscribers receive periodic practical encouragement, special offers and NO SPAM EVER.


Click the image above to periodically receive real homeschool value in your inbox.
With that in mind, let's talk about how to earn Phys Ed credits in homeschool high school!