By request: How to help inexperienced or struggling writers with high school writing requirements. This is a common question and we have some do-able answers!
How to Help Inexperienced or Struggling Writers with High School Writing Requirements
Some teens are born with a love of writing, but many teens struggle to find confidence and competence in their writing. We receive questions on how to help inexperienced writers and struggling writers gain the skills they need for life (and their high school
English/Language Arts credits
).
The good news is that you CAN help your homeschool high schoolers gain confidence, creativity and skills…and even LIKE writing (at least, like it well enough to get through their assignments without trauma).
So, how can you help young writers with their high school writing requirements?
Remember, there's not ONE right way to homeschool high school!
So, if you find a method that helps your teens and we have not mentioned, share it in the comments! That's what community is for! We can learn from one another! (Because YOU are our 7th Sister!)
Start with a growth mindset
Teens often need to be encouraged when they feel like they are poor writers. Instead of saying, "I'm bad at writing," try, "I'm learning to be a good writer." Talking hopefully makes a difference in the way the brain works. For more growth mindset ideas, check this post.
Take a giant step back
Remember, you are homeschooling your teens in order to do what is best for them. You get to choose the educational goals. So if you are setting your teens' goals, then do not pressure yourself to have "grade appropriate" writing to start with. Take a step back:
Make assignments short
Make them simple
And as often as possible, make them interesting, meaningful or fun
For teens with struggling with writing because of special needs:
Feel free to make the compensations they need:
Dictate writing assignments for first drafts to mom or using Dragon Dictation or other dictation app. (We are not affiliates, btw.)
Do journaling daily or weekly where students can free write with no need to be graded. This can be done by hand, dictation or dictation app.
Create a verbal progressive story (instructions in YouTube below)
Check out SPED Homeschool's website or Facebook group for lots of ideas and support
Adapt curriculum to your teens' needs. Do lessons together, dictated and then grow into eventually working independently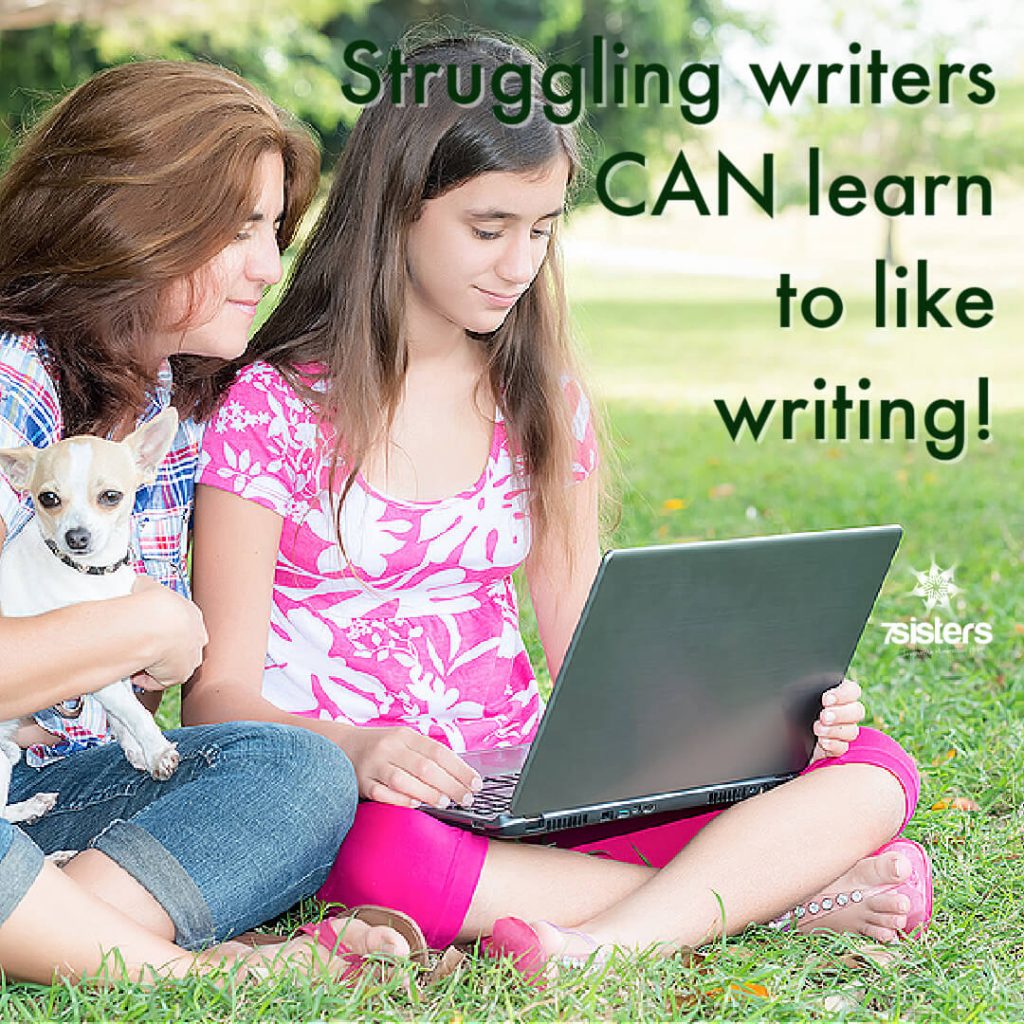 For teens who are inexperienced writers
If teens are capable of writing competently but simply have not had much experience writing, start simple and give them the tools they need.
Start them with Introductory levels of high school writing curriculum. Give them time. They will catch on and be ready to move on to longer, more complex writing projects.
With inexperienced but capable writers, you can usually plan on covering all four suggested writing projects:

Essays
Poetry
Short Stories
Research Paper

Grade generously to start, the writing experience is the goal.
Then move to using a rubric.

Teach your teen to edit their rough draft using the same rubric you will use.
Then they can give their edited paper to you. You can use that rubric to grade also.

Rubrics keep both you and your young writer working on the same writing goals.

7Sisters Writing Guides include rubrics.

In case your novice writer is shaky with grammar, you can help them out by giving them 7Sisters Grammar Granules.
For teens who are reluctant writers
They can write but they just do not like it, so they complain. Try:
A different curriculum and aim for some interesting short assignments to start with.
Step back and do some of the fun lessons listed in the special needs section above. Then move into using writing guides.
7Sisters Introductory Poetry Writing and Short Story Writing Guides are simple starting places. Then add Essays and Research Paper (try our freebie download of a report-style research paper for reluctant writers).
Try 7SistersHomeschool.com's Writing Guides
7Sisters' philosophy of writing curriculum is that lessons should be:
clear
as short as is possible
aimed for success with each year building on concepts that students learn the year before
levelable so that average to honors students can adapt the guides to their needs and goals.
7Sisters Writing Guides are presented in a Weekly and Daily format with activities that are time limited. Where appropriate, we suggest that high schoolers each year do the four
Essays
,
Short Stories
,
Poetry
and Research Papers (such as
APA
or
Research Readiness
.
7Sisters email subscribers receive periodic practical encouragement, special offers and NO SPAM EVER.

Click the image above to periodically receive real homeschool value in your inbox.
How to Help Inexperienced or Struggling Writers with High School Writing Requirements