By request, we are talking about how to homeschool with teens and youngers.
How to Homeschool with Teens and Youngers
Many homeschooling families are homeschooling with multiple ages and grades. It might feel intimidating, but remember: You CAN do it!
All of us 7Sisters taught multiple ages at the same time. Some of us had high schoolers all the day down to infants at the same time. So we can understand parents who are feeling a little stressed or overwhelmed. Therefore, we thought we would share some tips with you!
How to homeschool with teens and youngers
Here are some of our favorite tips!
Let go of perfectionism
There is no such thing as perfect when there are multiple grades happening at once. In fact, there is really no such thing as perfect when you are homeschooling real humans. However, lack of perfection does not mean your homeschool is failing. In fact, it is healthy to throw perfectionism out the window and enjoy doing real life and real education with your teens.
Remember my favorite quote by G.K. Chesterton:
Anything worth doing is worth doing badly.
Find things you can do together as a family
There are some things that can be done as a family that teens can leverage for school hours, including:
Family read alouds
Family read alouds are wonderful because youngers develop good listening skills and can learn to listen at higher levels than they can read. Teens benefit because they can count read-to books for booklists. As often as possible, choose books that at least vaguely fit the History, Science or English/Language Arts topics that your teens are studying. These can include books with a simpler reading level such as:
Do not worry if the little ones are running around. There is no such thing as a quiet homeschool (at least not for very long…). That is okay!
Movie Nights
Movie nights can count as school time for your teens when you use family-appropriate movies with History, Science or English/Language Arts or Fine Arts topics. Have your teens log the hours for the movies to level up their credits.
BTW- Some of the movies in 7Sisters' Cinema Studies for Literature Learning are good for family watching. This helps build an interesting English/Language Arts credit for your homeschool high schoolers.
Fine Arts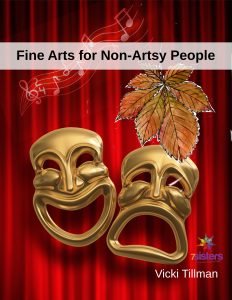 Here are some things that families can do together in the Fine Arts area. (Teens can log these toward an Arts Appreciation credit.)
Field Trips
The entire family can enjoy field trips! Teens can log hours for leveling up History, Science, ELA or Fine Arts credits while the youngers benefit from educational enrichment.
More tips for homeschooling with teens and youngers
Some things can be done as a family, however, most high school curriculum cannot be covered as a family. So here are some tips to help teens cover what they need to cover while you are busy with the youngers.
Do one-on-ones with teens during the little ones' nap times or play times
Many of the tips for working moms who are handling homeschool high school will also work for families with teens and youngers. One of the most important tips is to have a regularly scheduled one-on-one time either daily or weekly to check in on teens' progress in their independent courses. This helps keep teens on track and also reminds them that, although they can do some courses on their own, their parents still care.
Work on independent learning skills
Teens benefit from learning to learn on their own- it helps them better own their education. Here's an entire post with details to help develop those independent learning skills. This is good as a life skill as well as a confidence booster for teens.
Use resources that help build independent learning
There are several different formats for courses that will help teens build independent learning skills.
Let the teen be the teacher
While teens need to spend most of their time on their own education, they can also sometimes be of help with the youngers. For instance, they can: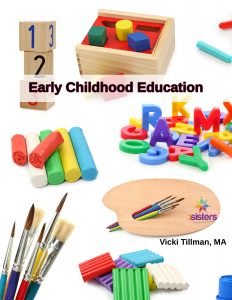 You and your teens can have the best years yet even if their are youngers vying for attention. You can do this!
For help and encouragement, make sure you check out the Homeschool Highschool Podcast and join our 7SistersHomeschool Facebook group.
7Sisters email subscribers receive periodic practical encouragement, special offers and NO SPAM EVER.


Click the image above to periodically receive real homeschool value in your inbox.