It matters! How to name courses on homeschool transcripts.
How to Name Courses on Homeschool Transcripts
We were having a discussion the other day in our 7SistersHomeschool Facebook group. (You should join the group, btw. It is a supportive place to ask homeschool questions!) One of our 7th Sisters wanted suggestions for what to call her daughter's Civics course on the homeschool transcript.
It reminded me that we do not talk often enough about how to title courses. The last time we posted on it was back when we wrote about why NOT to use generic course titles. So, let's talk about naming courses for the homeschool transcript.
The first thing you need to know about what to name courses on the homeschool transcript is:
There's not ONE right way!
Really, there is not a standard you must follow when assigning a title to your homeschool high schoolers' transcripts. With that in mind, homeschoolers and traditional schools:
Often use generic titles for their high school courses

This makes filling out transcripts quick and easy.

Others use detailed course titles that explain quickly what was special about this course

These titles show that the course went in-depth on certain topics. With courses like this, teens could explore interests and develop some specializations.
So, you get to choose what is best for your teens and what best explains the academics they are doing
Your homeschool high schoolers might be studying American History this year. However, they might be tired of American History textbooks, having covered the basics in middle school. Instead, your teens might be more interested in spending the year studying a special topic like:
You can use these as titles for their American History course. Just keep track of earning the credit and keep a course description.
These are all legitimate American History topics that teens could study for their American History credit on their transcripts. (BTW, here are the twenty-six credits needed for the homeschool transcript.)
Why would you want to list something so specific on the homeschool transcript?
Specialized courses look good on the transcript because:
For college-bound teens, specialized courses give "sparkle" or "pop" to the transcript
Admissions officers have often told us that this helps a transcript stand out in the pack. When you think about this from an admissions officer's perspective, this is a good thing. It makes your teen's transcript more noticeable.
For non-college-bound teens, specialized courses capture the richness of your homeschoolers' education
Your homeschool high schoolers' transcripts reflect their determination and hard work, along with their curiosity, interests and talents. When you give specific names to courses on the transcript, these help create lasting memories of the good work they have done.
Special Tip: Keep course descriptions on hand for specially-named courses. In case anyone asks, you will easily have the information needed to explain the course.
Let's take an example from English/Language Arts
Take for instance, your teen may be studying a literature topic in-depth for the year as part of their Language Arts credit. You can title the course by the name of the literature your teen is studying. This is true even if their writing requirements and some additional reading may be on other topics.
When listed on the transcript, your teen's credit might simply say:
All these titles are based on a literature topic but imply that the other ELA components were included. In any case, be sure to save a course description!
When would it be best to use a non-specific name for a course?
The easiest answer to this question is: Whenever you prefer to use a generic course title!
However, there are times when you definitely should use a generic name for your homeschool high schooler's courses. These include:
For English/Language Arts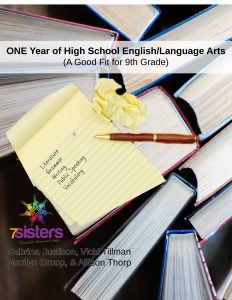 You would use a generic title best describes the material covered in the course. For instance, 7Sisters' ELA Bundles include literature from a variety of literature genres and topics. This is a good choice for:
General-interest teens or
Teens that would get bored if they had to stick to one literature topic for the year
Or you just like the idea!
When you have a mix of genres or topics for ELA, you can name your courses something like:
English/Language Arts 9
English/Language Arts 10
English/Language Arts 11
English/Language Arts 12
Or
Language Arts 9
Language Arts 10
Language Arts 11
Language Arts 12
Again, it is a good idea to keep course descriptions, just in case.
For Science or other courses where your teen is gaining basic knowledge:
For many Sciences on the homeschool transcript, teens will be encountering the information in-depth for the first time. These course will have a generic title, such as:
Biology
Chemistry
Physics
Earth Science
Unless they have a curriculum that mixes the sciences so that they have a little of each, each year. In that case, your teens' credits would look like:
Integrated Science 9
Integrated Science 10
Integrated Science 11
Integrated Science 12
Don't forget to keep the course descriptions on integrated science courses.
Math credits follow the same idea. Teens are gaining basic knowledge.
So their course titles will look something like:
Algebra I
Geometry
Algebra II
Pre-calculus
Statistics
Or if an integrated math, list titles as:
Integrated Math I
Integrated Math II
etc
World Languages classes are also courses where students are gaining basic knowledge.
So World Language course titles would look something like:
Hopefully, this helps build your confidence in choosing names for courses on the homeschool transcript! Remember: There's not ONE right way to homeschool high school…or title courses. So, do what is best for your teen!
Now, you need to think about how to show the level of rigor for the courses. For more information on recording course levels on the transcript in this post
7Sisters email subscribers receive periodic practical encouragement, special offers and NO SPAM EVER.


Click the image above to periodically receive real homeschool value in your inbox.