This week on Homeschool Highschool Podcast: How to Plan Homeschool Graduations. This post is running concurrently on the Ultimate Homeschool Podcast Network.
Whether it is your first or your fifth homeschool graduation, planning homeschool graduations can be stressful.  You want it to be memorable AND something you can manage. Add to it the stress of planning during Covid. We asked our 7th Sisters some things that have worked for their homeschool families.
Planning tips for homeschool graduations:
Start your planning process with this important fact: Just as there's not ONE right way to homeschool high school, there's also not ONE right way to hold a graduation event. For real. You and your teen should have a chat or two. Ask what they need and what do you need (you count, you did a lot to help this homeschool high schooler to get to the point of graduation)!
Decide if you want an event
Some graduates only want a pat on the back and maybe their favorite meal. Some would like an event. Hey, some of us moms NEED that event for closure; it's okay to have an opinion. (I know that for me, I needed that graduation ceremony to celebrate all we had done as a family. My teens were glad that they had that significant event, once it was done.) Come to a workable and respectful compromise.
Decide what kind of ceremony you will hold
There are lots of ways to hold a graduation ceremony:
Hold a get together in the backyard or at a local park (I've been to a number of these events)
Have a big event with your local homeschool umbrella school or co-op (this is what our family has always done)
Have a drive-by event with a short speech in the front yard (popular during this Covid season)
Choose a date
To help you decide on a date, think about:
When will Covid regulations be lifted in your area? (Determines how many folks can come, thus the date.)
When can the family come?
When are facilities available (if you will go somewhere besides home)?
Do you want someone to film or live stream it?
This is very popular these days. Start looking early for a friend, family member or professional to handle this.
Will you send graduation announcements?
Will you want to send traditional announcements from a local printer? (Grandparents often like these because you can enclose a photo that they can put in their wallets and show their friends?
Will you create your own announcements or post cards?
You can create your own notes online with websites like Shutterfly or Canva  (We are not affiliates, btw.)
Handmade announcements are popular with many of our local homeschool graduates.
Remember to send the announcements early so that folks can make plans.
We highly suggest you create a diploma (and keep a copy of the official transcript with it)
You can make your own: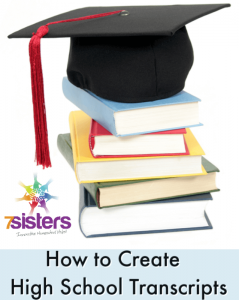 Buy parchment and an "official stamper" at the local office supply store and create your own. (Check Pinterest for samples.)
You can purchase one online from Homeschool Diploma (we are not affiliates)
We have found over the years that graduates occasionally need to show a diploma or send a copy of the diploma to prospective employers, military and even graduate schools.
For more on diplomas, check out our friend, Betsy's post.
For the transcript:
You can create your transcript yourself using a template available at many places.
Will your teen wear a cap and gown?
There's not one right way to handle this. I always like to have the visual of my graduate wearing the cap and gown AND the joy of moving the tassel on the cap from left to right (or right to left, there's no real protocol for that)?
If you are ordering cap and gown do so EARLY. Shipping is slow sometimes, these days.
Some of our homeschool friends have ordered from Homeschool Diploma or Jostens (we are not affiliates)
Plan the ceremony and afterwards
Will there be opening and/or closing prayer? Who will handle that?
Will there be speeches? (Given by the graduate? Parent(s)? Other?)

Decide ahead of time speeches will be? (Be sure to let guest speaker know the expectation of length of speech.)

Will there be a march?

Where?
When?
Will there be march and ending music? Pomp and Circumstance by Algar?

Will you need a sound system? Recording? Musician?

Will you "present the graduate" at the end of the ceremony?
Write down the order of events at the ceremony and make sure everyone knows

We recommend creating a program for all attendees

What will happen after the ceremony?

Will there be a party that day or later or not at all?
Here are some expert posts on graduation parties from our 7Sister Allison, who is the queen of throwing homeschool graduation events:

Here's a post with MORE ideas from our 7th Sisters
What to do if your teen does NOT want a graduation ceremony or party?
Join Vicki for a you-CAN-do discussion on how to plan homeschool graduations!
Read more about planning a graduation party.
Also, check out some things teens need to learn before graduation.
Are you graduating your last homeschooler? Need encouragement? This interview with Stacey will help you put it in perspective.
PLEASE SUBSCRIBE TO HSHSP VIA COMPUTER
Follow this 

link to our iTunes page

.
IMPORTANT STEP: Under our Homeschool Highschool Podcast logo, click on View in iTunes

This will take you to iTunes and our own podcast page.

Click SUBSCRIBE.
Click RATINGS AND REVIEW. (Please take a minute and do this. It helps others find us. Thanks!)

Thanks!
PLEASE SUBSCRIBE VIA iPHONE
Tap the purple Podcast icon on your phone

Tap the search icon on the bottom-right of your screen

In the search bar type: Homeschool Highschool Podcast

Tap the Homeschool Highschool Podcast icon

Tap *Subscribe*

Please tap *Ratings and Review*
7Sisters email subscribers receive periodic practical encouragement, special offers and NO SPAM EVER.

Click the image above to periodically receive real homeschool value in your inbox.