By request: How to record jobs on the homeschool transcript.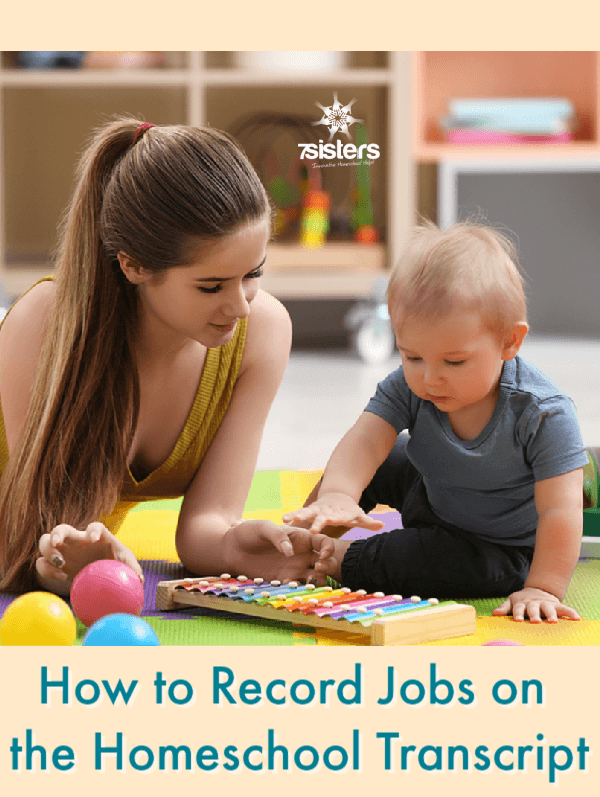 How to Record Jobs on the Homeschool Transcript
Many homeschool high schoolers will have for-pay jobs sometime during their teen years. We 7Sisters firmly believe that all of life is education, so how can teens show off their diligence on their transcripts?
Before we get started, I suggest doing some solid Career Exploration during the homeschool high school years. After all, teens usually feel better if they have some idea what they would like to do to earn money after they graduate. A good place to start is our Career Exploration post that is part of our Authoritative Guide series (check out the sidebar on this post for the full series). Then download 7Sisters popular Career Exploration curriculum.
Let's start with a basic question. Are you allowed to record jobs on the homeschool transcript?
Yes, if you are creating your teens' transcripts
Yes, if you have a certifying organization (umbrella school, cover school, charter school) that allows it
What kinds of jobs can be recorded on the homeschool transcript?
You can record just about any of your teens' jobs on the homeschool transcript.
Jobs that explore an interest, develop a set of desired skills or help them try out different career choices
Each of these are good reasons you might want to record these jobs on the transcript. These kinds of jobs are clearly Career Exploration experiences. You can get some ideas for Career Exploration experiences as jobs or classes in this post.
Entry-level jobs of any kind
Working at a job in a career-interest field is a wonderful idea. However, most teens' first paying job is not really related to anything they would like to do for a lifetime. Entry-level jobs that are available to teens will rarely turn into a career with an income that will support an adult's or family's needs.
Good news! Even if a job is not related to a career interest, your teens can still record their experiences on the homeschool transcript.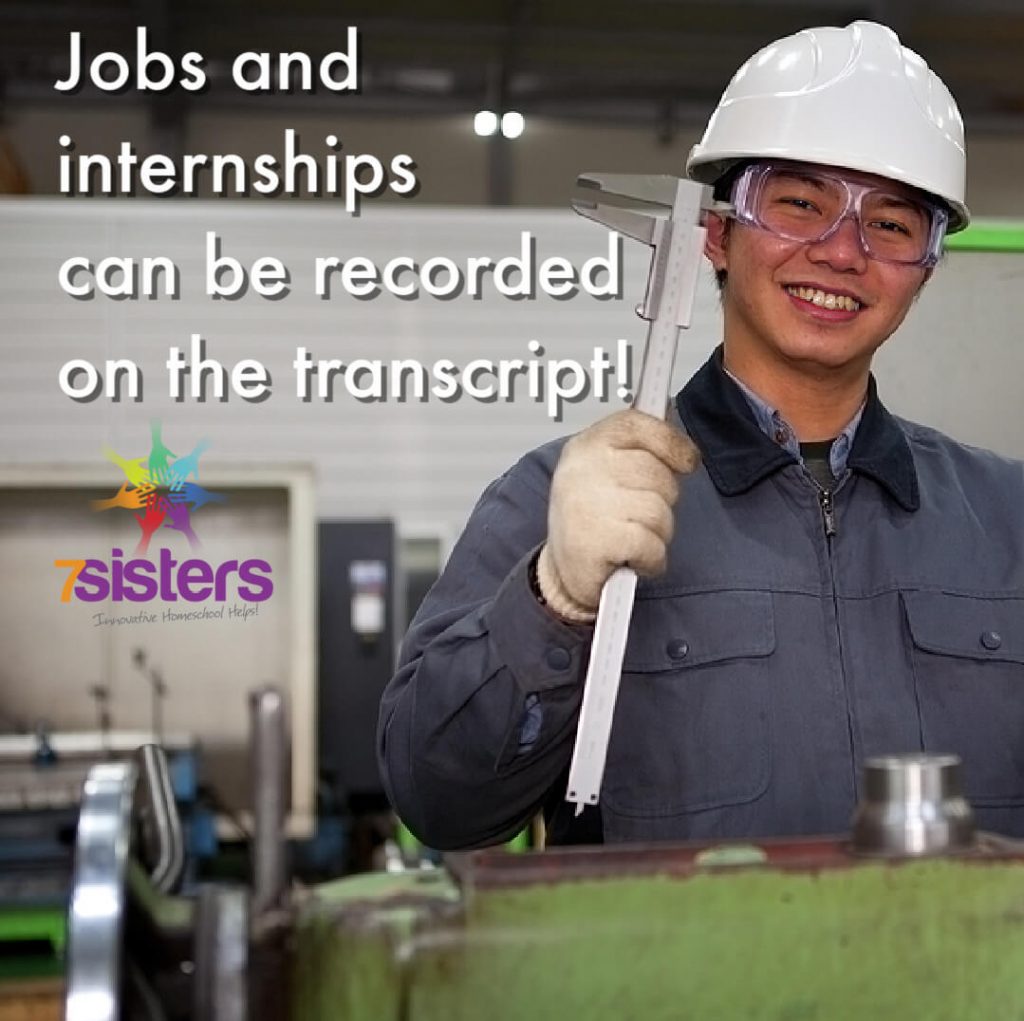 How can teens record their jobs on the homeschool transcript?
Have them log hours.

They can create a log sheet to record their working hours or keep their paystubs and document hours that way.
They will be working on a Carnegie unit credit.  State requirements for credits is usually 120-180 hours. However, if you logged all your teens work hours it would look like you are padding the transcript. Use discretion. We usually record one hour for credit for every 4 hours our teens work at their jobs.

For teens who are doing jobs that are exploring interests, developing a desired skills or trying out a career choice, we traditionally have recorded those jobs on the transcripts as "Career Exploration: Job Title". This is an elective course.

For teens who are doing an entry-level job that is not specifically related to an interest, skill or career choice (in other words, they want work experience and/or some cash), we have often recorded these as "Life Skills".

(This is because, teens gain valuable life skills from any job: self-motivation, time management, working on a team, flexibility and interesting job-specific skills.) This is an elective course.
On the other hand, you could call it "Career Exploration". After all, there's not ONE right way to homeschool high school. You do what makes sense for your teen.

Another way to handle recording jobs on the transcript is to note the job as an extracurricular in the footing of the transcript.

Homeschool high schoolers often do internships and volunteer work that can be recorded as Career Exploration.
Advice about jobs for homeschool high schoolers
In my years of experience as a homeschool advisor, I unfortunately found that it is not uncommon for employers to love their homeschoolers so much that they overwork them, jeopardizing the teens' ability to keep up with school work. I have even seen employers get pretty close to breaking our local youth labor laws by giving teens too many hours.
You can help prepare your teen for the job hunt by teaching them good skills about:
Remember to keep good records! For more information on record keeping check out our Authoritative Guide.
Having a job is exciting for teens…and good for their transcripts!
7Sisters email subscribers receive periodic practical encouragement, special offers and NO SPAM EVER.

Click the image above to periodically receive real homeschool value in your inbox.
How to Record Jobs on the Homeschool Transcript