FiWant some guidance to help your homeschool high schoolers stand out? Here it is! How to show teens' interests on homeschool transcripts.
How to Show Teens' Interests on Homeschool Transcripts
We 7Sisters have graduated all our homeschoolers and have helped hundreds of other local homeschoolers complete their homeschool high school successfully. We have learned a few strategies for success over the years. One of these strategies is highlighting our teens' interests on the homeschool transcript.
Now, before I get started showing you how to do this, please remember this important fact: There's not ONE right way to homeschool high school! 
That also means that there's not ONE right way to create a transcript for your homeschool high schoolers! I am going to simply share how we have done this for our own teens (and at our local homeschool umbrella school).
We have found that it is beneficial to record interests on the homeschool transcripts with two types of homeschool high schoolers:
Non-college-bound teens' transcripts
It is totally unnecessary for the next step in life to record your teens interests on the homeschool transcript.

Sometimes teens need to show a copy of their diplomas and/or transcripts when they start a more career-level job.(Their first jobs at the ice cream stand or Chick-fil-A don't usually require anything more than working papers.)

We have not found that career-level employers are overly curious about our graduates' high school interests.

However, we have found that recording our homeschool high schoolers' interests on the transcript is a benefit over the years in different ways:

For job interviews or applications, young adults sometimes need to bring their transcripts.

When they review the transcript that includes interests, they remember better what mattered and matters to them.

It helps them formulate stories about their experiences that they can share at interviews.

This enhances their confidence levels.
That's more than we can fit in this post, so click here to read an in-depth explanation of handling levels on the transcript.

For us homeschool moms, looking back at the transcripts is a good thing for us to do occasionally. It helps us to remember all that we invested in our homeschool high schoolers and all the things we helped them develop. This is nice for us, since many have us have experienced the *Did I do enough?* syndrome!
College-bound teens' transcripts
College admissions officers have often told us that they are looking for transcripts with *sparkle* or *pop*. One way to do that is to highlight our teens interests! For more ways to make a transcript sparkle, check out this post!
Anyway, in our experience, here's how to show teens' interests on homeschool transcripts:
#1: Capture or explore interests in credit form
Many interests that your homeschool high schoolers want to explore can be captured as credits on the transcript. You can:
Use a textbook, if there is a text that covers the topic.

For instance, when our group-classes' teens wanted to explore Philosophy as a course, we wanted a textbook that would cover that for us (since many of us were quite novice at the subject). Dr. Micah Tillman created

Philosophy in 4 Questions

for them. It became one of their favorite classes!

Also, one of my sons was interested in public speaking. (He was wrestling about going into politics or maybe  become a college professor. In the end, Dr. Nathan Tillman teaches college.) Either way, he needed public speaking experience. We developed a rhetoric club for the local homeschoolers then eventually published the curriculum at 7Sisters Speech and Public Speaking.

Some of our co-op students needed a practical Career Exploration course that would help them decide whether or not they were interested in working as caregivers or preschool teachers. 7Sisters created this fun curriculum for them:

Log hours for a Carnegie credit.

There are so many interests that homeschool high schoolers want to build. For instance, my teens logged hours to get credits in their various interests including:

History of Church Music

Choir

Leading Worship (theory and practice)

HTML

Basic coding

Video production

Photography

In general, we count these are Career Exploration electives. Here's a great post on Career Exploration electives by our friend, Marcy, at BenAndMe.com.
For more on Career Exploration, check out this episode on our podcast: The Homeschool Highschool Podcast.
How do you log hours for a Carnegie credit? Here's a post with an easy explanation.
Read more about developing your teen's interests in the interview with Danielle Papageorgiou about "Lifeschooling".
#2: Show extracurriculars on the homeschool transcript
We always include our homeschool high schoolers' extracurriculars in a special section of the transcript. Extracurriculars do not generally receive credit, but they look great to college admissions officers, especially if it is an activity that was engaged in over the high school years (not just one-off events). Here's a post that explains the difference between electives and extracurriculars.
We simply add a section at the bottom of the transcript with the type of extracurricular, organization (if applicable), and years participated. Note: this information is usually asked on college applications, so having it handy on the transcript is helpful.
Our homeschool high schoolers have been involved in things like:
#3 Show volunteer work
Whenever possible, we have had our homeschool high schoolers do some volunteer work in their interest areas. This is helpful because:
Service work looks good for employers or college admissions officers because it shows a community spirit and giving attitude.

Volunteer work often gives an excellent taste of what things are actually like in an interest area. Our homeschool high schoolers have participated in volunteer work such as:

Church nursery

Elementary school class aides

Therapeutic riding camps 

Church video production and technology teams

Leadership teams at local homeschool umbrella school

Food banks

Animal shelters
We include a section at the bottom of the transcript to list this information along with a tally of hours served.
Remember: ALL of life is education! Capture it on the homeschool transcript. You and your teens will be glad you did.
Here's information on what colleges like to see on homeschool transcripts. As well as a discussion on whether or not to include religion on the homeschool transcript.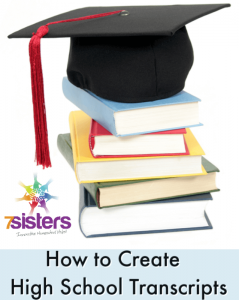 Homeschool high school transcripts are important! But do not worry. We are looking out for you!
Your 7Sisters have put together everything you need for homeschool high school transcript, including:
First, you will find in File 1: A transcript template in easy-to-use editable pdf format
Then, you will find in File 2: A high school checklist, to help you and your teens keep the course requirements organized
Finally, you will find in File 3: A detailed, 75-page guide with details on how to create a meaningful high school transcript
7Sisters email subscribers receive periodic practical encouragement, special offers and NO SPAM EVER.

Click the image above to periodically receive real homeschool value in your inbox.