It is never too early (or too late) to start planning, so here is how to start planning for next homeschool year right now.
How to Start Planning for Next Homeschool Year, Right Now
What time is the best time to start planning for next year's homeschooling high school? How about right now?!
Okay, do not get stressed about this. Whether next year's high school courses are a long way off or coming too soon, you can do this! So let us help you calmly enjoy a little planning for next year, right now!
For those of you reading this during the winter, you have a nice head start on next year. This gives you some extra flexibility and time for some extra creative thinking. However, if you are reading this post and it is August, right now is a good time to plan, too! Just like all homeschooling, there's not ONE right way to homeschool high school.
However, since I am writing this post in January, I am going to talk about how to make the most of these extra months' of planning time. Okay, let's get started.
How to start planning for next year starting right now
Many homeschool high schoolers do a mid-year review somewhere in January or February. This is nice because it clarifies where your teens are now and helps you tweak their work for the remainder of the year. This gives you and your teens a chance for a fresh start on the rest of the school year.
Not only that, but a mid-year review helps you know where some strengths and weaknesses might be that you can work on next year.
Using your mid-year review, discuss with your high schoolers:
Of their courses so far, are there some topics that they liked so well that they want to build on those as a Honors-level core course or an elective?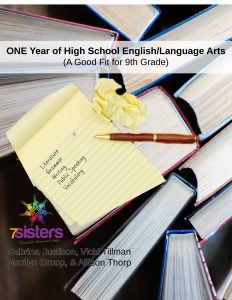 For instance, perhaps your teens really enjoyed a college-prep level Biology class. Perhaps they would like to add a higher-level Biology 2 next year (perhaps an Honors level course or an AP class online)? This would be useful if your teens might be thinking about a science major for college.
Or perhaps, your high schoolers really loved the poetry section of their 7Sisters English/Language Arts bundle. Perhaps next year they might like to earn a:
This would be a powerful elective for teens who are thinking about English, Humanities, Communication or Writing as college majors.
If your handy teen has discovered that they love woodworking projects while working on their Home Maintenance elective, this might be a good time to talk about whether it might be fun to think of ways to build on that strength. Perhaps by:
When you start the discussions in the wintertime, you have lots of time to start planning for next homeschool year!
Relaxing winter chats can help you:
What if your teens have subjects they need to just hurry and finish this year and then drop the next year's follow-up?
For example, it is not uncommon in our area for local colleges to ask for three years of a single World Language on the homeschool transcript. That is wonderful for lots of homeschool high schoolers. However, some teens get to the end of the first semester of Spanish II (or French II, or German II, etc) and just do NOT want to go forward with it.
In this case, wintertime conversations help you and your homeschool high schoolers tweak their goals. For instance, they might want to:
If your teen has a course they are struggling with but must take the next course next year, now is a good time to plan together for next homeschool year.
Many homeschool high schoolers have some courses that need to be completed for graduation whether they like them or not. For instance, graduation requirements for many states include Algebra 1 and Algebra 2. If your teen is struggling with Algebra 1 this winter, now is a good time to have a compassionate discussion. Then you can together start planning ways to handle Algebra 2.
As you plan for next homeschool year, keep in mind your teens' goals for high school and beyond.
If you need a review, check out 7Sisters Authoritative Guide to Planning High School. Also, for families who will be starting to homeschool high school, read 7Sisters Authoritative Guide to Transitioning to Homeschool High School, 
Planning for how to assign the grades, varies by the type of course. Check out this Homeschool Highschool Podcast episode on ways to assign grades.
If you are wondering how long it takes to homeschool each day, check out this post.
Don't forget to allow your teen to balance their academics and their fun!
You can make the most of the wintery months to help your homeschooling plans for next year be better than ever. You've got this!
7Sisters email subscribers receive periodic practical encouragement, special offers and NO SPAM EVER.

Click the image above to periodically receive real homeschool value in your inbox.