By request: How to teach public speaking for homeschool high schoolers.
How to Teach Public Speaking for Homeschool High Schoolers
When my daughter was as homeschool high school senior, she was taking dual-enrollment photography and graphic design courses at the local community college. Financial times were tough for the college and the board was reviewing departments to see what they could cut.
My daughter was in the hall when the department chair called her aside and asked her to accompany her to a board meeting: right now! On the fly, my daughter had to prepare a small speech about what she was learning at the college and how it was preparing her for life.
She told me later that, although she was extremely nervous, she was not worried because she had been in our local homeschool Rhetoric League for four years and had learned some extemporaneous speaking skills.
In the end, the department (and her department chair) were impressed and did not cut funding. My daughter got her AA degree at the same time she graduated high school and got a double major in photography and graphics design in college. Recently she
photographed Maryland's Governor Hogan
for Civilian Magazine. (I would say she got a great start at her community college.)
Where I'm headed with this story is that my daughter and many of her peers have told me that her speech training in high school, while maybe not their very favorite classes, was the most important course they took.
Public speaking is a life skill. Most teens will grow up and somewhere in adult life will speak somewhere, sometime.
For instance, if they:
go to college, they will make presentations in class
participate with their youth group on a missions trip, they will make presentations at church and, likely, on the missions trip
volunteer to teach kids' Sunday School, VBS or other classes, those are public speaking events
become entrepreneurs, likely they will join a business group like the Small Business Chamber of Commerce, and give elevator pitches to the group
Many Americans report they fear public speaking more than they do death. When our 7Sisters kids were starting high school, we realized that our teens needed to be able to overcome this fear so they were not hindered in life. So we got together and made a public speaking class (called Rhetoric League) that taught them the skills they need in a FUN format which we captured for you in Speech I Teacher's text and Student text.
So how did we teach Public Speaking to our local homeschool high schoolers?
We set an atmosphere of fun and non-professionalism. Really.
So many times we want to teach our homeschool high schoolers to be great at what they are learning. However, with public speaking, it is just the opposite. Most of our teens will NOT grow up to be professional speakers. They just need to be comfortable speaking when they must.
Instead of pressuring our high schoolers to be excellent speakers, we taught them to have fun. We did this in our group classes but our 7th Sisters tell us that they worked one-on-one with their teens or as a family with all ages learning together:
We would hold opening exercises:
Group deep breathing exercises and relaxing shoulder rolls
"Everyone smiles" exercise (not kidding, plaster a smile on your face and hold it for ten seconds)
Group tongue twisters (while smiling) like:

Round and round the rugged rock the ragged rascals ran
Rubber baby buggy bumpers
Where moth and rust doth corrupt
Peter Piper picked a peck of pickled peppers

Then we would follow a lesson plan with fun, non-threatening activities that teach teens that they CAN do public speaking! We captured those lesson activities in 7Sisters Speech I e-curriculum.
Get more ideas for speech presentations for the teens in this post.
What are the lesson activities for 7Sisters Public Speaking?
7Sisters Speech I curriculum covers the activities we created for our homeschool high schoolers:
weekly lesson plans
video links that give examples for each topic
interactive discussion questions/evaluations (this includes teaching teens to give each other specific but encouraging evaluations)
confidence-building activities
lots of practice
a separate download when you purchase the teacher's guide with all the evaluation forms for easy copying
Here is the 15-week schedule. Lessons:
1:

Presenting Kid Lit (Interpretation of Children's Literature)

2:

Presenting a Bible Reading
3: Presenting Spoken-Word Poetry

4:

Presenting a Humorous Monologue

5:

Organizing & Writing a "Visual Aid How-to" Speech (Expository Speech)

6:

Gathering Materials & Practicing a "Visual Aid How-to" Speech (Expository Speech)

7:

Presenting a "Visual Aid How-To" Speech (Expository Speech)

8:

Organizing & Researching a Biographical Report (Expository Speech)

9:

Writing & Practicing a Biographical Report (Expository Speech)

10:

Presenting a Biographical Report (Expository Speech)

11:

Creating & Presenting an Elevator Pitch

12:

Creating & Presenting a Sales Pitch

13:

Presenting an Infomercial (Group Project)

14:

Practicing Beginning Interview Skills

15:

Presenting a Children's Bible Lesson
For more fun ideas to add to your teens' speaking experiences check out this Homeschool Highschool Podcast episode and this post.
Here's how to use this curriculum:
Decide if you want your co-op Speech class to be 15 weeks or 30 weeks long.
If your co-op is following a 15 week schedule, you will follow the directions for that schedule.
If your co-op would like to spend 2 weeks on each topic for a total of 30 weeks, follow the instructions for additional fun activities for each topic.
The lesson plans are built right into the basic text (for teachers or students working individually).
How to grade Public Speaking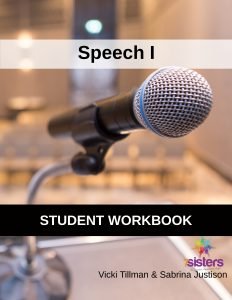 We are often asked how to grade Public Speaking for homeschool high schoolers. We designed the course with the focus on exposure and fun for new public speakers, so we recommend that you grade students based on participation and effort.
In our experience, the fact that a student does the prep work that is assigned, is cooperative and respectful with others who are a part of the group, and evidences effort and care in his/her participation earns 100%.
The level of polish or confidence of eloquence in the speeches themselves will vary SO greatly from one teen to another, reflecting their natural personalities and levels of fear when standing in front of a room. The most important thing about practicing Speech with young people is exactly that…practicing it!
If your students are doing the prep work, encouraging one another, and demonstrating effort, they are practicing the skills that will grow more polished as they grow older. The evaluation sheets included in the teacher's text are intended to give them specific feedback on new things to try or tweak, or points of excellence to celebrate and repeat.
Thus, their grade should be based on participation and effort only. (Of course, there's not ONE right way to homeschool high school. AND there's not ONE right way to grade, so you decide what is best for your teens.)
How to record Public Speaking on the homeschool transcript
However, if your teen is really enjoying their Public Speaking activities,
have them log their hours
. They could earn an
elective
credit in Public Speaking that really
sparkles up their transcript
. (We have seen this be a boost for teens when they go to college programs that require interviews- colleges love to see separate Public Speaking credits.)
7Sisters email subscribers receive periodic practical encouragement, special offers and NO SPAM EVER.

Click the image above to periodically receive real homeschool value in your inbox.