Here is how to use 7Sisters' Essay Writing Guides in homeschool co-op.
How to Use 7Sisters' Essay Writing Guides in Homeschool Co-op
7Sister Marilyn wrote our essay curricula and has been teaching it in homeschool co-ops and group classes for years. Her classes have been popular with her students because they gain practical writing skills plus the confidence that they can write. (As you may have noticed, teens often are critical about their ability to communicate in writing. Learning practical skills- especially essay writing skills- can help build their confidence.)
First, remember that essay writing is an important part of the four English/Language Arts credits that teens need for their homeschool transcripts.
While there's not ONE right way to homeschool high school (or earn ELA credits), we recommend the following components for each ELA credit:
Literature: a variety of genres and topics over the four years

While the reading material may be largely on one topic (British Literature, American Literature, World Literature, or other specific topics) or a mixture of topics, there should be several genres each year

Writing: a variety of types of writing each year. Many students do best with (and colleges like to see) a mix such as:

Essays
Research papers
Short stories
Poetry

Vocabulary each year
Grammar/Editing each year
Public Speaking: at least one experience each year appropriate to the teen's ability and circumstances
Here are her tips for teaching essay writing in homeschool co-op: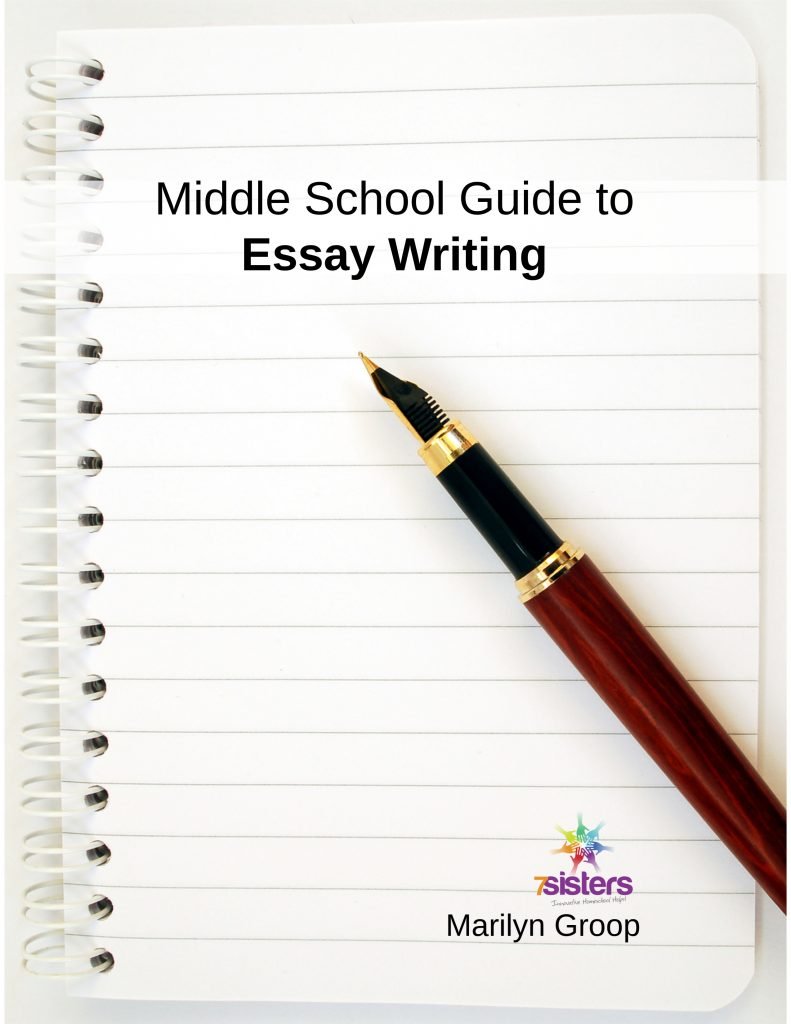 Are your using 7 Sisters essay curriculum in your homeschool co-op or umbrella/hybrid  school? Here are some ideas to get the most from your experience:
First, choose the curriculum that best fits the students:

Of course, we are partial to 7Sisters Essay Writing Guides. These are no-busywork, step-by-step guides that have helped all our teens learn writing, thinking and communication skills.
Then, on class or co-op day, review the week's lesson with the students. It can be very helpful to practice writing a group essay.

This can be accomplished by writing on a white board or, better yet, using a projector hooked up to your computer.
Using your computer allows you to save the essay from one week to the next or to send it to the class to use as a guide.
Keep the topics simple;

the focus is on learning essay format and writing, especially for students with little or no essay experience.

During the week, the students should follow the guide to work on their own assignments.

The week's lessons reinforce the lesson you taught that week. The assignments for each day are broken down into small chunks and are designed so that most students should be able to work independently.

The next week, students hand in the assignments that they worked on at home.

Finish by grading the finished essays using the rubric included in the guide.

Since the goal of a writing class is for students to improve their writing, I allow the students 2 weeks to rewrite an essay after it has been handed back. They are awarded the higher grade.
BTW- All 7Sisters essay writing guides include writing prompts, but here are some more prompts that might be relevant to your teens.
Download an essay guide today! For more on how to teach homeschool co-op classes, check this post.
Teaching essay writing in your homeschool co-op or group classes can be inspiring and confidence-building for your teens. Contact us about co-op discounts and get your teens started writing for success!
7Sisters email subscribers receive periodic practical encouragement, special offers and NO SPAM EVER.

Click the image above to periodically receive real homeschool value in your inbox.
How to Use 7Sisters' Essay Writing Guides in Homeschool Co-op