By request: How to Use Literature Study Guides in Homeschool High School.
How to Use Literature Study Guides in Homeschool High School
A staple of high school English/Language Arts is Literature. This makes some teens happy because they love to read. It makes some teens irritable because they are not impressed with reading. That's okay! There's not ONE kind of homeschooling high schooler and there's not ONE right way to homeschool high school! We have some help for handling literature in this post!
Literature also intimidates some homeschooling moms because they are afraid they will miss something or mess something up. So let me comfort you, Homeschool Parents. You can do this!
Okay with all that settled, let's talk about using literature study guides in your homeschool high school English/Language Arts courses.
First off, WHY should you use literature study guides with your homeschool high schoolers?
Literature study guides do the heavy lifting of teaching literature for you. A good study guide:
will give important background information about the story and usually, the author
will give important vocabulary for the teen to know about the book
will cover important themes or ideas from the book
will develop inferential skills
Note: the problem that makes many teens hate literature study guides is that many study guides analyze a book to death. There are so many themes, topics, ideas and details covered that all the joy of the book is gone. We learned this from our homeschool high schoolers decades ago. (Our kids like to tell us their opinions about their curriculums.) And our teens are the reason we started creating 7Sisters Literature Study Guides, which are:
No busywork
Doesn't kill the book (we choose one or two main themes to explore and questions are paired down to cover the inferential skills they need to build critical thinking)
Adaptable (for teens who love to delve deep or who need Honors credits, we include instructions for meaningful activities to level up)
Tries to avoid being preachy or demeaning in words or tone
You can download the complete list of 7Sisters Literature Study Guides at this link.
How many guides should your teen use?
Well, that's complicated. Let's start with these rules of thumb:
We do not recommend that a teen work on a literature study guide for EVERY book they read. Teens need variety.
We start with a guideline of completing one literature study guide per month or per unit. This would mean about nine study guides for the school year. Teens who are interested or working on Honors credits will need and/or want more study guides. Remember: there's not ONE right way to homeschool high school. You get to do what is best for YOUR teens.
For more information on using different levels for homeschool high school Language Arts check out this episode of Homeschool Highschool Podcast.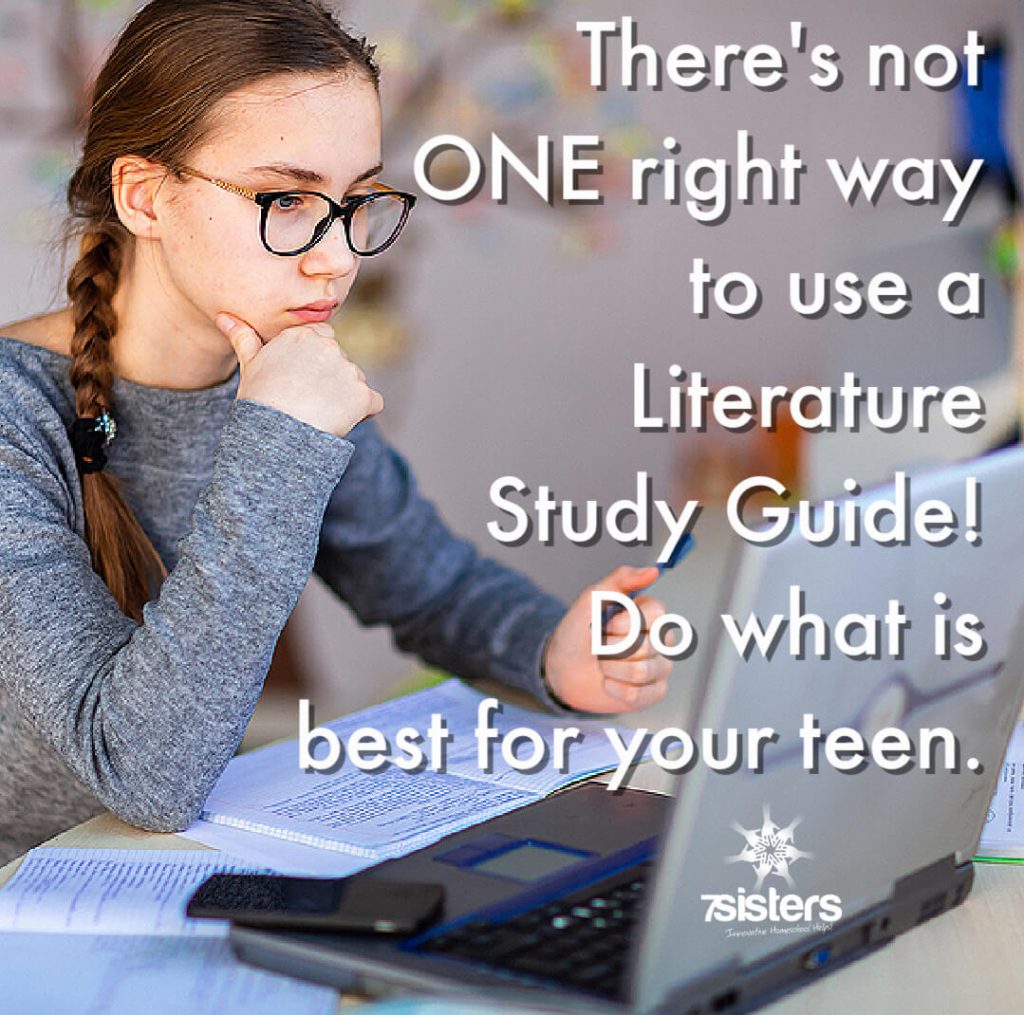 How do you use Literature Study Guides in homeschool high school?
Since there's not one kind of homeschool high schooler, there's not ONE right way to use a Literature Study Guide. Here are some ways our teens have used the guides:
What else could they do to show interaction with the books they read?
So, we really do not recommend doing a literature study guide for every book your homeschool high schoolers read. Recently on our 7SistersHomeschool Facebook Group (you should join, btw), some of our 7th Sisters were sharing other ways to handle Literature interaction so that all the books did not need have study guides:
Remember, there's not ONE right way to homeschool high school, there are other ways to homeschool with literature. Here's a post to help you choose literature curriculum. Either way, you can do this!
7Sisters email subscribers receive periodic practical encouragement, special offers and NO SPAM EVER.


Click the image above to periodically receive real homeschool value in your inbox.
How to Use Literature Study Guides in Homeschool High School