Got-to-Have Types of Courses for Homeschool Transcript. This post is running concurrently on the Ultimate Homeschool Radio Network.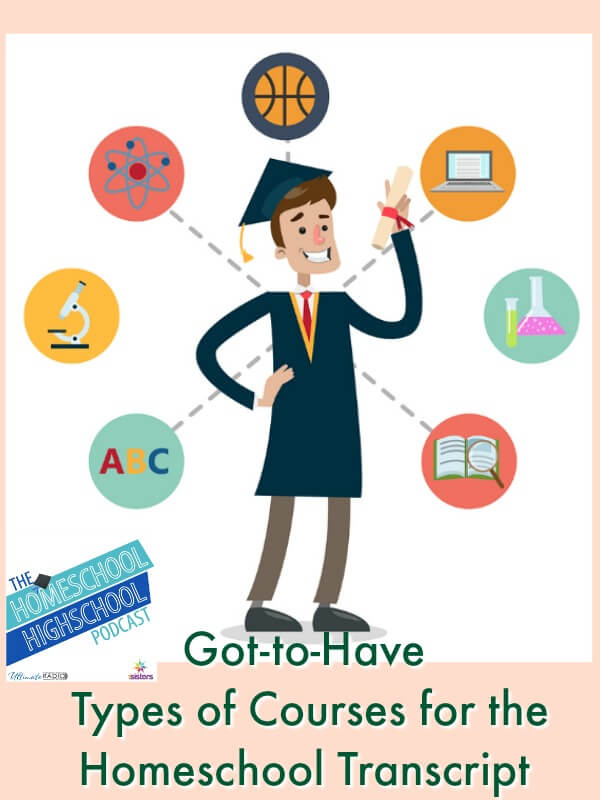 Got-to-Have Types of Courses for Homeschool Transcript
What kinds of courses do homeschool high schoolers need for graduation?
That is one of our FAVORITE topics! Join Sabrina and Vicki for a rollicking conversation about homeschool transcripts, courses and credits.
In a nutshell, teens need these four kinds of courses for a powerful transcript:
As you know, there's not ONE right way to homeschool high school. Therefore, take these guidelines as suggestions, not rules!
Core academic courses:
These type of courses cover "core academics", which are the basic courses all transcripts need. Core academic courses include Language Arts, Maths, Social Studies, Science, and World Languages.
The number of credits needed in each of these categories varies by state, supervising organization or college of interest to your teen.
For college-bound teens, it is wise to show the level of rigor for each of your teen's core courses. That's more than we can fit in this post, so click here to read an in-depth explanation of handling levels on the transcript.
Other courses required by your state, supervising organization or college your teen wants to go to:
These types of course requirements vary widely from state to state. They also vary from family to family. Each family's needs and interests are different. That's the joy of homeschooling! Your teens can develop the transcript that is right for each of them. Examples of other courses would be: Fine Arts, Physical Education, Health, Social Sciences, and Drivers Education.
Elective courses:
These are courses that help your homeschool high schooler explore or develop an interest or skill. For teens who don't have a clue what they are interested in, choose a wide variety of different kinds of courses until they land on something they love. For teens who are already invested in an interest or talent, enrich their experiences with courses in those areas.
7Sisters offers LOTS of elective choices (because we've had LOTS of different kinds of teens in our families and in our co-ops and group classes, so we've developed curriculum to meet their needs).
You can include lots of different topics as electives. For instance, one common elective that homeschool high schoolers often choose is Religion.
Career Exploration courses:
Career Exploration courses may be the most important courses of all. It is such an anxiety-producing experience for teens to come to senior year and feel like they have no direction. Get them started with a comprehensive Career Exploration program (our popular course has been, for years, getting homeschool high schoolers on the road toward their future).
Join Sabrina and Vicki for a you-can-do-it discussion of the courses your homeschool high schooler needs!
PLEASE SUBSCRIBE TO HSHSP VIA COMPUTER
Follow this 

link to our iTunes page

.
IMPORTANT STEP: Under our Homeschool Highschool Podcast logo, click on View in iTunes

This will take you to iTunes and our own podcast page.

Click SUBSCRIBE.
Click RATINGS AND REVIEW. (Please take a minute and do this. It helps others find us. Thanks!)

Thanks!
PLEASE SUBSCRIBE VIA iPHONE
Tap the purple Podcast icon on your phone

Tap the search icon on the bottom-right of your screen

In the search bar type: Homeschool Highschool Podcast

Tap the Homeschool Highschool Podcast icon

Tap *Subscribe*

Please tap *Ratings and Review* and give us some stars and a comment to help others find us more easily.

Thanks!
7Sisters email subscribers receive periodic practical encouragement, special offers and NO SPAM EVER.

Click the image above to periodically receive real homeschool value in your inbox.
HSHSP Ep 149: Got-to-Have Types of Courses for Homeschool Transcript