This week on HSHSP Ep 172: Help for Special Needs in Homeschool High School, Interview with Peggy Ployhar. This post is running concurrently on the Ultimate Homeschool Podcast Network.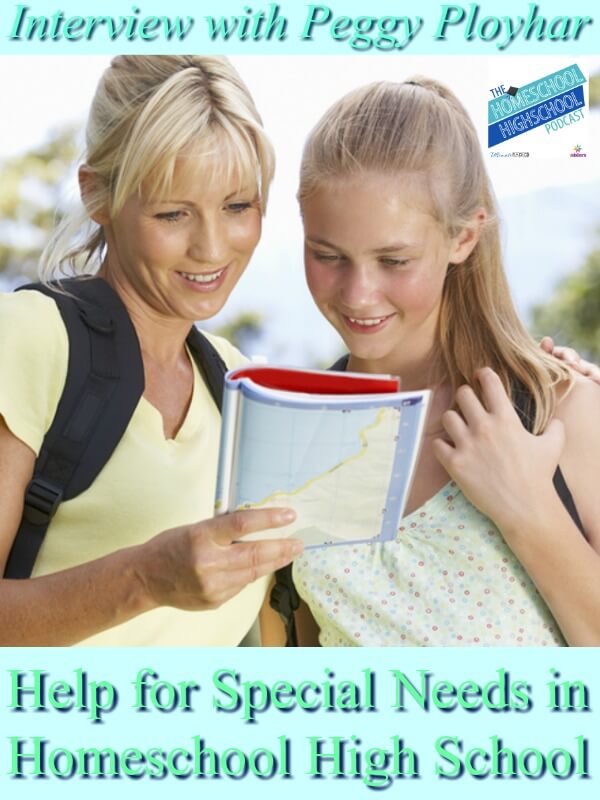 Every teen has a place in God's kingdom, but not every teen's journey looks alike. Some homeschool high schoolers have different learning styles, learning differences or learning disabilities. These special needs don't mean you can't homeschool your teen for high school. In fact, homeschooling high school might be the VERY best choice for them. You can individualize their education to:
Develop their strengths
Compensate for their weaknesses
Give them skills for life
Help them believe in God's plans for them
Vicki is joined today by Peggy Ployhar from SPED Homeschool to discuss help for special needs in homeschool high school.
Peggy's story
Peggy is a long-time homeschool mom and community leader. Her 2 sons both have special needs so based on her experience with her sons, she jumped into the role of community advisor for families with special needs. That service grew until the need was clear for an organization dedicated to helping special needs families. That's how SPED Homeschool got started, a dedicated team of homeschooling parents who are:
Vetting homeschool curriculum for use with special needs homeschoolers
Training other homeschool parents in skills for helping their special needs homeschoolers
Reminding parents that there's not ONE approach that will work for all special needs homeschool high schoolers. Of course, we 7Sisters are excited about that since we're always saying there's not ONE right way to homeschool high school.
Making available advice from experts
Check out SPED Homeschool's website and facebook pages.
One of the most important things that Peggy learned about homeschooling high school with her special needs teens was RELATIONSHIP is more important than education.
As she kept the relationship with her sons as number one priority, she was able to:
Stay flexible, very flexible!
Make wise choices for and with her teens
Create an educational program that adapts as her teens grew and changed
Push teens graciously in their giftedness areas
Peggy tells the story of her son telling her at age 16 that he *was done* with high school. She calmed herself and worked with him to quickly set goals for meeting graduation requirements at a minimal (not college-prep) level. He blasted through his courses, took a gap year to explore and became the tech genius behind all SPED's technology. He eventually went to college, because he felt the calling at that time and did college in his way.
Want more resources? 7Sisters has an Authoritative Guide to Out of the Box Credits for Homeschooling High School with Special Needs Teens
You'll be SO encouraged by this episode of Homeschool CPA with our friend, Carol Topp, as she shares resources for special needs homeschoolers in co-ops.
Join Vicki and Peggy for this encouraging interview on homeschooling teens with special needs.
HSHSP Ep 172: Help for Special Needs in Homeschool High School, Interview with Peggy Ployhar
7Sisters email subscribers receive periodic practical encouragement, special offers and NO SPAM EVER.

Click the image above to periodically receive real homeschool value in your inbox.