Does reading a particular author have an impact on a teen's WRITING?
CS Lewis Space Trilogy
My son, Nathan (pictured below with his lovely wife), is working on his PhD in Comparative Literature at the University of Maryland. I asked him about the influence that CS Lewis' Space Trilogy had on him when he read it when he was a homeschool middle and high schooler.
Here's what he told me:
I haven't reread most of them (beyond the 2 times I read them in middle/high school) in a long time, but as a middle schooler I wanted to write exactly like Lewis, especially mimicking his style in the Space Trilogy.
Now that I'm reading lots of classical/medieval composition textbooks for my PhD, I'm finding again that imitation of good writers is one of the central strategies of all writing instruction until the 20th century. I intuited that same move as a young'un, and it was CS Lewis Space Trilogy that I wanted to imitate. I reckon I was able to build on that approach, picking up styles from other good authors as I grew, and having such good reading helped me do lots of my own writing.
(Note from mom: Most kids don't read the Space Trilogy until junior or senior year of high school. Nathan has always been a precocious reader- conquering the entire Trilogy in middle school.)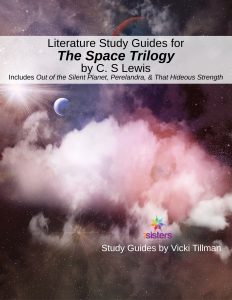 Nathan has grown up to be an excellent writer, a skill that he learned from C.S. Lewis' powerful books of the Space Trilogy:
Are you wondering why your teen should read the Space Trilogy? Learn more in this post. In fact, for many teens, studying the writings of C.S. Lewis is an excellent idea for developing thinking, theology, literature and writing skills.
7Sisters Study Guides for the Space Trilogy give guidelines to the way Lewis wrote these books, introducing homeschool high schoolers to steps of writing Myth-Fantasy. An excellent follow up to these study guides is 7Sisters Myth-Fantasy Short Story Writing Guide, which uses these same steps to coach teens through the creation of their own fantasy story.
7Sisters email subscribers receive periodic practical encouragement, special offers and NO SPAM EVER.

Click the image above to periodically receive real homeschool value in your inbox.
C.S. Lewis Space Trilogy