Here are some inspiring aids for teaching Poetry: Poetry Memorization Videos!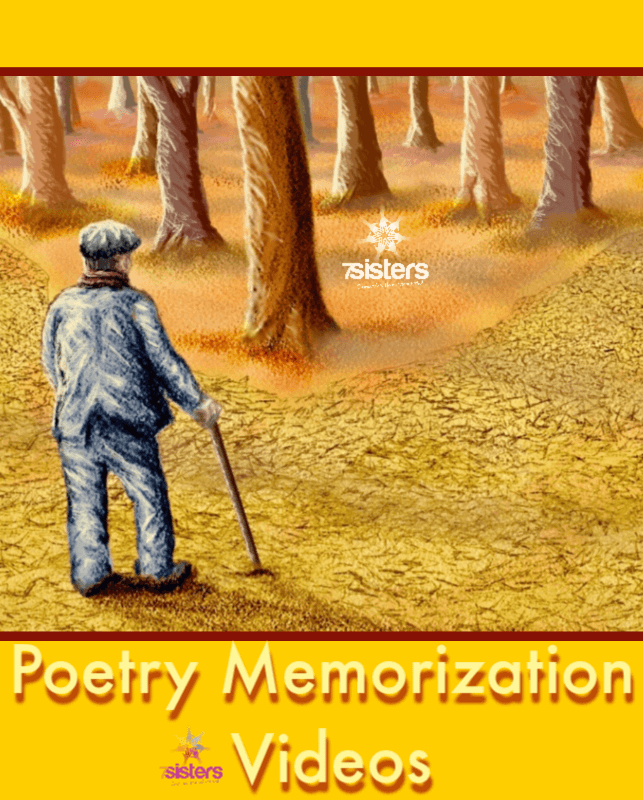 Inspiring Aids for Teaching Poetry: Poetry Memorization Videos
In the old days, children (from elementary through high school) would memorize poetry at school. There were several reasons for this:
Poetry memorization helps young people strengthen their mental stamina
Poetry memorization helps build vocabulary and word usage skills
Poetry memorization helps pass on cultural values and ideas
Poetry memorization helps build knowledge and understanding of literature
So many people grew up memorizing poetry back in the old days, that they could drop poetry lines in conversation to add meaning and depth to what they were trying to say. Have you ever read any of the delightfully fun Jeeves and Wooster novels by P.G. Wodehouse? The main character, Bertie Wooster, was a truly airheaded 1920s British gentleman but was so steeped in poetry memorization that famous lines were sprinkled throughout his conversation. He wasn't capable of being *snooty*, poetry memorization was simply a way of life. (If you and your teens haven't ever had the fun of reading Jeeves and Wooster novel, try Right Ho, Jeeves and do our literature study guide to accompany the book. You will both LOVE it!)
One of my homeschool high schoolers' favorite memories is our field trip (with our co-op) to the Statue of Liberty.
They had worked together to memorize The New Colossus by Emma Lazarus (the poem etched on the Statue of Liberty). There is something intensely profound for our teens about capturing in their own voices, the essence of our nation's character while they were standing at the foot of one of the most important symbols for our nation.
This memory helped guide homeschool graduate and now a middle school teacher, Ezra Tillman, to create poetry memorization tools for his students. Ezra created illustrated videos with selected poems set to music. (Music is an excellent memorization tool.) His students love these videos!
Ezra has shared these poetry videos on YouTube so your homeschoolers can memorize classic poetry as well. Currently there are 5 illustrated poems set to music with more on the way. You can watch them by clicking the links here or download our freebie pdf with all the links embedded.
Inspiring Aids for Teaching Poetry: Links to YouTube videos and aids that help students memorize or learn about favorite poems.
Poem Memorization Songs
Are your homeschool high schoolers unfamiliar with or intimidated by poetry?
You will be a blessing to them when you help expand their world with poetry. 7Sisters can help! We noticed years ago that many young people enter high school with no poetry experience, so we developed poetry guides that ease them into the fun and richness of poetry without boring, insulting or intimidating them.
Here is a suggested way to ease them into poetry:
Introductory Guide to High School Poetry Writing is a 5-week e-workbook that assumes a teen has had little or no experience with poetry writing. With brief, friendly-toned lessons (and NO busywork included), this e-text is designed for independent learning or for use in a co-op. 
Topics covered include:
Poetic language

Diamontes

Idioms

Alliteration and form

More poetic language
Explore poetry and give your homeschooling teen an opportunity for fun and growth in word power!
Click here to view an excerpt from Introductory Guide to High School Poetry Writing.
Intermediate Guide to High School Poetry Writing is a 6-week, 45-page downloadable pdf workbook. It is easy to use so a student could follow the process even if he or she does not have a teacher who is experienced in writing poetry. This e-text is written in a friendly manner, conversational in tone, and can be used independently or with a co-op.
Topics covered include:
Introduction to poetry
Idioms and Tom Swifties
Shape poems
Haiku
Stanzas
Basic rhyme patterns
Basic meters
Free verse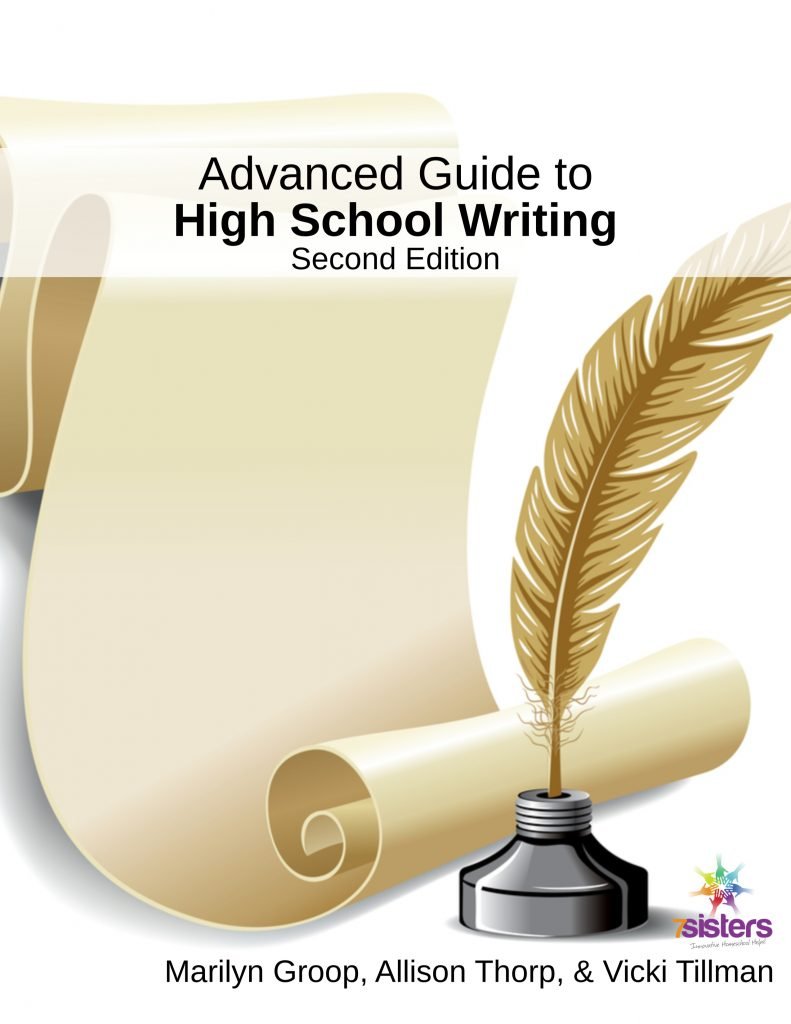 Advanced Guide to High School Poetry Writing is a 5-week, 50-page downloadable PDF. Teens enjoy learning to capture the poetic ideas of:
Theme

Tone

Symbolism

Sound

Rhythm
Explore poetry and give your homeschooling teen an opportunity for fun and growth in word power!
Also, sparkle-up your homeschool high schoolers' Literature and/or History courses with the addition of these poetry units. These can also be used when leveling-up the credit in these courses. Click these links to learn about how to create rigorous levels, such as Honors level, for the homeschool transcript.
American Poetry: Reading and Writing captures the essence of American culture through our history BUT not in a stuffy, boring format.
During this five-week tour of American poetry, homeschool high schoolers will get a taste of:
fun poetry
serious poetry
poetry from Americans of various ethnic backgrounds
"Don't kill the topic by busywork" is the motto of this course. In this 26 page, 5-week course, young people will complete one quick lesson each day, 4 days per week. Here are the topics (with reading and writing in each area) they will cover:
Week 1: Fun Poetry
Week 2: Native American Poetry
Week 3: Early American Poetry
Week 4: Poetry That Tells a Story
Week 5: African-American Poetry
Teens will read short selections of poetry and try their hands at writing some fun and some inspirational poetry and gain an understanding of our poetic roots. Click here for a free excerpt of American Poetry: Reading and Writing.
British poetry is the roots of American poetry. Some British poetry is way too stuffy or complex for teens to enjoy (or benefit from). This guide in 7Sisters' no-busywork format, helps homeschool high schoolers to get a sampling of great British poets (religious and secular) without snooty poems. Some of the poets included in this 22-page poetry guide are:
George Herbert

William Cowper

William Blake

Gerard Manley Hopkins

Rudyard Kipling

Percy Bysshe Shelley

Robert Browning

Elizabeth Barrett Browning

Christina Rosetti

Alfred, Lord Tennyson

Sir Walter Scott

William Butler Yeats

Lewis Carroll

Robert Burns
This guide introduces poetic vocabulary and guides students with questions that will help them to experience and appreciate each poem without feeling overwhelmed or confused.
Click here to view an excerpt from British Poetry Study Guide.
Enhance your homeschool high schoolers' World History and/or World Literature courses with World History: Reading and Writing.
One powerful way to truly learn about another culture is to read a little of its literature. Through World Poetry: Reading and Writing, teens' eyes open to different perspectives and get a glimpse into some cultures around the world.
Homeschoolers will read famous examples of each type of poetry, then write their own poems in each style.
Poetry of Korea: Sijo
Poetry of Japan: Haiku, Senryu, and Tanka
Poetry of Persia, Middle East, and Northern Africa: Ghazal
Fun Poetry of Europe: Limericks
Poetry of Israel: Psalms
In this 32-page, 5-week course, young people will complete one quick lesson each day, 4 days per week.
Bless your homeschool high schoolers with the gift of poetry!
Want more great poetry ideas? For teens who get excited and want a full year/full credit of poetry, here's a syllabus for a poetry credit to walk them through the process. Also, catch this episode of Homeschool Highschool Podcast.
It's good for teens to memorize poetry. Memorization builds attention skills and thinking skills. Here are a couple of other memorization tools.
7Sisters email subscribers receive periodic practical encouragement, special offers and NO SPAM EVER.


Click the image above to periodically receive real homeschool value in your inbox.
Inspiring Aids for Teaching Poetry: Poetry Memorization Videos