7Sisters' offers an interactive Financial Literacy course. Why it is awesome & how to use it.
Interactive Financial Literacy Course: Why it is Awesome & How to Use it
Homeschool high schoolers need to be prepared for life!
Too many times, American teens graduate high school without actually having experience with wisely planning for and managing money. On the other hand, high school graduates who have done planning, budgeting and thinking about the future tend to better manage their time and their money on their own.
Vicki's youngest son completed this course years ago and he's still managing his money and planning for the future wisely. So here's a look at an interactive Financial Literacy course: Why it is awesome & how to use it by our 7Sister, Sara Hayes (the author of the course). Click here to view the Table of Contents for Financial Literacy.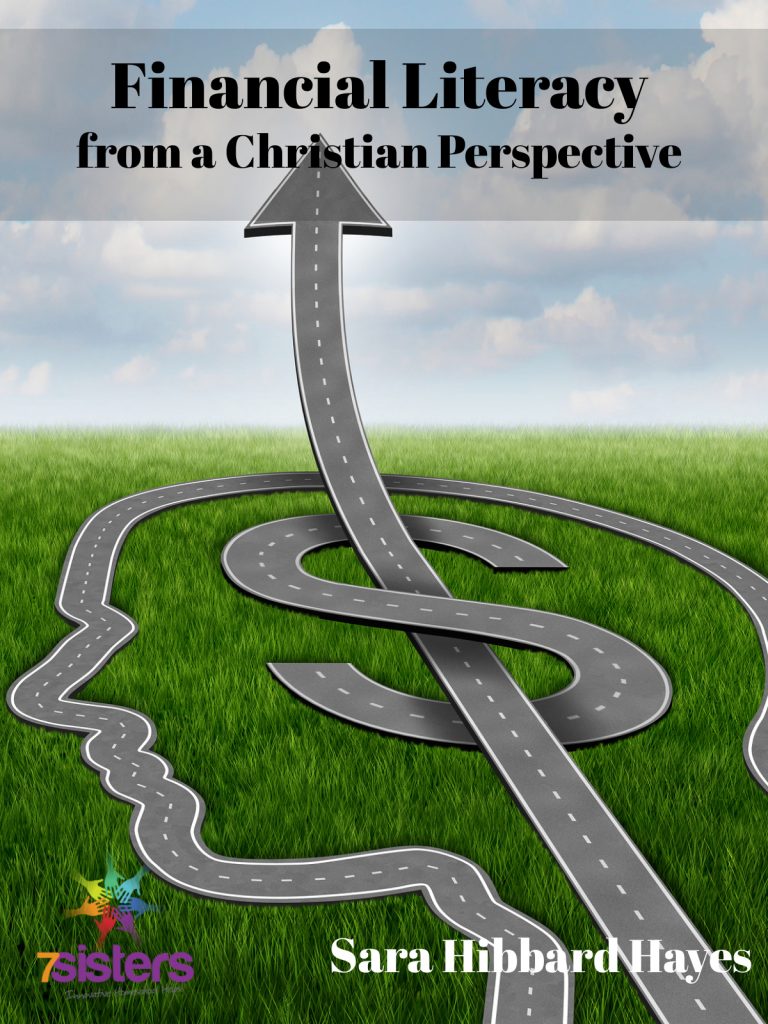 Financial Literacy is awesome because it is uniquely interactive.
Rather than passively reading a textbook, students do life-changing research and truly engage the curriculum. Financial Literacy utilizes many web articles, videos, and activities to reinforce material introduced in the text.  We've tried to keep the course fresh and interesting to students and avoid the hum-drum of same-old, same-old.
Financial Literacy is awesome because homeschool high schoolers can do their work directly on their devices.
We realize many students enjoy working directly on their computer or device, so many of the Worksheets in the text are editable (or 'fill-able'). If you student does not prefer this, simply print each worksheet and your student can fill it out by hand!
First, Financial Literacy is made up of five files.

The one entitled TEXT is the textbook itself.  Let's look at this first.  On pages 5 & 6, we provide a brief "How to Use This Book" section to help you get started.  (This section says there are FOUR files — the fifth is the Errata — more on that later.)

Second, look over:

the course,
its assignments (found in the text [throughout the chapter, in text boxes] and in the Worksheet file), and
its tests.

Third, consider the needs of your own student and decide the level at which you would like him or her to complete the course.

If you want your homeschool high schooler to "level up" to College Prep, Advanced or Honors Level credits, simply follow the instructions. (Just FYI, the "Suggestions for Further Reading" which is used for leveling up is on pages 136-137 of the textbook.)
While only the Average High School level mentions parental involvement while going through the course, parents can provide valuable insight by sharing their experience with their students as they move through the course at any level.  (This course CAN and has been very successfully completed by students with minimal parental involvement.  Daily parental involvement is not a requirement.)
Fourth, it would be good to consider the general time frame you have in mind for your student's completion of this course.

Financial Literacy is written as a two-semester course, but, as we know, one of the beauties of homeschooling is that we can adapt courses to fit the student/family needs and schedules.  I suggest you divide up the course to fit into your time frame, taking note of the chapters that are longer and require more time (Chapters 3, 5, and 6, for example).

Fifth, remember that the assignments are scattered throughout each chapter and should be completed before moving forward in the course.

So, your student should … read, take notes, complete assignment … read, take notes, complete next assignment … and so on, through the end of the chapter.

Sixth, students should then use the Study Sheets at the end of chapters to help them prepare for the tests.

A Study Sheet highlights, in my opinion, some of the most important material in the chapter and what the student should know, not only for the test, but also for real life!  The tests will offer no surprises to the student — if he or she has mastered the material on the Study Sheets, the tests will be smooth sailing.

Seventh, I do suggest that the parent check her student's assignments (using the file Answer Key) on a regular basis (daily or a couple of times weekly, for example) to make sure the student is keeping up and not getting lost along the way.

Regular check-ups on assignments help make sure your student is truly understanding and absorbing the material, not just going through the motions.
Regarding the grading of tests: the test answer key is included in the Answer Key file, but each parent can determine the value of each type of question (matching, T/F, short answer, etc.) for herself.  This allows flexibility for individual student test-taking needs.
Eighth, troubleshoot if necessary.

If a link doesn't work, first try copy/pasting the link into your browser. (Some two-line links may only work using the copy/paste method, rather than the "click on" method.)  If the link has become obsolete, refer to the Errata included in the zip file.  We are continuously updating links.

It can be either, according to your teens' needs. College-bound teens may need to count it as elective so that they can fill up their required Math credits with challenging Math courses.
So that's it! 7Sisters' interactive Financial Literacy Course: Why it is awesome & How to use it.
Don't miss out on this great life preparation course. Download Financial Literacy for your teens and check out our Authoritative Guide to Financial Literacy to get you started.
Many homeschooling families do 7Sisters Financial Literacy, Career Exploration and Apologetics. Did you know you can save a lot of money when you purchase  together in the Curriculum Bundle to Prepare for Independence?
Here's more to help your teens develop Financial Literacy:
7Sisters email subscribers receive periodic practical encouragement, special offers and NO SPAM EVER.


Click the image above to periodically receive real homeschool value in your inbox.
Interactive Financial Literacy Course: Why it is Awesome & How to Use it