Interesting question: Is Financial Literacy a Math Credit or Elective Credit?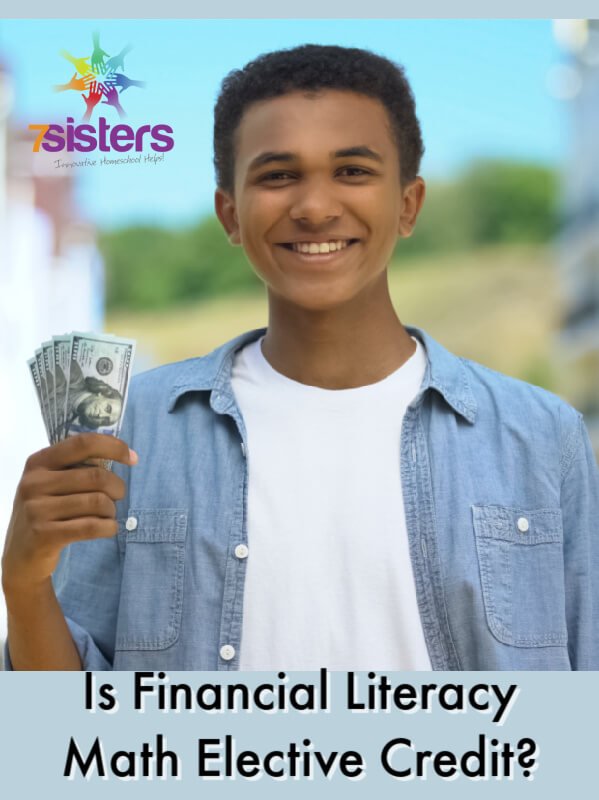 Is Financial Literacy a Math Credit or Elective Credit?
This is an important question. We homeschooling parents take our high schoolers' transcripts seriously. Therefore, when we classify our teens' credits for the transcript (and towards graduation), we want to handle the course listings appropriately.
So is Financial Literacy (and Consumer Math, for that matter) a Math credit or an Elective credit?
(BTW- If you are confused about the difference between Consumer Math and Financial Literacy, check out this post.)
The simple answer is…It depends! It can be either.
When is Financial Literacy a Math credit?
There are several times when Financial Literacy can be a Math credit:
When you have a non-college bound teen
Teens who will be heading to the military, a trade or other career that does require a college degree, Financial Literacy can be a useful Math credit. As you know, many states require three or four Math credits for graduation. However, beyond Algebra I,  Geometry and possibly, Algebra II, they do not specify a final Math. In this case, Financial Literacy is a helpful, practical life-preparation Math credit.
Or when teens are bound for a non-competitive college
Sometimes, teens need four Math credits to apply to community college, private university or Christian college but the colleges do no care about the specific Math courses (beyond Algebras I and II and Geometry. Therefore, Financial Literacy is a perfect Math credit.
When teens are headed to a moderately competitive college but will have a Humanities major
Occasionally, teens who are NOT Science, Engineering or Math majors can get away with a practical fourth Math like Financial Literacy. However, we recommend (for any homeschool high schooler) checking with colleges of interest to see what they accept as Math credits. You can do this by checking on their website or at a college tour.
Okay, now let's look at the alternative.
When is Financial Literacy an Elective credit?
Fin Lit (or Consumer Math) and just as easily be an Elective credit for the transcript and towards graduation. When it is a better choice as an Elective?
When your homeschool high schooler is aiming for a more competitive college
In this case, your teens need to fill their required Math credits with more powerful Maths like Pre-Calculus, Calculus, Statistics, and so on. They still need that Financial Literacy credit for life preparation (and some states require it for graduation, just not as a Math).
If your teen will be choosing a STEM major
Teens need the powerful Maths in preparation for any STEM major. Therefore, just Financial Literacy as an Elective to show responsible life-preparation skills.
OR if you simply WANT to count it as an Elective
After all, we are homeschooling so that we can to what is best for our teens!
Whether your teen chooses Fin Lit as a Math or an Elective, 7Sister's Financial Literacy is a good choice!
Financial Literacy from a Christian Perspective introduces teens to the world of personal finance through textbook instruction, online articles and videos, interactive exercises, and more! The MOST useful feature of the curriculum is that students are encouraged to immediately apply some of the concepts they learn while being introduced to other financial topics which will become a part of their lives in just a few short years.
Included in each chapter is a focus on God-honoring attitudes and practices. Additionally, parents are given the opportunity to share their knowledge, experience, and tips on financial matters via numerous assignments throughout the book.
(Vicki's personal testimony on this curriculum. He completed it in his junior year and immediately was living his life with a budget and financial plans. Now, as an adult he is confident and wise in his fiscal responsibilities.)
The topics in the nine chapters of this one-credit Financial Literacy high school curriculum include:
Money – The Basics

Setting Financial Goals

How Values Affect Goals

S.M.A.R.T Goals

Financial Strategy for Achieving Goals

Budgeting

Limited Resources

The Budget – Freedom within Safe Bounds

Income and Expenses

Keeping Your Spending on Track with Your Budget

Saving and Investing

The Time Value of Money

Simple and Compound Interest

Investments: Risks and Rewards

Credit

Revolving and Installment Loans

Benefits and Risks of Credit

Amortizing Loans

Your Credit Report and Credit Score

Debt

Financial Institutions and the Services They Provide

Banks and Credit Unions

Checks

Debit Cards

Bank Statements & Balancing Your Checkbook

Identity Theft

Insurance

Automobile Insurance

Health Insurance

Life Insurance

Disability Insurance

Renter's/Homeowner's Insurance

Your Career

Help for Choosing Your Career

Education and Career Opportunities

Payroll Deductions and Employee Benefits

Christian Work Ethic

Taxes
Want to see samples?
PLUS, we have extra support for families using 7Sisters Financial Literacy
You can download a freebie Financial Literacy syllabus for the text and adapt it to your needs.
AND here's a post with ideas for using Financial Literacy in co-op!
So, download Financial Literacy for a solid credit, either way!
7Sisters email subscribers receive periodic practical encouragement, special offers and NO SPAM EVER.

Click the image above to periodically receive real homeschool value in your inbox.