Our friend, Angela shares: Is Good Enough Ever Good Enough? – or – What Do I Do If My Kid is Behind?
Is Good Enough Ever Good Enough? – or – What Do I Do If My Kid is Behind?
Angela O'Shaughnessy is a long-time homeschooling mom, writer, and co-worker of Vicki's at Pike Creek Psychological Center.
When I started homeschooling, I heard all the success stories: four year-olds teaching themselves to read, 12-year-old math whizzes taking math courses at the local community college, homeschooling graduates going to Ivies.  Now, that's what I'm talking about.
I have two sons.  The eldest, bright and articulate with an extensive vocabulary, did not read well until fourth grade.  Son number two is severely dyslexic.  I tried no less than half a dozen reading instruction programs, all touted to be the answer to our problems.  The information he seemed to know yesterday was out of his head the next day.
I beat myself up for years.  How could I have such a passion for learning and be such a failure at passing on that love to my own child?  Me, a voracious reader just couldn't get it right in order to teach my own child to read.  I considered myself a failure, and I constantly fretted that my kids were "behind."
My firstborn is now in college.  He was in the honor society in high school.  He does college-level reading.  He's mature, holds a job and has many volunteer hours.  His younger brother is still a laborious reader, but he does read and his comprehension is excellent.  He can also spout more science information than you'd ever want to know, he shreds a mean guitar, and he's a polite young gentleman.
If you are on a homeschooling journey and have found that the road does not lead to where you thought you were going, your child prodigy just isn't living up to your expectations, and you're having trouble even keeping up, here are some suggestions:
1)      Grieve the loss of your dream and then move on.  It's okay to be sad.  But don't stay there.  Your kid needs you to be fully present and to love her for who she is.
2)      Adjust your expectations.  Of course you want your child to be the best he can be, but you will both be frustrated if you expect a child who struggles with math to be the next Einstein.  Encourage strengths and support weaknesses.
3)      Get a good diagnosis.  Educational testing can be expensive and insurances often don't pay, but it's worth it to have a handle on what's really going on with your child.  Don't assume your insurance won't pay; check out all the options.  Find out if there are certain CPT codes for which they would pay.  Depending on the state or school district you live in, you may be able to get testing done through the public schools.  If you do have to pay out of pocket, consider setting up a before-tax health care spending account.
4)      Seek out support for yourself and your child. Choose knowledgeable and safe people in which to confide.  If your child has ADD, and you seek comfort from someone who believes ADD is a make-believe diagnosis, you will end up feeling discouraged rather than supported.  Same goes for your child.  For example, my dyslexic son would not have many opportunities to feel successful if I enrolled him in a demanding college prep umbrella program.
5)      Educate yourself and be an advocate for your child.  Once you have a diagnosis, inform yourself.  Also, be a great observer of your child.  You know him better than anyone.  Use your knowledge and observations to advocate for the help she needs.  Communicate clearly with doctors, therapists, and teachers.
6)      Seek out innovative therapies.  My oldest son had 20/20 vision, but he had tracking and teaming problems.  His reading really took off after several sessions with a vision therapist.  Whatever your child's learning issue, find out about therapies available to help, and read about the research behind the treatment.  Ask questions about the therapist's methods and success rate.  Shy away from anyone who guarantees success for everyone.
7)      Adjust your curriculum to your child.  Some curricula will be stressful or impossible for your child. However, there are curriculums out there that are geared to learning differences, and they are set up to meet learning standards.
8)      Use technology and strategies for easing the difficulties. I'm grateful that we have all the fantastic technological supports we do.  If your child struggles with handwriting, by all means get her a typing program so she can do most of her work on the computer. It's not a cop out.  Believe me there are plenty of other ways she can be challenged to excellence. Whatever the issue, there are coping strategies.
Cinema Studies for Literature Learning is a good choice for a year of Literature in a fun format.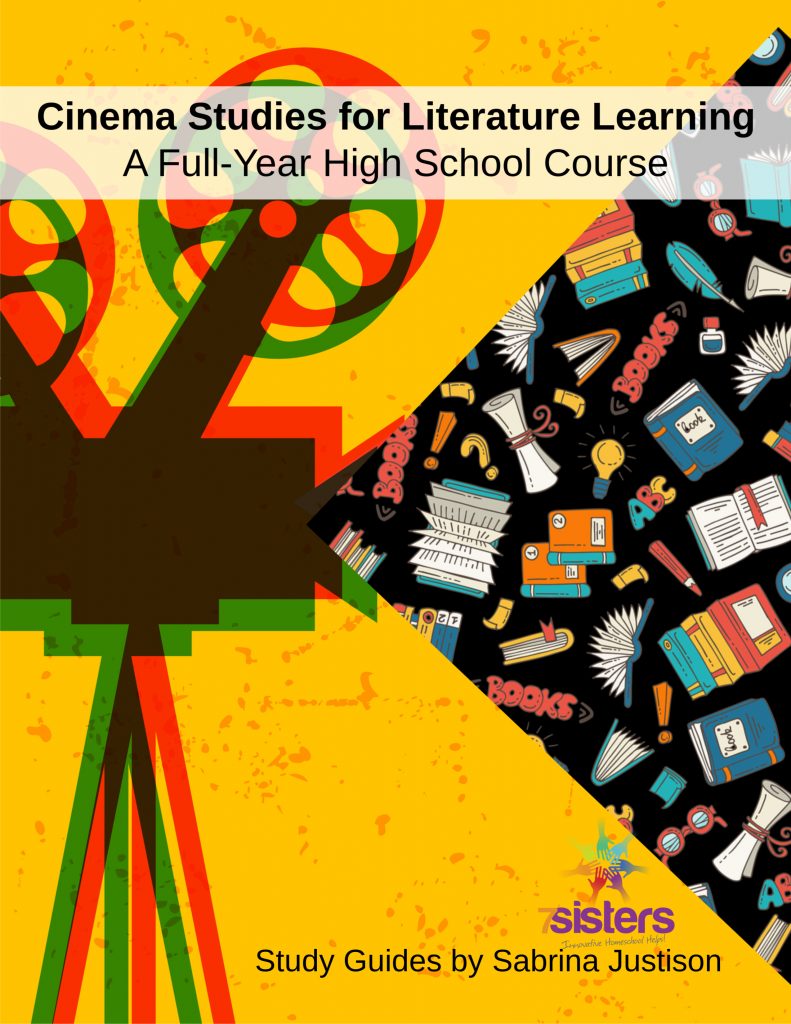 9) Teach your child to be a self-advocate. My son was once on a field trip where the tour guide liked to ask the kids to read posted signs aloud.  When he called on my son, he answered, "I'm sorry, I'm dyslexic and I don't read aloud."  He was respectful to the guide, but he did not allow himself to be put on the spot.  This is not an excuse for laziness, but kids need to know they can ask for help when they need it, bow out of an activity that is over their heads, or find an alternative.
10)  Teach your child about famous people and ordinary people who have or are succeeding in spite of disabilities.  I've told my son about everyone with learning disabilities from Thomas Edison to race car drivers to the local pediatric neurologist and the son of my friend who recently graduated from college.
11)  Work at it every day.  Don't let a learning disability become an excuse.  Keep on trying and finding ways to overcome.
12)  Take it easy and have some fun Just because you keep working at it doesn't mean it has to be tedious and wearisome.  Realize that it may take some extra time to read those classics.  You may not get to pre-algebra in eighth grade, but you will take the time to lay the foundation so that when you do get there, she can understand and manage the work.  You may have to settle for some general knowledge of Latin rather than mastery.  If it's a teary-eyed day, work on those reading strategies for 10 or 15 minutes, then go for a bike ride or a walk in the park.  Once in a while, take a half-hour off and watch the "Three Stooges" for a belly laugh.  Remember the old adage, "All work and no play makes Jack a dull boy and his homeschooling mom a screaming mimi!"
Plus you will love our silly and wise advice about handling tough homeschool times (or tough anytime) with this episode on homeschool mindset…not platypus!
7Sisters email subscribers receive periodic practical encouragement, special offers and NO SPAM EVER.


Click the image above to periodically receive real homeschool value in your inbox.
Is Good Enough Ever Good Enough? – or – What Do I Do If My Kid is Behind?