Guest post: Make Memories with Creation Resources!
Make Memories with Creation Resources!
In this guest post, we share some resources that are available from International Association for Creation. The post was written by Steven Craig Policastro.
If you've ever stepped into a natural history museum, you may remember being surrounded by larger-than-life dinosaur skeletons, or peering into the underwater world at an aquarium, or marveling at the large animals at your family's favorite zoo. These are memories that we all love and look forward to doing again.
And now, they are easier than ever to make with free resources for parents from The International Association for Creation that give your family access to creation science tours of local and long-distance attractions, plus the top national parks around the country.
The first is The Creation Trail App, an innovative new app that will take your family on virtual creation tours of secular museums, aquariums, zoos, and national parks. Additionally, within the app, you can find many of our creation-network museums, tour guides, ministries, and events across America to help you get involved in the creation science community. Download the app for free today, simply search for "The Creation Trail" on your Android or iOS device's app store. That's it! Whether you are close to home or far away, you can have creation resources available at your fingertips 24/7!
For a timely news resource, tune in to IAC Radio, a weekly program that parents respect and kids enjoy as they hear the latest creation science community headlines from a biblical worldview. You can download these one-minute segments free and peruse the related articles at IAC Radio. Each segment includes findings, stories, and updates that are sure to spark the imagination and encourage questions from your children.
With questions, you need answers! You'll find answers to all kinds of questions, and much more, at The Creation Trail Resource Portal. Got a question that's not listed? No problem! You can submit it to our Team of Experts at Creation Q&A and one of our professionals will provide you with an answer you can trust. Our resource portal allows you to find all kinds of resources, from trusted curriculum to leading colleges and universities. Whether you are searching for volunteer opportunities or an awesome adventure, we can help you find just what you need through our nationwide creation science community.
Finding resources is only the start. Learn Creation also makes it easier than ever to be part of the creation science community, easily add a Creation Event to your calendar, help start a Creation Fellowship at your local church, or write a letter to a Creation Missionary. These are just a few of the many opportunities available to you and your family.
On-site events are a special treat. Creation Trail Events are exciting, interactive events that take place in local communities across North America. The goal is to help you access the resources you need, along with hands-on activities, to more effectively teach creation science and the biblical worldview. Two upcoming events are: International Creation Day International Creation Day on Oct. 27, 2018, and National Homeschool Day on Feb. 29, 2019.  Consider a family road trip to attend these events and build memories that will last a lifetime!
Our team here at The International Association for Creation looks forward to helping you get connected and involved so that your children can learn, grow, and explore by experiencing God's creation first-hand.
7Sisters offers a free Apologetics curriculum for your homeschool high schoolers. It is a perfect add-on to good Creation studies.
Read more about these attention-sustaining apologetics videos, created by Dr. Gerald Culley.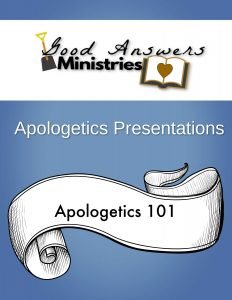 About The Author: Steven Craig Policastro is the Founder, Chief Operations Officer, and Executive Vice President of The International Association For Creation. Steven calls Florida's East Coast home, from where he established a museum-distributed concept to serve locals and tourists across Central Florida from coast-to-coast and provide a Biblical account of history. At The International Association for Creation, Steven is responsible for daily operations and casting vision, as the Founder, COO, and EVP.
7Sisters email subscribers receive periodic practical encouragement, special offers and NO SPAM EVER.

Click the image above to periodically receive real homeschool value in your inbox.