Cinema Studies for Literature Learning is a Language Arts curriculum for homeschool high school.
It is geared to the visual learner in high school, to those who are reluctant readers or for whom reading is very time-consuming, and to those who love movies! Good movies tell good stories, and good storytelling requires the use of traditionally respected literary devices and techniques. With a little help from a study guide, many movies introduce the viewer to excellent literature that is being presented in a visual medium.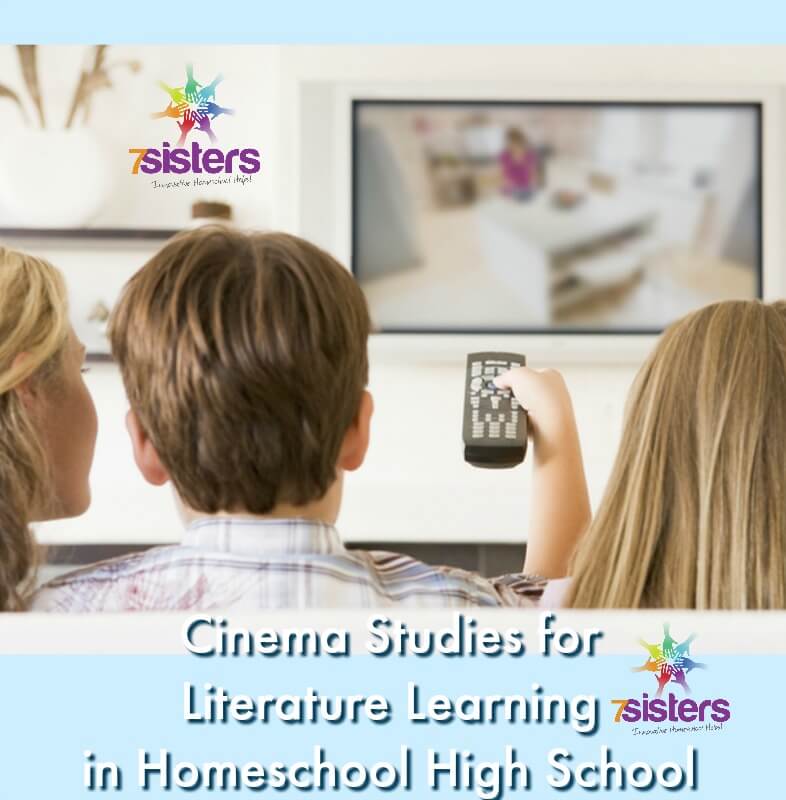 Cinema Studies for Literature Learning in High School
Several of our own homeschool high schoolers had a LOVE for cinematography. They studied extra material on DVD copies of their movies. They started their own production companies for competitions during high school. With this love of movies, we realized we could capitalize on their passion and create a Language Arts course that focused on real movies.
That is how Cinema Studies for Literature Learning was born. Homeschool high schoolers have loved it. It is great for individual, family or co-op studies. Using movies as literature study is a great option for high school students who become overwhelmed with a demanding reading list.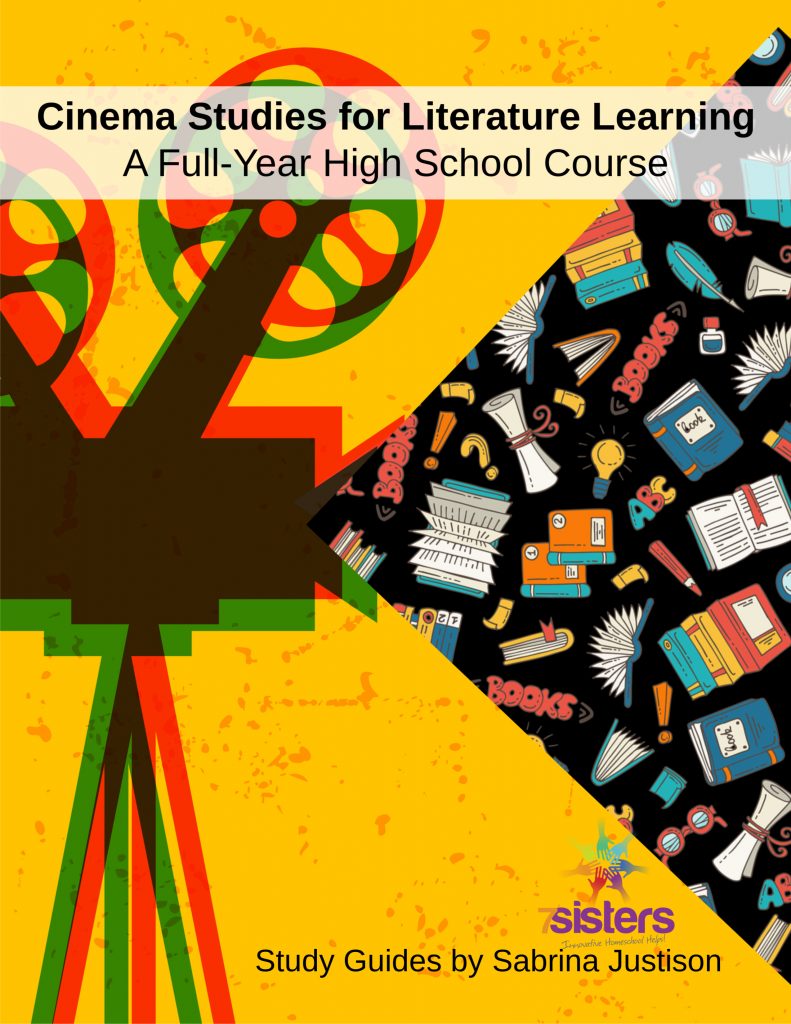 Can you REALLY use movies as literature?
While reading books is still a necessary part of a teen's high school education, ANALYSIS skills for literature is just as important. In Cinema Studies for Literature Learning, we teach analysis skills in the context of studying the great stories in great movies. In this way, teens get some basic Language Arts tools that they need.
As with all curriculum from 7SistersHomeschool.com, in Cinema Studies for Literature Learning, we aim for no-busywork and no-overkill, instead offering teens a chance to build critical thinking skills while earning high school credit.
Each study guide asks the student to:
Read the introductory material
Watch the movie once (answering questions as they go, occasionally pausing the video)
Then take a week to think a bit about the ideas and the literary devices they observed
Ideally, students should discuss their answers with someone else to enhance the learning process

For a glimpse at what the study guides are like: Click here to view an excerpt from The Truman Show Cinema Study Guide

Students then watch the movie a second time after the questions and ideas have had some time to take root
Then they write in response to the suggested assignment at the end of the study guide
Writing assignments assume a certain degree of basic understanding on the part of the student regarding paragraph structure and essay form. (If your teen has not practiced essay writing, we recommend that you look into a writing guide like Introductory Guide to High School Essay Writing  available in the ebookstore here.)
Individual guides are available for the following titles:
Rudy
High Noon
Places in the Heart
The Three Musketeers
Casablanca
What's Up Doc?
A Christmas Carol
Guess Who's Coming to Dinner
The Importance of Being Earnest
Wizard of Oz
12 Angry Men
Field of Dreams
Moby Dick
The Truman Show
Miracle Worker
Here's a post that shares where to find the movies for Cinema Studies for Literature Learning.
If you would like to try a full YEAR of learning literature through a cinema studies approach, you can order the Cinema Studies for Literature Learning bundle. This collection of fifteen study guides gives introductory material that helps you plan your year for a significant savings off the cost of purchasing all fifteen guides individually!
The guides explore literary devices and techniques including:
Theme
Universal and Personal Symbolism
Satire
Archetype
Motivation
Internal and External Conflict
Static and Dynamic Characters
Extended Metaphor
Father and Son Stories
Fiction as Social Commentary
Suspension of Disbelief
Dramatic Foils
The Nature of Heroism
Irony
Foreshadowing
Composite Characters
Classic 3-Act Plot Structure
Sub-plot
Deus Ex Machina
Farce
Bildungsroman (Coming of Age Story)
Fairy Tales, Legends, Myths, and Allegories
Juxtaposition
Allusion
Cinema Studies for Literature Learning explores the important IDEAS of story-telling and the power stories have to shape individuals, groups of people, and even entire cultures using the visual medium of movies…all while earning Level 2 Average High School credit in literature toward the core English/Language Arts credit that must be recorded on the transcript each year in high school.
Click here to learn about using Cinema Studies for Literature learning in a co-op.
Movies can also be used to enhance learning of history. Click here to see a list of some of our favorite history movies. Check this post from All Day Every Day Mom about how she used Cinema Studies as part of her high school curriculum.
Click here to see literary elements as illustrated in Disney movies. Here's a fun post with ways to use these movies and the book that goes with them.
What people are saying:
Here's a post by Sara May discussing her family's experience with Cinema Studies for Literature Learning.

NEW Cinema Studies for Literature Learning in High School
SaveSave
SaveSaveSaveSave
SaveSave
SaveSave