Here are tips for the perfect high school experience and the perfect homeschool transcript:
The Perfect Homeschool Transcript: What Your Teen Should Include
You don't want to waste 4 precious years of terrific homeschool education by creating a transcript that is missing important information. What are college admissions officers looking for? What makes them like homeschool high schoolers? Vicki shares tips for creating a perfect homeschool transcript.
In this short video I explain the common necessary items like:
name
birthdate
address
name of homeschool, if applicable
We also talk about how to list:
Yearly core courses:

Grades
Credit amount and levels
Also yearly electives such as:
Career Exploration

It is wise to add a key or legend explaining how you assigned levels of rigor
But do you have enough credits and the correct kind of credits colleges want to see? Check out this interview with Dr. Renae Duncan, recently retired Associate Provost for Undergraduates at Murray State University. Dr. Duncan shares what colleges are looking for in homeschool high schoolers.
Don't forget about SAT/ACT! You will include those scores even though you will separately be listing them on college applications.
Want some ideas on how to prepare for those SATs? Check out this post.
You will also want to sparkle up with transcript by including extras like:
Volunteer or service hours
Extracurricular involvement (along with length of time participated)
Competitions
Of course, you know we always say:
There's not ONE right way to homeschool high school!
Therefore, you can remember that the tips we are sharing with you are OUR suggestions. You can enjoy the freedoms of homeschooling high school by adapting these ideas in any way that fits your teens' needs.
Although this is true, please also remember our encouragement that you most likely should create a transcript for your homeschool high schoolers- even if your state does not require it.
We have heard from homeschool graduates over the years that employers, colleges and even graduate schools will ask for a copy of the transcript. Thus, you may not be required to keep a transcript, your adult kids will look back and thank you.
Okay! Here's the video:
To read more about great tweaks for a college-attractive transcript, check out our Transcript Checklist.
If you're wondering what highly-selective colleges look for in a transcript, we have tips.
If you just need an editable template to get this transcript done, you can just download ours and get it done.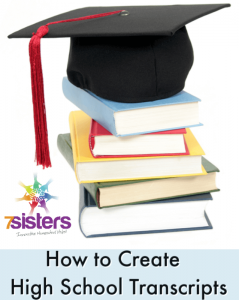 How to Create High School Transcripts
We have also heard from homeschool graduates that sometimes, a decade after graduation a school, graduate program or employer wants to see the high school transcript.
Homeschool high school transcripts are important! But do not worry. We are looking out for you!
Your 7Sisters have put together everything you need for homeschool high school transcript, including:
You will find in File 1: A transcript template in easy-to-use editable pdf format
Next you will find in File 2: A high school checklist, to help you and your teens keep the course requirements organized
Finally you will find in File 3: A detailed, 75-page guide with details on how to create a meaningful high school transcript
If you still feel like you have questions and uncertainty about creating a high school transcript we have an Authoritative Guide we wrote that puts all our ideas, resources and tips into one place.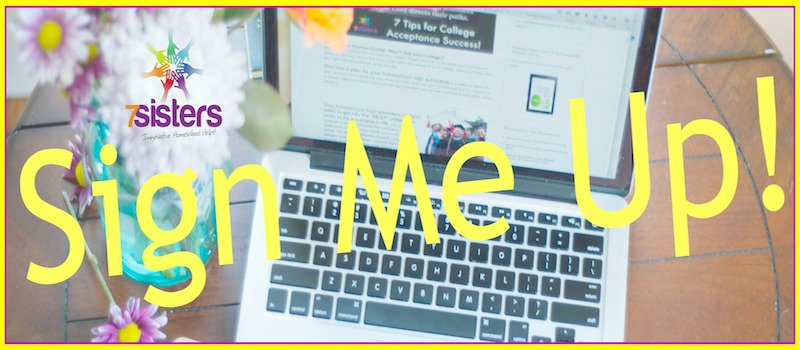 The Perfect Homeschool Transcript: What Your Teen Should Include