It's here! 7Sisters Physical Education Textbook for Homeschool High School!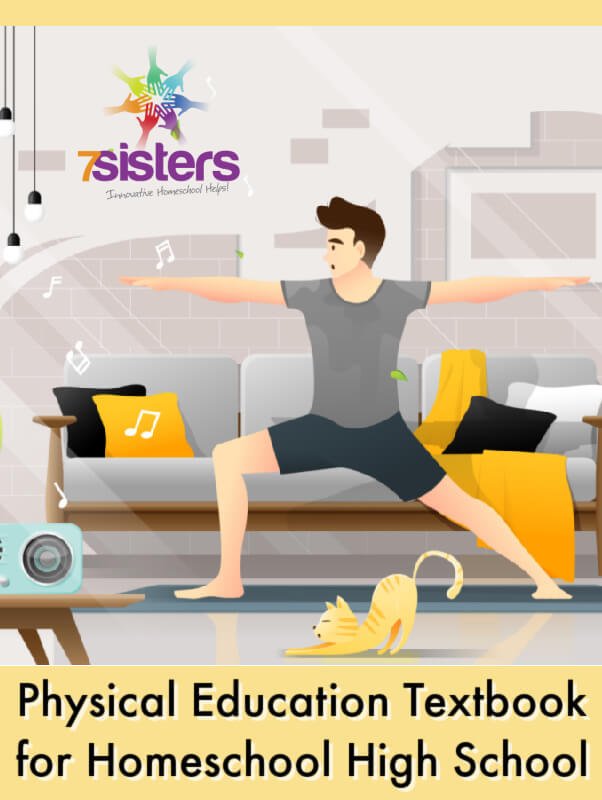 Introducing! Physical Education Textbook for Homeschool High School
Way back when I was first homeschooling my high schoolers, I couldn't find a textbook that would cover physical education so that my teens could understand the concepts of fitness and movement. So we concentrated on earning phys ed credits by logging physical activity.
My various teens earned credits by:
Playing league sports
Karate lessons
Hiking and walking
Weightlifting
Fencing
Canoeing
Dance (ballroom, folk and ballet)
Exercising
That was fine, but it would have been better if they had had a text to teach them how and why to be fit and videos to show them how to be fit.
And it finally happened! We finally have a physical education textbook for homeschool high school. We are so thankful that two of 7Sister Sara's homeschool graduate sons have successful careers as personal trainers. They put together a PE curriculum for our homeschool high schoolers!
Following the general guidelines for physical education credits, Joel and Luke Hayes, included these components in the Foundations of Fitness text and videos:
Cognitive content (thinking, learning, remembering)
Instruction designed to develop:

Motor skills
Knowledge and behaviors for physical activity and physical fitness
As you know, most homeschool high schoolers will need at least one (and often two) credits in physical education in homeschool high school. Not only do they need the credits, they also need physical activity for good homeschooling and lifestyle. Now teens can learn the whys and hows of fitness and earn actual fitness hours being guided by safe training videos!
This comprehensive Physical Education curriculum includes:
Text for 1/2 of the PE credit
Training videos with logs so that teens can log enough activity time to complete their credit (60-90 hours, according to your state's requirements)
Tests
Answer key
Syllabus
The text includes these important physical fitness topics:
Instructions on How to Use this Course
Introduction
Chapters:

1: Different Types of Fitness
2: Progressive Overload
3: Compound Exercises vs Isolation Exercises
4: Form Is King
5: Cardiovascular Exercise
6: Stretching and Mobility
7: Real Fitness vs Fake Fitness
8: Fit for Services
Click here for an excerpt to Foundations of Physical Fitness.
Just so you know, Joel and Luke are the real deal. Check out their credentials:
Joel Simeon Paul Hayes (text author)
B.S. Sport Management
NASM Certified Personal Trainer
NCCPT Certified Personal Trainer
NESTA Certified Heart Rate Performance Specialist
Battle Ropes Level 1 Certified Instructor
TRX Suspension Training Certified
Also, TRX Functional Training Certified
TRX Rip Training Certified
Trigger Point 2.0 Certified
AHA, Red Cross, National CPR Foundation, and ProTraining CPR Certified
Joel has completed more than 30 other training courses in areas such as Strength and Conditioning, Flexibility, Pro Athletics Training, Heart Rate Variability, Training for Seniors, Sports Nutrition, Metabolic Training, and Sports Conditioning.
Luke Josiah Samuel Hayes (video instructor)
NPTI – Certified Personal Trainer
NASM – Fitness Nutrition Specialist
NASM – Weight Loss Specialist
NESTA – Sports Injury Specialist
NESTA – Core Conditioning Specialist
NFPT – Resistance Training Specialist
NFPT – Endurance Training Specialist
TRX – Group Suspension Training
CPR/AED – American Red Cross
Personal Train

er

– 9+ years / 700 clients.
Awarded Gold's Gym Top Trainer on the East Cost for AA Clubs
Lead Personal Trainer – 1 year
Fitness Manager – 2 years
Top Percent-to-Goal Revenue Club (2x)
Co-owner, Trio Fitness OCR
Owner, Oasis Personal Training
65+ fitness competitions – 12 Podium finishes; 10 Top-Ten finishes
OCR Competitor since 2017
This is such an exciting opportunity for teens to understand how and why fitness works! (Remember: Physical Education credit is BOTH text and activity, so be sure to log both.)
Hey, have you discovered Homeschool Highschool Podcast yet? If not, check out our classic conversation about Phys Ed for homeschool high schoolers.
Download Foundations of Physical Fitness for an enlightening and invigorating PE credit!
We have even created a follow up for those students wanting more!
Framework of Physical Fitness, by Joel Paul Simeon Hayes, builds on the knowledge that students gained from Foundations of Physical Fitness. While it is intended to be a follow-up to Foundations of Physical Fitness, Framework of Physical Fitness can be studied independently.