Have you included poetry writing in your homeschool?
Here are ideas to get you writing poems, whether you LOVE poetry (as we do here at 7Sisters) or whether it intimidates you.
Poetry Writing in Homeschool
First, check to see if poetry scares you. (It's okay; we won't tell!) If you find that it does, this short vlog will encourage you with a light-hearted approach to exploring verse.
Next, check to see if you and your homeschooler have READ much poetry. Poetry writing in homeschool benefits from poetry reading! There are so many types of verse, and everyone seems to be drawn to certain meters, particular rhyme schemes, styles, themes, vocabulary, types of poetic language…
If you haven't read much poetry yet, take a look at a few of my favorite starting places for exploring poems. Some are "childish" — that's okay! Some of the most inspiring poems I find were written to be understood (at least on ONE level) by children.
Shel Silverstein
Robert Louis Stevenson
Or dig in deeper with these study guides from the 7Sisters Ebookstore to accompany
TS Eliot's Old Possum's Book of Practical Cats
or
British Poetry (various poets)
Now pick up a pen and try this first lesson from Vicki Tillman's Introductory Guide to Poetry Writing (also available in the EBookstore for $6.99).
Poetic Language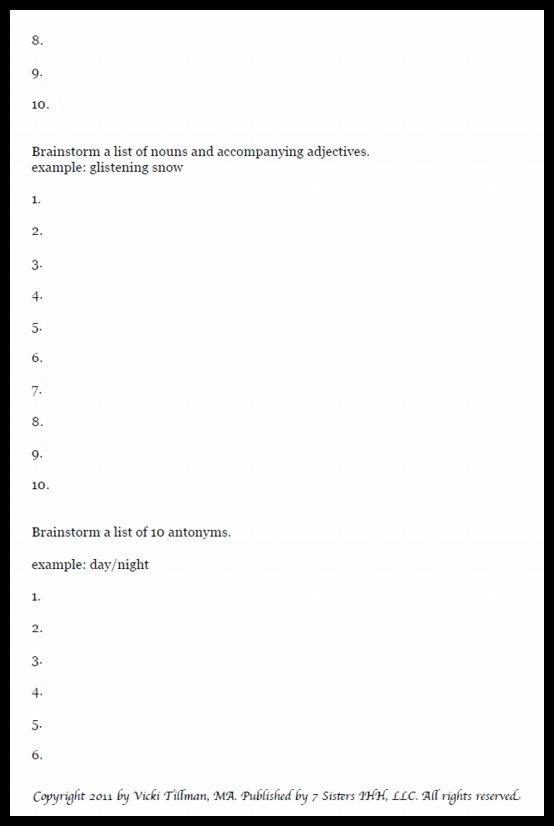 Poetic language is one of the building blocks for writing poetry. Playing with words and exploring poetic language is a smart starting place for poetry writing in your homeschool.
Next steps?
– Explore the connections possible between sounds and word meanings and the five senses.
– Listen for rhythm in strings of words. Play with rhymes.
– Poetry writing in your homeschool offers so many fun possibilities! Get started and see what you come up with.
For more from Vicki Tillman on Poetry Writing, look at excerpts from her Intermediate and Advanced Poetry Writing Guides.
7Sisters email subscribers receive periodic practical encouragement, special offers and NO SPAM EVER.

Click the image above to periodically receive real homeschool value in your inbox.