APA Style Research Paper: An Introductory Writing Guide is a step-by-step, day-by-day, no-busywork writing guide for homeschool high schoolers. It helps teens learn how to choose topics, organize their research and their writing, use citations (APA style), write to a format and create a reference page.
It is time to try an APA-style research paper! This 7Sisters research paper curriculum for homeschool high schoolers, written with a conversational tone by Vicki Tillman, makes the APA paper manageable and fun.
Many homeschoolers will find that when they start college, their science and social science courses require writing in APA-style. It is a VERY different format from the fun and familiar MLA-style research paper. It can be overwhelming!
APA papers are different:
There is no thesis statement

Transitions are delivered by means of section titles and subtitles
No opinions are allowed from the author until the conclusion
And LOTS more
Good news! 7Sisters Introductory Guide to APA Research Paper Writing, a downloadable .pdf text, can help by guiding your homeschooler through a step-by-step process of learning how to handle the format and think like an APA-writer!
Practice examples are included so that your high schooler gains confidence when writing the paper.
Click here to view an excerpt from APA Style Research Paper:  An Introductory Writing Guide.
Using this research paper curriculum for homeschool with our own students and hundreds in our local homeschool high school community over the years, we have seen success with writers of every variety.
From those who love to write, to those who cry, "I don't know know what to write!" Vicki's friendly, easy-to-follow steps of instruction and the manageable pieces into which she breaks the research writing process result in papers completed and students encouraged.
There is no escape from the research paper, so give your homeschooler the tools for a successful research paper experience!
OPTIONAL: For teens who enjoy self-paced, online courses, enroll in 7Sisters Teachable course to use alongside this writing guide.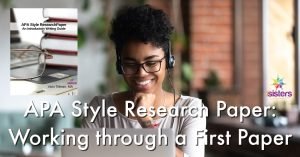 For helpful blog posts on using our research paper curriculum for homeschool high schoolers:
Comments about 7Sisters Research Writing curriculum:
"We used 7sisters homeschool essay writing and research curriculum. I walked him through it very easily and not overwhelmingly." -C.S.
"7sisters homeschool has a great research paper writing guide that we've used. It leads you through step by step. They also have a guide where you learn how to write different routes of essays." -D.I.
"First year high school and middle school writing is doing a tremendous job in changing their perspective/attitude from "hating" to at least "liking" writing work for the day. I wish you could see the effort my oldest son (15yrs) is putting into his Sharks Research Paper. First time ever he has to write a research paper, and he loves your day-by-day, little bit-by-little bit approach." -E.V.

10-Day No-Questions-Asked Money-Back Guarantee on all 7Sisters EBook curriculum.