Let's discuss the pros and cons of doing the first 2 years at community college.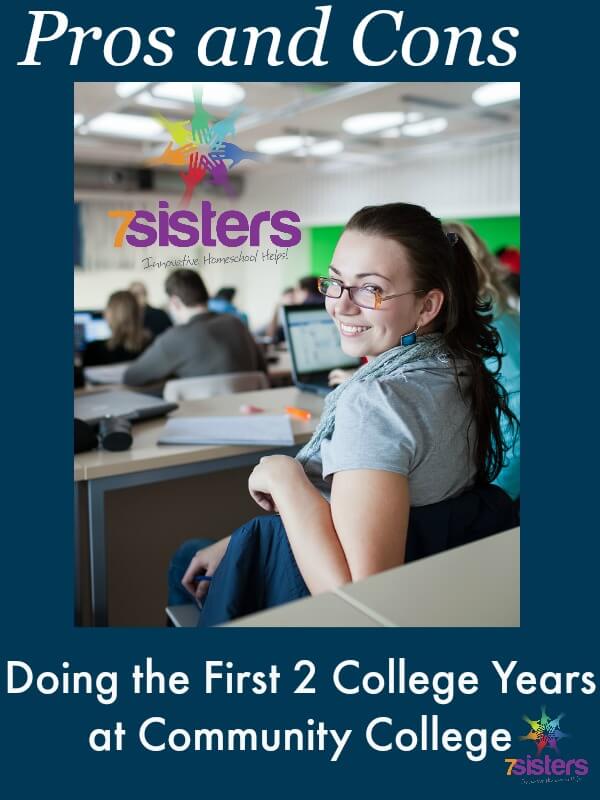 Pros and Cons of Doing the First 2 Years at Community College
With college prices soaring, more and more homeschool high schoolers are choosing to do their first 2 years at their local community college. I interviewed some of our many local homeschool graduates who started out at the local community college.
Here is what they told me about spending their first 2 years at community college and then transferring to a 4 year university:
Pros to Community College:
Many states have a tuition-free program for good students to go to the local community college. This is helps many students who need a financial boost. This program allows students to choose a major and earn credits toward that major. (You can read here about our local community college's SEED program.)
Community colleges often are more student-success oriented than 4 year colleges. (Teachers are often engaged in helping students learn and do well.)
Community college help hone student writing and study skills in a more relaxed atmosphere. This will be even cheaper if students test out of some classes. Make sure their writing skills are up to par by doing 7Sisters' GREAT, no-busywork, level-able, comprehensive inspirational writing courses throughout high school (our writing courses-Introductory, Intermediate and Advanced levels were the writing success secrets of our kids- and many others).
Community colleges often have smaller class sizes than a state university (although private 4-year colleges tend to specialize in small class sizes also).
Because of the small size of each program, it is easy to for freshmen college students to get involved in community college major activities (if they give genuine effort).
Cons to Community College:
Not everything transfers. No matter what they tell you, it is likely that not everything will transfer. Your homeschool graduate can carefully check the transferability of courses, but the university can change this as new officials come into office at the school. That means 1 or more courses over.
It might take 3 years to graduate after transfer. Despite your teen's best efforts, transfer students often need an extra semester or 2 to graduate from their transfer schools. This is because the transfer university will likely have specific courses unique to that school that the students must take (usually beginning in freshman year)
Sometimes there are wasted electives when transferring from community college. For instance, our local state university participates in the free-tuition program for the first 2 years. However, it doesn't allow the students to choose a major until junior year. That means TONS of wasted "electives".
New kid on the block twice. This is one of the big complaints of the transfer students I talked to. They end up needing to make friends twice during college. That's hard work (especially the second time around when most of the university students already know each other).
Come in late on networking. One of the important parts of college (community or otherwise) is networking. College students should not simply be working on a diploma! They are working on a resume. Just as in high school, students need to network, make connections, have enriched experiences. When they come in 2 years into the program, some networking opportunities will have passed by. They must be very intentional about making themselves available for new opportunities.
7Sisters email subscribers receive periodic practical encouragement, special offers and NO SPAM EVER.


Click the image above to periodically receive real homeschool value in your inbox.
Pros and Cons of Doing the First 2 Years at Community College