It is useful to choose Psychology as a high school elective. Here's why.
I often advise homeschool high schoolers to consider a Psychology curriculum for high school. This course helps them to earn a Social Science credit on their transcript.
(I served for almost two decades as advisor to our local homeschool upperclassmen and also work as a counselor at a Christian practice. That is why I have frequent opportunities to share this advice!
There are good reasons to suggest that our teens study Psychology as their social science:
A number of colleges are looking for .5 credit in Social Science on the transcript.  (This may include P

sychology or Sociology.)

Even non-college bound homeschoolers can benefit from learning more about the ways their brain and body work together, communication, and learning skills.
Its fun! (SO many teens tell us that they like psych.)
Years ago, when I wrote the first edition of  Introduction to Psychology from a Christian Perspective, it was the only non-secular high school psychology (as a Social Science) text.
That is because the AP courses or other rigorous-leveled courses that is often overkill and too much information to enjoy and retain.

Also, I dreamed that my high schoolers would find the course so accessible that they'd LIKE PSYCH!
I included enough hands-on activities and enrichment reading that my kids could log hours they they could extend the .5 credit course to a full (or level up the .5 credit to honors) Psychology or Social Science credit.
Here are a few things the e-text includes:
the scope and sequence for a high school Psychology course

new vocabulary words and key concepts in sidebars

comprehension questions for each chapter

tests

answer key

instructions on how to make the course ½ credit average high school level, 1 full credit average high school level, or ½ credit college prep, advanced or honors levels
Here are more Psychology resources
7Sisters has several resources that enrich the Psychology studies. Here are some of them: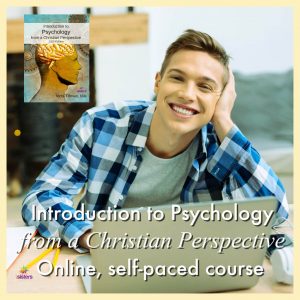 With all this in mind, are you ready to hgive youHelp your teen discover God's handiwork in creating human brains and souls while earning a psychology/social science credit.  
That is the purpose of our 7 Sisters Psychology from a Christian Worldview.
Here are some activities that you and your teens can do to enrich their Psychology elective credit.
One of Vicki's hopes is that more teens choose careers in Psychology. There are so many career choices in the field, here is a discussion of college majors in the field.
For an in-depth look at choosing and developing electives for homeschool high school check out this post (part of our Authoritative Guide series.)
7Sisters email subscribers receive periodic practical encouragement, special offers and NO SPAM EVER.


Click the image above to periodically receive real homeschool value in your inbox.
Psychology as a High School Elective